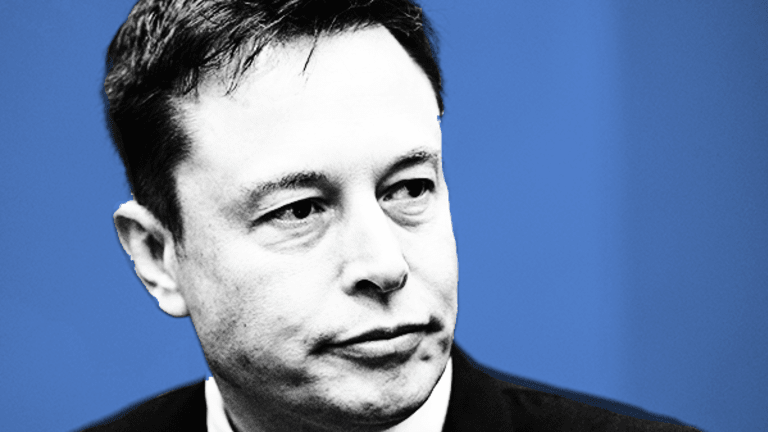 Publish date:
How Tesla Will Profit After Elon Musk Predicts WWIII: Chart
Tesla's rally is holding its charge this September.
Tesla's rally is holding its charge this September.
Tesla Inc. (TSLA) - Get Report CEO Elon Musk is anxious about artificial intelligence, or AI.
Musk has been one of the leading voices warning of the potential risks of AI, and the need to regulate them sooner rather than later. And this weekend, he stepped up those concerns with a tweet: "China, Russia, soon all countries w strong computer science. Competition for AI superiority at national level most likely cause of WW3 imo."
"May be initiated not by the country leaders, but one of the AI's, if it decides that a preemptive strike is most probable path to victory," he tweeted in a follow-up.
Musk should know. Tesla has been a leader in AI, particularly in the autonomous vehicle space. And Musk isn't the only public figure calling artificial intelligence the next battlefront for national dominance - Russian president Vladimir Putin predicted that the country that leads the AI race will "become the ruler of the world."
Whatever the outcome of the battle for AI superiority, Tesla is well positioned to profit.
All new Tesla cars are equipped with Autopilot hardware, which gives them the equipment for fully autonomous driving capabilities that will be unlocked by software updates in the years ahead. At Tesla's Silicon Valley headquarters, the firm's AI team has been hard at work (or overworked, according to some sources) perfecting its in-house AI driving technology.
Meanwhile, markets have clearly been accounting for Tesla's AI tech in recent months:
Put simply, Tesla's rally is holding its charge as the calendar flips to September.
Shares have been bouncing their way higher in a well-defined uptrend since December, catching a bid on every successive test of trendline support along the way. While a correction at the start of July did break shares down materially below the 50-day moving average for the first time in 2017, that was a pretty normal correction, not a change in trend. Shares have been holding support higher ever since.
Tesla's resistance range is up between $370 and $385. Simply put, if shares can muster the strength to push through $370, it looks like a good opportunity to build a starter position in anticipation of a full breakout through $385.
Risk management is key when deciding to take any trade, and that's especially true with a more volatile, high-profile name like Tesla. Prior lows at $320 are the line in the sand that can't be crossed for Tesla's uptrend to remain intact. That makes $320 a logical place to park a protective stop if you want to pull the trigger on this AI play this week.
Elon Musk posts a photo of the first SpaceX spacesuit.
More of What's Trending on TheStreet:
This article is commentary by an independent contributor. At the time of publication, the author held no positions in the stocks mentioned.