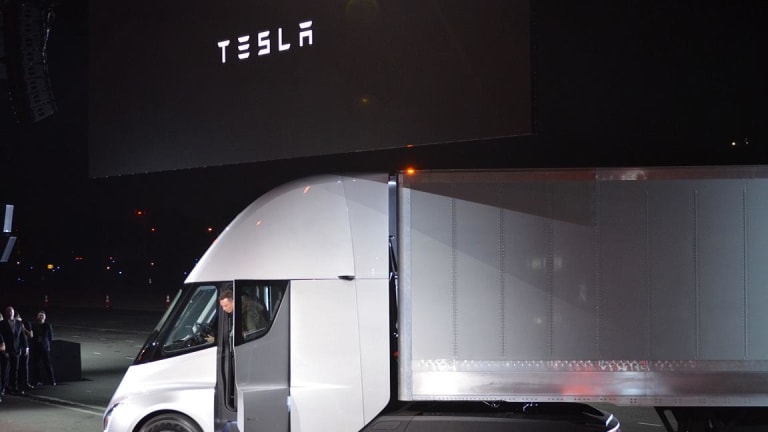 Tesla's Stock Could Become a Buy Again if It Hits This Key Price
Tesla still becomes a buy if shares can break above $380. But if shares materially violate $300, look out below.
Last week, Tesla Inc. (TSLA) - Get Tesla Inc Report unveiled two new products -- neither one was a surprise.
The first, the fully electric Tesla Semi, is being touted by the firm as a technological leap that could transform the economics of trucking -- the company claims the Semi will provide approximately $200,000 in fuel savings, which translate into a compelling argument for owner-operators thinking about betting big on Tesla's new tech.
The idea is resonating with large companies, too. While the truck still isn't expected to start production until 2019, Walmart Stores Inc. (WMT) - Get Walmart Inc. Report has preordered 15 Tesla Semis, and firms like J.B. Hunt (JBHT) - Get J.B. Hunt Transport Services, Inc. Report   and supermarket chains Meijer and Loblaws have made reservations for the truck as well.
On the other end of the speed spectrum, Tesla unveiled its second-generation electric Roadster during its Semi event. The $250,000 sports car will be the fastest production vehicle ever made by several measures, including a 1.9-second 0-60 mph time.
Tesla's new products didn't resonate well with Wall Street, though. Shares of Tesla initially opened higher Friday, following the Thursday night event. But they settled less than a percentage point higher than Thursday's close by the end of the session. Monday they're giving back another 3%.
With the Semi launch seen as the biggest catalyst for Tesla's upside following the Model 3 production miss at the beginning of the month, the question now is whether it's time to give up hope -- or whether this is just a buyable dip for a stock that's enjoyed some stellar price momentum in 2017.
To answer that, we're turning to the chart for a technical look at what Tesla needs to do to become a buy again:
Tesla's price trajectory underwent a major shift at the end of October. Shares had been forming a pretty textbook example of an ascending triangle pattern, a bullish continuation setup that signaled the possibility of more upside ahead. But that pattern broke when shares violated their uptrending support level (the second dashed line on the chart above).
Tesla settled into support right around the $300 level at the start of November, leaving shareholders to wonder if the shorts have finally gotten this stock right.
The bottom line is that -- for now -- it's too early to tell either way.
The $300 support level that shares are currently sitting above is a key price floor for shares that's been in play since back in April when Tesla first managed to move above it. Now, it's clear that a glut of buying pressure still exists below that $300 line in the sand.
While the price setup in Tesla has shifted from an ascending triangle to a sideways consolidation setup, the takeaway remains the same: a breakout above $380 is still the key buy signal to watch for in Tesla. Now, it's just a little further away.
On the flip side, a material violation of TSLA's $300 price floor sends a very different signal. It indicates that all of the buying pressure around that level has been absorbed by increasingly eager sellers, and that shorts are likely to see some intermediate-term gains. That's good reason to keep an eye on how TSLA holds up around $300 in November.
Meanwhile, the smart trade here is to wait for Tesla to break free of the wide sideways range it's currently stuck in. A breakout above $380 is a new major buy signal, while a violation of $300 support means it's time to hit the exits on this stock.
Has Elon Musk gotten too distracted? 
More of What's Trending on TheStreet:
This article is commentary by an independent contributor. At the time of publication, the author held no positions in the stocks mentioned.