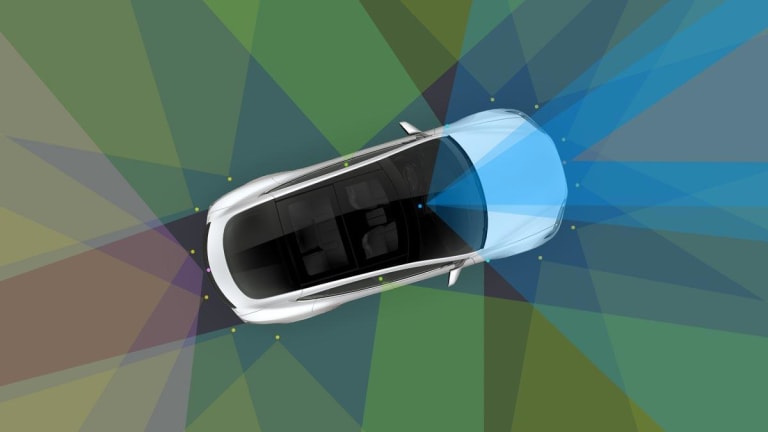 How Strict Will the U.S. Be on Autonomous Driving Testing?
The government is trying to toe the line on regulating autonomous driving, being careful to protect the public but not slow the technology's progress.
The government is trying to toe the line on regulating autonomous driving, being careful to protect the public but not slow the technology's progress.
The autonomous driving industry is becoming a bit of a chicken-and-egg situation. Meaning that, the industry needs regulations, but regulators aren't quite sure how to put rules and laws into place on this new and changing industry. 
Making matters even harder is how fast the technology is advancing. What we used to measure success a few years ago is inadequate now. Just a few years ago self-parking and lane-keeping technologies started hitting the road. Now we have full-blown autonomous test cars out here, with commercial applications set to start launching as soon as the of this year.
How will it all be regulated?
That's the question everyone from industry experts to the Department of Transportation (DOT) is trying to solve. Federally speaking, there are plenty of obstacles, one of which is determining how to work with state and local regulators.
What's allowed in Tennessee isn't the same as California or Michigan, and what's allowed in San Francisco isn't the same as Los Angeles. It's a big pretzel knot of questions with too few answers.
On the federal level, will there be any push back on foreign companies testing the technology on U.S. soil? Right now, California has issued 60 permits allowing for the testing of self-driving vehicles on public roads, (although only Alphabet's (GOOGL) - Get Report (GOOG) - Get Report Waymo has gained a permit for autonomous driving tests without a test driver in the vehicle).
Alphabet is a holding in Jim Cramer's Action Alerts PLUS member club. Want to be alerted before Jim Cramer buys or sells GOOGL? Learn more now.
Of those 60, though, almost a quarter of them are from China (14, specifically). While the state seems fine with it, considering the extra "oomph" it adds to high-paying jobs in the Bay Area, will the Federal government be as relaxed?
Signs suggests they will. Nvidia (NVDA) - Get Report , which is a big-time player in the autonomous driving movement, hosted its GTC conference last month in Washington DC. During a panel discussion, Melissa Froelich, chief counsel at the House Committee on Energy and Commerce, made the case for employment. She reasoned that the autonomous driving and mobility movement is happening and the U.S. would prefer to be a leader rather than a laggard in the effort. Further, the budding industry will create plenty of jobs and it's the government's preference that those jobs stay in the U.S. rather than go to Europe or Asia.
But why are companies coming to the United States?
After attending several conferences regarding autonomous driving, it's clear that the U.S. is the optimal testing ground for autonomously operated vehicles.
That's not to say companies cannot or should not test in France, Germany, Japan, China or any of the other countries dotting the globe. But simply that the infrastructure and diverse weather make the U.S. an optimal testing ground. Further, much of the talent is here as well. Recruiting workers away from Waymo, Nvidia, Intel (INTC) - Get Report , General Motors (GM) - Get Report (or its Cruise segment) and Ford (F) - Get Report  and getting them to move out of the country is not that simple. It's much easier to set up shop in the U.S. instead. 
Daimler's Going Autonomous With Nvidia to Take On Uber, Ride-Hailing Race
The much bigger question that governments have to ask themselves is, how will they keep the public safe without stymying these companies' progress?
As welcoming as it will be to see autonomous driving solutions on the road to help with efficiencies and convenience, the biggest factor here is safety. Specifically, almost 40,000 people die each year in the U.S. due to motor accidents. Various studies have pinned more than 90% of those accidents on human error.
So there's a lot of potential here, but it won't work if the testing doesn't keep the public safe. Case in point, look at the negative press that still follows Uber after its car killed a pedestrian more than six months ago. Accidents are going to happen, but gaining and maintaining the public's trust will be paramount for the future of autonomous driving.
Want to Buy Stocks for a 10% or Greater Discount? You can with certain so-called "closed-end" mutual funds - an often overlooked investment class. Click here to register for a free online video in which TheStreet's retirement expert Robert Powell and an all-star panel run down all you need to know.
This article is commentary by an independent contributor. At the time of publication, the author had no positions in the stocks mentioned.