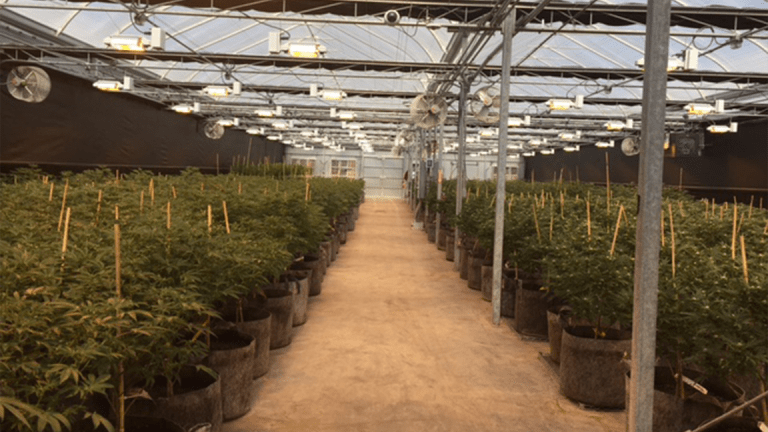 How Sin City Is Back on Track With Adult Use Cannabis Market
After a slight setback in July, Nevada businesses are now up to speed.
After a slight setback in July when Nevada ran out its supply of cannabis after ending its prohibition on the recreational use of cannabis, businesses are now up to speed.
The lapse in supply the first three weeks in July was partly because growers and dispensaries were not prepared for the onslaught of customers, especially in Las Vegas and Reno.
The bigger issue at hand was because the state had determined that only wholesale alcohol distributors could transport cannabis to the dispensaries for the first 18 months. The supply chain failed because none of the alcohol distributors had been approved by July 1st. 
"There was plenty of weed available in the market," said Mikel Alvarez, director of retail operations for Terra Tech, an Irvine, Calif.-based cannabis-focused agriculture company which has four dispensaries in Nevada named Blum. "The bottleneck was getting it from the cultivators and the production companies which make the edibles and concentrates. There was only one distributor and everyone who didn't stock up ahead of time they were hurting when people came."
By the second or third day, some dispensaries had to close their doors to recreational users, he said.
But the team at Blum had predicted the immense demand and the backlog created by the state's new distribution law and had stocked up an on nearly $1 million in additional products.
"We knew there would be a problem with the distributorships," Alvarez said.
Now the so-called Green Rush is back in full force as more distributors received their licenses and the state is benefitting from the 10% tax on sales of recreational cannabis and the 15% tax on the growers.
"We don't have a hold up on deliveries and we get products everyday," he said.
Being able to walk into a dispensary where flower and edibles are sold in glass cases is akin to shopping at a department store like Macy's (M) - Get Report with very little stigma attached, said Morgan Young-Tainter who moved to Las Vegas in September from Prescott, Ariz. where only medical marijuana is legal.
"In the medical markets there is still a taboo going into a dispensary," said the 27-year-old office manager who uses cannabis for both her vertigo which causes extreme nausea and recreationally for relaxation.
Consumers have more quality products to choose from since recreational cannabis is legal.
"It's surreal since there so many types of cannabis everywhere - some Millennials like concentrates to vape, dab or infuse," Young-Tainter said. "Now people can play around with the products and there is the openness."
The interest in cannabis is not only coming from the residents and tourists, but also from people who want to invest in real estate, intellectual property or licensing deals, said Jason Spatafora, co-founder of Marijuanastocks.com and a Miami-based trader and investor known as @WolfofWeedST on Twitter.
"Vegas knows how to deal with vice industries and will be the second biggest cannabis market in the U.S.," he said. "Vegas gives them that playground to participate in."
Businesses will flourish in Nevada since both real estate and the cost of energy, which consists of 50% of a company's monthly burn rate, is cheaper in the state compared to California, Spatafora said.
"A couple of years ago when Las Vegas going through the Wild West West phase of issuing licenses, investors were very cautious and now that its found its feet, you have to beat investors away with a stick," he said.
The next hurdle for Las Vegas is awaiting the passage of smoking lounges, which could occur in 2018 and would be a boon for both consumers and business owners since smoking cannabis in casinos and bars remains illegal, said Paris Balaouras, a founding partner of Acres Cannabis, which has a 37-acre hybrid greenhouse and production facility in Amargosa Valley in Nevada and a 20,000-square foot dispensary in Las Vegas.
"We are hoping to have a consumption lounge," he said, adding that "we are waiting for the city to approve the regulations."
While Las Vegas is still experiencing some shortages in cannabis products, especially strains like Birthday Cake, Lemon Tree and Mega Sherbert, the cultivators are starting to catch up, said Balaouras, who is also the CEO of MJ Holding, a Las Vegas-based cannabis investment company. 
Revenue in Las Vegas will continue to ramp up as the demand from consumers increase since all products in Nevada are required by state law to be tested by third-party labs.
Acres is adding a section to its Las Vegas dispensary where manufacturers will sell their concentrates and strains while people walking around its glass-encased rooms can view the growth cycles of the marijuana plant, how employees make edibles and try various dishes infused with cannabis oils made by celebrity chefs.
"Whether you are a recreational customer or a patient, you will know that there are no pesticides and how much THC or CBD is in it," he said. "You know what you are getting 100% whether it is flower, a gummy or candy."
More of What's Trending on TheStreet: