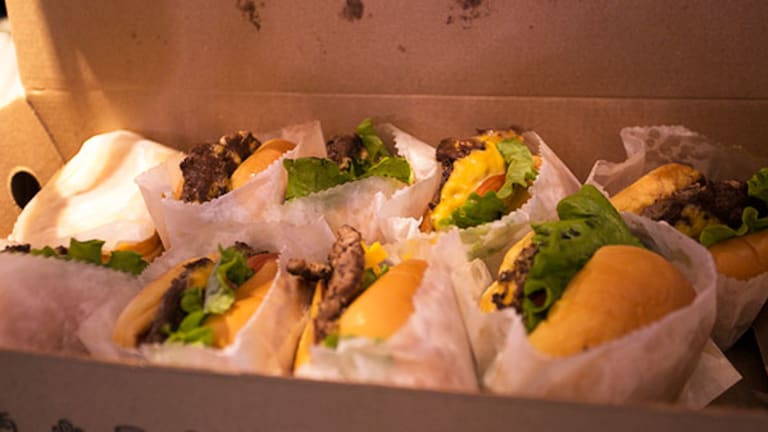 How Shake Shack Pairs Its Burgers With Craft Beer and Fine Wine
True to the fine dining origins of its founder, you can get a nice bottle of wine or a custom-made beer with your burger and fries at the hot chain.
NEW YORK (TheStreet) -- Shake Shack (SHAK) - Get Shake Shack, Inc. Class A Report has taken the American burger joint upscale.
The company, which saw shares more than double in its IPO, promotes its burgers made with premium Angus beef and serves its own beer and fine wine. This reflects the chain's origins in Danny Meyer's Union Square Hospitality Group, which owns and operates a number of high-end restaurants.
The first Shake Shack opened in 2004 in Manhattan's Madison Square Park across from two of Meyer's restaurants and announced its ambitions by featuring a half-bottle of Opus One, one of the world's most expensive wines.
Diners won't see such extravagance at any of Shake Shack's 63 outposts today, but beer and wine remain an accent to the menu and a nod to the company's fine dining background, says Mark Rosati, the company's culinary development manager.
Rosati helped open Shake Shack's second location, on Manhattan's Upper West Side, in 2008. At that point, he says, "We thought Shake Shack was something we could grow, and we asked all of our purveyors how much they could grow with us." As part of that process, the company decided to produce co-branded alcoholic beverages.
Shake Shack turned to Garrett Oliver of Brooklyn Brewery for the beer, the chain's most popular alcoholic drink, which was dubbed Shackmeister and designed to pair with Shake Shack's signature burger.
"While we always considered the Shackburger to be very much savory, (Oliver) experienced it as sweet," Rosati says. "Garrett pointed to the inherent sweetness of the potato bun and of the tomatoes, as well as the griddled and caramelized burger meat. The Shacksauce has slightly sweet elements to it, too."
To balance that sweetness, Oliver tried to develop a more bitter beer. He uses German hops to impart what Rosati describes as "a breadlike quality" to the beer, and at the end of the fermentation process uses Cascade hops, an American variety often used by craft brewers to lend a flowery, spicy, citrus quality to the beer. All of that gives the beer "a strong, heady aroma," Rosati says.
For the wine, Shake Shack teamed with Frog's Leap, a highly respected Napa Valley winery that has farmed organically since 1989. The Shack white is a Sauvignon Blanc that is fermented and aged in steel tanks and has 12.5% alcohol, while the red is made from Cabernet Sauvignon with a little bit of Cabernet Franc, aged for 11 months in French oak, and contains 13% alcohol, Rosati says. Those percentages are slightly on the low side and help keep the wine fresh on the palate.
A glass of the white costs $7.75 in New York, while the red is $8.75; by the bottle, they are $27 and $29, respectively. At its newer locations, Shake Shack serves the wines by glass from kegs, which are easier to transport than bottles and allow for better quality control.
Even though the wines are made from familiar grape varieties, Shake Shack opts to label them simply by color. "We liked the fact that the naming was as simple as it could be," Rosati says. "We want to keep the complexity in the background and have someone just walk in and try something and enjoy it."
Shake Shack also offers a rotating selection of half bottles. Those in a celebratory mood can opt for Mionetto Prosecco at $18, but the more interesting choice recently at the Barclays Center location was the Seghesio Zinfandel, a robust, fruit-driven wine perfect for burgers and not a bad value at $19, about what a full bottle goes for retail.
Wine lovers who find themselves at the Battery Park City Shack, located in the complex that houses the global headquarters of Goldman Sachs (GS) - Get Goldman Sachs Group, Inc. (GS) Report , can sample the Vin Gris de Cigare rose from Bonny Doon Vineyard, long a leading California producer, for $8 a glass or $29 by the full bottle, about twice the retail price.