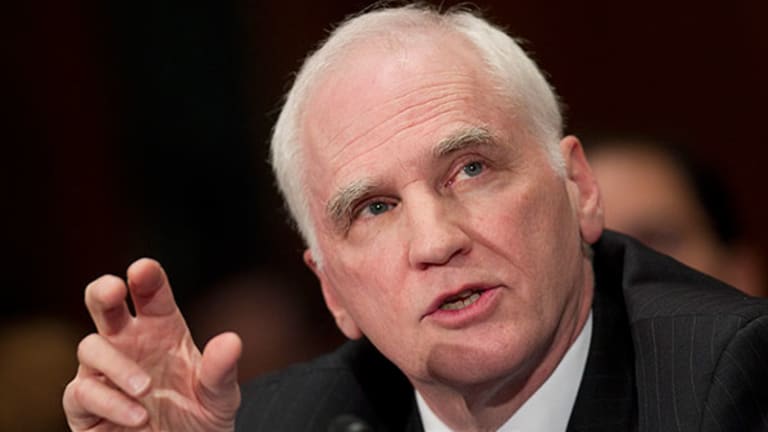 How Senate Rule Change Could Hurt Banks
Three open seats at the Federal Reserve board may now be filled by tougher overseers than banks would like, argues a KBW report.
NEW YORK (TheStreet) -- U.S. banks may face tougher oversight as a result of a Senate rule change passed last week eliminating filibusters, according to a report published Friday by Keefe Bruyette & Woods analyst Brian Gardner.
Senate Democrats voted last week to change the rules so in practical terms only 50 votes instead of 60 are required to approve top Obama administration and judicial nominees.
From a banking perspective the biggest potential impact would be on three open seats at the Federal Reserve, the report states.
"This gives the White House some additional flexibility in nominating board members who may have otherwise faced significant opposition. One of the three open seats will be a new Vice Chairman."
KBW also notes the Fed still lacks a Vice Chairman for Supervision. This "little-known position" created under the 2010 Dodd-Frank Act has not yet been filled and KBW thinks it could go to Fed Governor Dan Tarullo. Gardner argues, echoing a recent National Journal profile of Tarullo, he is the "de-facto" person in that role.
"We think banks would oppose the move but would probably be unable to block it in the Senate," the report states. Gardner notes, however, that "if the Administration wants to nominate Governor Tarullo, it is not clear why they haven't already done so."
Since joining the Federal Reserve Board in 2009, Tarullo has arguably been the central bank's leading advocate for tougher oversight of the banking industry.
-- Written by Dan Freed in New York. 
Disclosure: TheStreet's editorial policy prohibits staff editors, reporters and analysts from holding positions in any individual stocks.