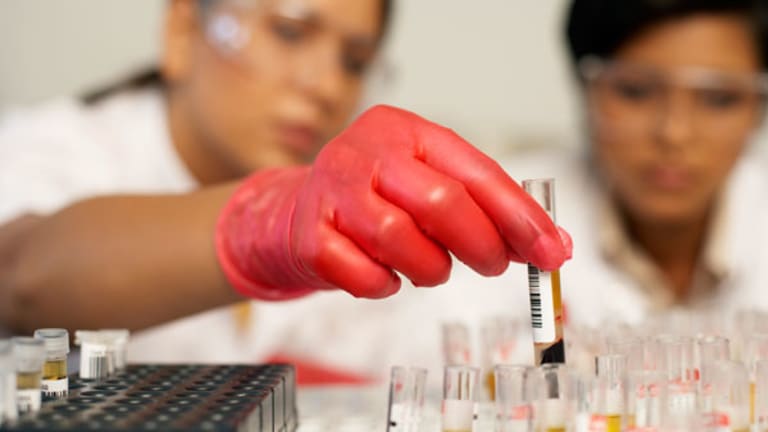 Sarepta Can Win Speedy FDA Drug Approval
Senior FDA officials, most notably Dr. Janet Woodcock, the agency's top drug evaluator, spent a lot of time at Monday's panel making supportive statements about eteplirsen.
Senior FDA officials, most notably Dr. Janet Woodcock, the agency's top drug evaluator, spent a lot of time at Monday's panel making supportive statements about eteplirsen.
There's a risk to the consensus investor view that the U.S. Food and Drug Administration will reject Sarepta Therapeutics' (SRPT) - Get Report Duchenne muscular dystrophy drug eteplirsen following Monday's negative advisory panel.
Senior FDA officials, most notably Dr. Janet Woodcock, the agency's top drug evaluator, spent a lot of time at Monday's panel making supportive statements about eteplirsen. FDA officials, at some moments, even seemed to be steering the experts invited to sit on the panel to vote in favor of eteplirsen.
Ultimately, advisory panel members decided Sarepta's eteplirsen clinical data wasn't strong enough to justify approval. The negative outcome was a devastating disappointment to the boys stricken with DMD and their families attending the panel. Some of them had spoken during the 11-hour meeting, urging the panel members to support the approval of eteplirsen, which they view as a life-saving drug.
What happened next was surprising.
Minutes after the advisory panel adjourned on Monday night, Woodcock met with some of the DMD boys and their families. Terri Ellsworth posted a picture of a smiling Woodcock standing next to her son, Billy, on her Facebook page.
Jenn McNary, mother of two boys with DMD, confirmed that Woodcock also spent time talking with several other families in the hallways of the Maryland hotel where just minutes earlier the advisory panel had voted to reject eteplirsen.
The final decision to approve or reject eteplirsen lies with Woodcock, whose official FDA title is Director of the Center for Drug Evaluation and Research. She has the power to overrule the concerns about eteplirsen raised by the team of FDA clinical reviewers. She can also consider but throw out the recommendations against approval issued by the members of the advisory panel.
If Woodcock agreed with all the bad things said about eteplirsen on Monday night, if she had no plans to overrule or cast aside the recommendations against approval, why did she go out of her way to meet with DMD boys and their families immediately after the meeting ended?
Could the answer be that Woodcock plans to approve eteplirsen?
The FDA has until May 26 to make an approval decision on eteplirsen, so we won't know what's truly in Woodcock's head until then. But taking a closer look at statements made by Woodcock and other top FDA officials on Monday offer some intriguing clues to their intentions.
Investors also seem to be hedging their bets. Sarepta shares were down only 24% since Monday, a surprisingly muted reaction to the advisory's panel negative votes. The stock could easily be down 50% or more if eteplirsen's approval chances in May were near zero.
Let's start with Woodcock's opening statement on Monday morning, most of which dealt with explaining the threshold for accelerated approval. For eteplirsen, accelerated approval hinges on the the drug's ability to produce the muscle-lubricating protein dystrophin.
I watched a replay of the advisory panel and transcribed her comments. This how Woodcock ended her remarks.
Finally, I would note that much of the effort in evaluating a drug development program goes into avoiding a specific mistake. That is erroneously approving a drug that is not effective. There is often little consideration of another error, which is failing to approve a drug that actually works. In devastating diseases, a consequence of this mistake can be extreme. But most of these consequences are borne by patients who traditionally have little say in how the standards are implemented. The accelerated approval program includes a requirement for confirmatory studies for efficacy. So, as you heard from the sponsor, they have to do further studies to explore and confirm effectiveness. An inherent presumption in this program of accelerated approval, which is written in the preamble of our regulation about it, is that more uncertainty is going to be tolerated initially and that in fact sometimes we will collectively get it wrong. Otherwise accelerated approval will have no different standards than regulator approval.
Applied to eteplirsen, a drug with a very clean safety profile, a logical interpretation of Woodcock's statement is support for accelerated approval.
She seems particularly worried about rejecting eteplirsen today only to discover later that the drug works. The repercussions of such a situation could be disastrous to the FDA, much worse than when the agency rejected the lung disease drug pirfenidone in 2010 only to backtrack and approve it four years later.
Woodcock next spoke during the advisory panel's afternoon session, right before the experts were to vote on question No. 2: Has the applicant, Sarepta, provided substantial evidence from adequate and well-controlled studies that eteplirsen induces production of dystrophin to a level that is reasonably likely to predict clinical benefit?
This was the accelerated approval voting question. Before the vote, Woodcock put the meaning of the question into context for the panel members:
This would be a vote on whether or not the surrogate endpoint of dystrophin is reasonably likely to predict clinical benefit. So, this is a question about approvability. And my point is you have to factor in the clinical data in this discussion what weight you think it gives to the reasonably likely decision. You're talking about first, question 1.a. which you already discussed, whether or not dystrophin was increased. Reasonably likely, as you already discussed, and I mentioned in my opening remarks, there is no standard established and for this condition there is no threshold established because there has never been a drug to do this. So, people don't know. They've looked at natural experiments such as Beckers and you see there is a range of responses. The question you're being posed is: Does the clinical experience in these trials with these patients lead you to believe, if you believe, dystrophin was increased, that the increase is reasonably likely to predict a clinical benefit.
Woodcock invoked the "reasonably likely" accelerated approval standard four times in that single statement. "Reasonably likely" offers a lot of leeway and flexibility to say yes. She reminds the panel members that there's no established dystrophin production threshold for DMD. Like her morning speech, Woodcock here seems supportive of eteplirsen and is almost trying to guide panel members to vote affirmatively on question No. 2.
They don't. The vote is six yes, seven no. Still, that's a close vote. Six panel members voting to grant accelerated approval to eteplirsen could be enough for Woodcock.
Monday's advisory panel culminated with the voting on question No. 7, which basically asked the panel members to vote on whether eteplirsen deserved full approval based on the data from Sarepta's clinical trial compared against the historical control.
Before the voting starts, Dr. Chiadi Onyike, one of the voting members of the advisory panel, asked:
To what extent are we to incorporate into this question the testimony of the families the boys and their families? From my reading of the question, it seems narrowly worded towards the actual statistical results so I want some clarification on that point.
Woodcock responds to Onyike:
We are instructed, as people said, to take the views of the patient community into account, more on the benefit and the risk. So, the statutory standard is more or less as described there but there is flexibility and that's where we should take the views of the community into account.
Once again, Woodcock seems to go out of her way to advise the panel members that they can be flexible and that they should not only consider the eteplirsen clinical data but also the supportive testimony from the DMD patients treated with the drug.
That's an extraordinary statement for the top drug evaluator at the FDA to make right before a vote at an advisory panel meeting. At this point in the meeting, eteplirsen had already been hit with multiple negative votes. Had Woodcock wanted to place the last nail in the drug's coffin, she could have easily kept her mouth shut. She didn't do that.
Onyike asks a follow up question:
Sorry, if I might follow on. If I understand correctly, the question as worded is really about statistics. Is that correct?
The panel's chairman, Dr. Caleb Alexander, replies:
Would it be fair to suggest that you take into account the totality of the information in the briefing packet and what's been discussed today?
Woodcock answers:
I think that's fair. The standard is adequate and well controlled trials, OK, that's what is in this statute, but we are instructed to have flexibility on how we interpret that based on medical need.
Again, Woodcock reminds the panel members that they can be flexible with their assessment because of the dire need for a treatment for DMD.
Then, Dr. Bob Temple, the deputy director of CDER (he's Woodcock's No. 2) speaks up:
There are lots of questions raised about the study. Whether there was improper influence of the fact that people knew what the study was, and all that kind of stuff. You heard testimony from patients who said very explicitly that they did not think would alter the level of effort made. Those kinds of factors are certainly things that are up for discussion. Whether it is persuasive or not, whether the study is persuasive enough has a lot to do with the study design and what was measured, all the sizes of the treatment effect, but you heard testimony that might affect your views on the quality of the endpoints on the importance of lack of blinding and all kinds of stuff like that.
Temple tells the panel members that they can and should listen to the testimony of the DMD patients. Their views of eteplirsen matter, not just the clinical data.
Another top FDA official, Dr. Ellis Unger, addresses the panel members next:
I think with the majority of the [eteplirsen] patients here, we have an incredible advantage in my time at the FDA that is unprecedented. To have all the patients here so that is an important advantage we have. One thing you can try to do is reconcile what you heard from the patients with the data that you've seen presented by the company. We're hearing patients are improving, doing things next year that they didn't do last year, and you have to figure out if you can reconcile that with the actual hard data you've been analyzing today.
Unger says listen to the patients.
Onyike, the panel member, responds:
The question twice mentions 'well controlled,' and as you've heard repeatedly, some people have said they have trouble with the controls. So, this 'well controlled' phrase in a sense tips or constrains the question.
Temple answers:
I understand a lot of people don't like historically controlled trials. They're not sure they believe they're well controlled. Our regulations since 1970 have said that a historical controlled trial can be adequately and well controlled study. The question here goes: Under the circumstances do you think it was? Do you think the way they selected patients, the way they analyzed them, was good enough to make it an adequate and well-controlled study? That's the question. Historically, historical-controlled trials have been the basis for approval -- sometimes in sort of obvious cases and sometimes in cases that quite aren't so obvious.
What makes this comment so interesting is that during the advisory panel proceedings, lower level FDA staff excoriated Sarepta for not conducting a randomized, placebo-controlled study. But here, Temple, the second-most powerful drug approval decision maker at the FDA, is saying that comparing data collected from a single arm study against a historical control -- like what Sarepta did -- is definitely okay.
Lastly, Dr. Billy Dunn, the director of the FDA's Division of Neurology Products, which is in charge of reviewing eteplirsen, chimed in:
I want to reiterate all of these issues. It's very important to take into account the testimony you heard today because you heard half of the comparison. You heard from the patients in the 201/202 trial. They're being compared to a historical control. One of the reasons I opened up the meeting is to talk about what substantial evidence is, what adequate well-controlled studies are. So, that you can sort out whether or not the evidence provided from this study, with the information you have at hand here from the patients as well as what was provided -- what you refer to as more objective results -- rises to the standard that creates substantial evidence of effectiveness.

This is most traditionally provided by two adequately well-controlled trials. We did not set out to refute the notion that the historical control was unacceptable by design. We took pains to actually illustrate that it was potentially acceptable. What we've done is describe the concerns the team had with the comparability of that control, the acceptability of the use of that control. The issue here is that substantial evidence question, whether or not in comparison with the group, all the issues we heard and everything you hear today -- it serves to reach that level of evidence.
At that point, the panel members voted on question No. 7. There were only three yes votes. Seven panel members voted no, while another three abstained. This was the "eteplirsen is rejected by FDA panel" vote that made headlines Monday night.
But the actual outcome of Monday's eteplirsen advisory panel was more nuanced and decidedly less negative. After reading the statements and responses printed above, it's hard to deny Woodcock and the other top FDA officials were leaving the door open for accelerated approval of eteplirsen, regardless of the panel's recommendations.
"I don't think Woodcock would be anywhere close to that meeting and she wouldn't be saying positive things if she wasn't willing to exercise her authority and approve the drug," said Joe Edelman, CEO of Perceptive Advisors, a $1.5 billion long/short health care hedge fund which owns 2.4 million Sarepta shares.
Edelman is a longtime Sarepta bull. He said his confidence in the FDA granting accelerated approval to eteplirsen on or before May 26 is actually higher now after listening carefully to what Woodcock and the other FDA officials said at Monday's meeting.
"Woodcock is risking her reputation by talking positively about eteplirsen and then not approving it. She's taking pictures with these kids and their families and everyone is smiling. These kids should be viewing the panel's decision as a death sentence but they're standing with Woodcock and they're smiling. The mothers aren't complaining. Something is reassuring them. I don't think they know eteplirsen is going to be approved but quite possibly they were told to let the process play out."
That process should finally be resolved on or before May 26 when Woodcock signs off on the eteplirsen approval decision.
Will the consensus view -- FDA rejects eteplirsen -- win out? Woodcock's actions both during and after the eteplirsen advisory panel suggest another surprising twist in the Sarepta story could play out.
Adam Feuerstein writes regularly for TheStreet. In keeping with company editorial policy, he doesn't own or short individual stocks, although he owns stock in TheStreet. He also doesn't invest in hedge funds or other private investment partnerships. Feuerstein appreciates your feedback; click here to send him an email.