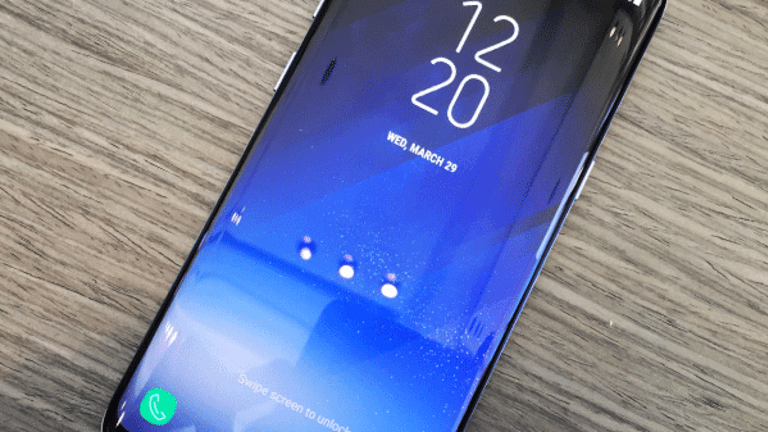 Publish date:
How Samsung's Galaxy S8 Will Affect Broadcom, Apple and Six Other Stocks
Samsung's S8 series could outsell the S7, which recorded 52 million shipments in 2016.
Samsung's S8 series could outsell the S7, which recorded 52 million shipments in 2016.
Samsung's (SSNLF)  unveiling of its new Galaxy S8 and larger S8 Plus smartphones with stunning "infinity" displays on Wednesday has some investors wondering which stocks will get a nice boost from its sales in the next year. The phones will hit shelves on April 21. 
The phone's new features were largely in line with expectations based on the numerous leaks, according to a note from Pacific Crest analyst John Vinh on Thursday. The standout features were the edge-to-edge infinity display, Samsung's new digital voice assistant Bixby, more efficient 10 nm processors and the use of facial recognition to unlock the phone. 
KGI Securities analyst Ming-Chi Kuo is expecting Samsung to ship 40 million to 45 million S8/S8+ units in 2017, lower than the shipments for the S7 and S7 Edge in 2016, which were released last March and boasted 52 million unit shipments for the year. However, T. Rowe Price tech analyst Alison Yip said she thinks the S8 could potentially outsell the S7 this year due to its updated features list. "I think S8 will maintain or slightly outsell S7 because of the improved AI software feature, better display, and the enhanced selfie camera," she said. 
In addition, Yip thinks Samsung will spend more on marketing the S8 phones in order to regain the trust of its customers after the Note 7 launch disaster from last fall in which Samsung had to recall all Note 7 phones because the batteries were prone to overheating and sometimes exploded. The recall was the largest in the company's history, costing it $5 billion total, despite the company claiming that just 330 of the 3 million Note 7 devices it sold had these battery issues. 
Customers seem ready to trust the company again, according to Yip. "The initial feedback from carriers is good," she said. "I do not think customer have a phobia about S8." 
Her opinion is in line with the results from marketing platform Fluent's survey of more than 1,500 Americans that revealed that 63% of Samsung phone owners said the Note 7 ordeal had no impact on their likelihood of purchasing another Samsung phone in the future. In addition, only 14% said they had safety concerns about the S8. 
But no matter which estimate is right, that's still a lot of phone sales. To see which stocks stand to benefit -- or suffer -- from shipments of the S8, keep reading.