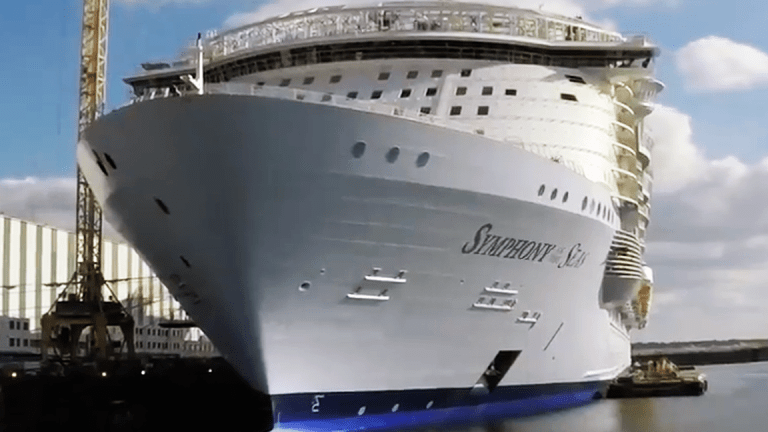 Royal Caribbean's CEO Secretly Uses Cruise Bookings to Predict the Economy
You don't book a future vacation unless you've got a little cash to burn. That means cruise lines could serve as a short-term leading indicator. Royal Caribbean CEO Richard Fain weighs in an interview with TheStreet.
Wave Season is right around the corner.
If you don't know what that is, you're probably not alone. It's not everyday investors look to cruise bookings to predict how the market for consumer goods and services might move, but for Royal Caribbean Cruises Ltd. (RCL) - Get Royal Caribbean Group Report , it can work.
Wave Season runs from January through March and is widely regarded as the very best time to book a cruise vacation. Companies offer stellar deals on summer trips that might cost a whole lot more closer to Memorial Day. But how can booking vacations in the winter predict the market sentiment for goods and services in the summer?
"One of the nice things in our business is that we do get a lot of forward bookings and that gives us a really good sense of the pulse of the market," Royal Caribbean CEO Richard Fain told TheStreet. "I do think that we do see ourselves oftentimes as a little bit of a leading indicator."
It makes perfect sense -- when people have money to spend, they can plan lavish getaways months in advance. They're betting they'll still have as much disposable income in June as they do in January.
"If people aren't feeling good, if they're being more cautious, we see it right away in their booking patterns," Fain added. But that's not something his business has experienced of late. Rather, Royal Caribbean is hitting new records in forward bookings.
"We have never before had as much of the forward availability booked as we do today and we've never had it at such high prices as we do today," Fain said. Those factors have played an enormous role in the financial success Fain's company has enjoyed recently.
Royal Caribbean shares are up 50% this year, and the company has smashed earnings expectations all year long. According to FactSet, 75% of analysts who disclose their rating for Royal Caribbean stock have it as a buy.
Patrick Sholes of Suntrust Robinson Humphrey is one of those analysts. Sholes told TheStreet that it makes sense cruising is indicative of consumer sentiment because a "typical cruise is sort of middle class to upper middle class America."
According to the University of Michigan, consumer sentiment has notched several record highs since the start of the year, suggesting economic expansion could continue for quite some time. And consumer confidence as measured by the Conference Board jumped to its highest level in almost 17 years last month.
On top of a rosier outlook are rising means. Household income remains on the rise, and the unemployment rate edged lower to 4.1% in October, its lowest reading since December 2000. 
It makes sense, then, why Royal Caribbean reported that third quarter occupancy reached 110.6%, up 1.7% from the same time last year. Earnings doubled from 2016 to $3.49 a share. 
"Royal Caribbean has been executing flawlessly this entire year," said Wolfe Research analyst Jared Shojaian. Its successes are part of broader gains in the cruising industry that comes as consumers become more confident, cruising lays claim on a growing piece of the leisure market and share shift to experiences over things quickens its pace, Shojaian said. 
During the upcoming Wave Season, Royal Caribbean expects to again impress the Street with strong sales and high forward-looking demand. That's due in large part to Royal Caribbean's fleet, including the largest ship on the seas, the Symphony of the Seas.
"Those [newer] ships are such a magnet," Fain said. "They're so popular, the demand is so high that I think we're going to have a good Wave Season."
Part of Royal Caribbean's differentiation from the broader cruising industry is its dedication to investing in its fleet, Shojaian said. By increasing access to smart technology and offering stellar new ships, Royal Caribbean has been able to cement its status as the consumer preference.
"The Wave Season we had this year was fantastic," Shojaian said. The positive momentum is poised to continue, as Royal Caribbean is "in a really good booked position right now," he added. 
But, it's not always smooth sailing when you're operating a company that drives its business from burning large amounts of fuel. That's especially the case with oil prices back on the rise this year. 
"It's part of my job description to be worried about everything and clearly oil prices is part of it," Fain said. "We spend a lot of time reducing our carbon footprint which also reduces our dependence on oil. We're also very conservative about the price so we tend to hedge a fair bit of our cost."
More of What's Trending on TheStreet: