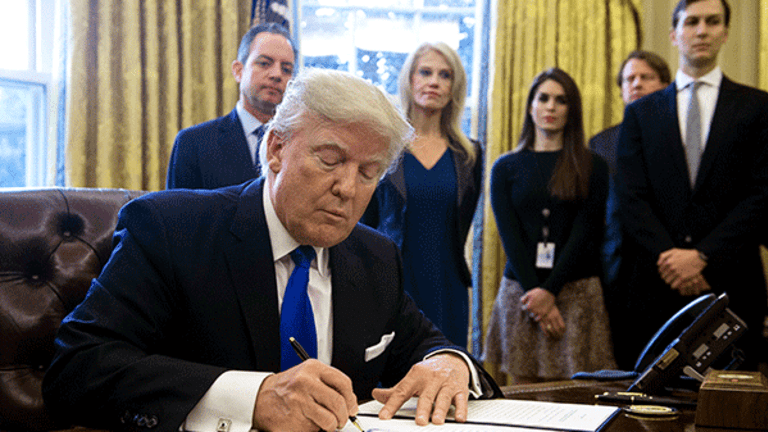 Inside the Numbers: How Reliant Is the U.S. Tech Industry on H-1B Visas?
An executive order on visas for skilled workers will get a close reading in Silicon Valley.
On April 3 the U.S. Citizenship and Immigration Services department will be flooded with H1-B visa applications as the start of the 2018 visa process kicks off. April 3 also marks the official start of the temporary suspension of premium processing for H1-B visas.
While it is unlikely that President Trump will take any action in time for this year's deadline, shortly thereafter the President is expected to "demonstrate he is keeping faith with his campaign promise to crack down on the outsourcing of U.S. jobs to foreign workers," according to research firm Height Securities LLC.
"We think this will take the form of a long-awaited executive action that will direct USCIS and other involved agencies to study the issue and develop recommendations for rulemaking, including potential prioritization of visas for higher-paid workers," the analysts wrote.
And sure, the Trump administration's policies on immigration will likely be challenged, especially the most recent executive order that seeks to ban refugees from six predominantly muslim countries (which has no bearing on H1-B applications), the policy changes, if they squeak through, could just be the beginning.
The Department of Homeland Security has laid out plans for more aggressive immigration law enforcement that could significantly increase deportations, and it will temporarily suspend expedited processing for H-1B visas for foreign workers.
H-1B visas will not spark the kind of moral clash as President Trump's order on immigration, but the move would squeeze Apple (AAPL) - Get Free Report , Amazon (AMZN) - Get Free Report , Alphabet (GOOGL) - Get Free Report , Microsoft (MSFT) - Get Free Report and other tech companies.
The tech sector in particular relies on H-1B visas to find coders and other skilled employees. Prominent advocates of loosing restrictions on H-1Bs include FWD.us, a lobbying group backed by such prominent techies as Facebook founder and CEO Mark Zuckerberg, Microsoft MSFT co-founder Bill Gates, Netflix (NFLX) - Get Free Report founder and CEO Reed Hastings, AOL boss Tim Armstrong. The group claims that skilled workers expand the economy and that every H-1B visa that the government grants produces nearly two jobs.
The government received 618,266 applications for the 85,000 available H-1B visas in fiscal year 2016, according to the Department of Labor.
Consulting and outsourcing companies such as Deloitte Consulting, Cognizant Technologies (CTSH) - Get Free Report , Infosys (INFY) - Get Free Report and Wipro (WIT) - Get Free Report filed the most petitions, according to the Department of Labor.  Apple made the top ten, submitting more than 23,000 petitions, or 1.9% of the total.
Apple and Alphabet are holdings in Jim Cramer's Action Alerts PLUS Charitable Trust Portfolio. Want to be alerted before Cramer buys or sells AAPL or GOOGL? Learn more now.
Howard University professor Ron Hira compiled a broader list of workers actually hired with H-1B visas, based on 2014 data, for testimony to to Congress last year.
Aside from the large outsourcing companies, IBM (IBM) - Get Free Report was seventh with close to 1,500 H-1B hirings.
Some big names in tech fall outside the top ten. Amazon was 11th with 877 H-1B hirings in 2014, Computer Sciences (CSC) was 12th (873), Microsoft was 14th (850), Alphabet was 15th (728), Intel (INTC) - Get Free Report was 16th (700) and Apple was 20th (443).