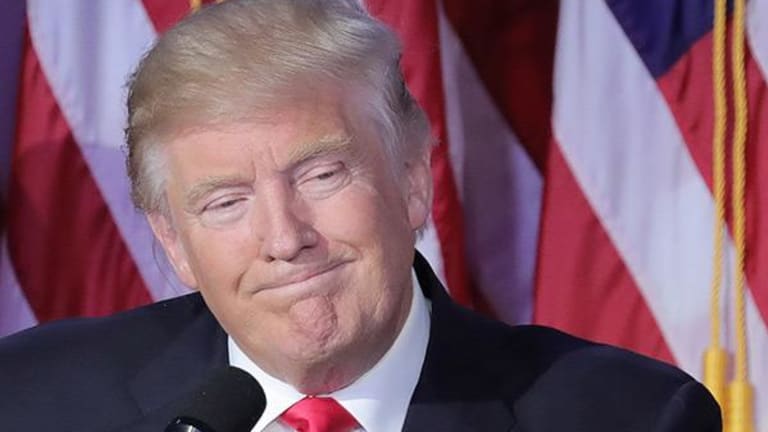 How President Trump Could Damage Gap's Earnings by a Mind-Boggling 100%
Gap (GPS) could be in store for a rough road under the incoming administration.
Just when struggling apparel retailer Gap (GPS) - Get Report thought things couldn't get any worse, in strolls Donald J. Trump into the White House. 
If a President Trump pushes through his promised major overhaul of U.S. corporate taxes and implements lofty taxes on goods imported from overseas, it could materially harm the bottom line of apparel retailers in 2017, most notably Gap, according to a new 30 page report from Wells Fargo. "We see Gap as the most at risk with the new policy implementation having over 100% negative impact on the company's earnings per share," writes Ike Boruchow, one of the report's authors. 
The Wells Fargo analyst estimates that Gap imports an out-sized 71% of its merchandise, putting it at greater risk than other retailers from changes in tax and trade policies in a Trump Administration. To help alleviate any proposed pressure, Gap would need to raise prices globally a whopping 10%. If it were to choose not to raises prices, Gap's earnings would go from a current Wells Fargo estimate of $1.75 a share next year to a loss of 92 cents a share.
"We believe it would be more difficult for Gap to raise prices enough to overcome the level of impact, given the level of promotions and price degradation in recent years," cautions Bouchow.
Boruchow readily admits that the sweeping report isn't gospel but rather a strategic framework for investors to consider ahead of any potential overhaul by the Trump Administration. "While we admit that we do not know with any real certainty if these tax changes will occur and what potential offsets/variables/timing would be associated with any policy change, we warn investors not to become overly focused on the details in this report," he cautioned.
Gap executives are likely hoping Boruchow's analysis is just a clever Excel spreadsheet lesson rather than a semblance of what could become a reality. Because in truth, Gap could sure use the pro business platform Trump campaigned on during his road to the presidency.
Gap needs a friendly President Trump
The apparel retailer's third quarter net sales fell 2% from the prior year to $3.8 billion. Earnings, adjusted for one-time items, came in at 60 cents a share, in line with analyst projections.
Same-store sales were pressured at two out of three of Gap's divisions in the fall as the company struggled with its styles and fits. Gap's namesake brand saw same-store sales plunge 8%, worse than a 4% drop a year ago. The quarter ended with a resounding thud for the Gap brand: a 7% same-store sales decline, marking an alarming 10 straight months of declines. Meanwhile, Banana Republic also clocked in with an 8% sales decline, not too far removed from a 12% nosedive last year.
Similar to Gap, Banana Republic ended the third quarter with little momentum: a 4% sales decline that represented a dizzying 20 straight months of decreases.
The lone winner from the quarter was the value-oriented Old Navy, where sales increased 3%.
Gap also said it would close more stores this year than originally planned (65 compared with 50).
"Although [sales] trends are clearly a positive step and we have believed the setup would take shares higher in the near term, we see long-term pressures persisting, and remain at a neutral rating as we continue to wonder if the business is still too large within the new norm of retail," says Nomura analyst Simeon Siegel.
Gap's stock has plunged about 41% over the past two years to $24.38, badly lagging the S&P 500's gain of 9.2%.