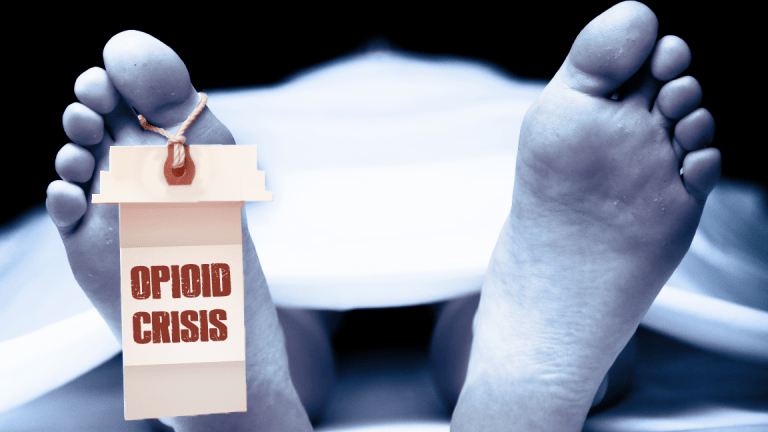 America's Opioid Crisis Looks a Lot Like Big Tobacco Spats of Yesteryear
The crisis could seemingly turn a number of companies on their heads much in the way that big tobacco suits of the late 1990s forever changed the tobacco industry.
While the opioid crisis has made headlines across the country little's been done at a federal level that could truely make a dent in the nation-wide epidemic. And thus, the industry has widely ignored the issue, paying nominal fines along the way and placating consumers with statements about their willingness to address the issue.
The biggest victim of the opioid crisis, is of course, the patients who get addicted to these drugs. At the same time the crisis could seemingly turn a number of companies on their heads much in the way that big tobacco suits of the late 1990s forever changed the tobacco industry.
Pharmaceutical manufacturers such as Purdue Pharma, Endo International plc (ENDP) - Get Report , Teva Pharmaceutical Industries Ltd. (TEVA) - Get Report , Johnson & Johnson Inc. (JNJ) - Get Report and Allergan plc. (AGN) - Get Report as well as distributors Cardinal Health Inc. (CAH) - Get Report , McKesson Corp. (MCK) - Get Report and AmerisourceBergen Corp. (ABC) - Get Report have all been challenged by various parties to take action in the opioid epidemic.
These companies, and others like them, have been asked to come to negotiating table to discuss potential settlement as 41 states have demanded documents over allegations for unfair sales practices, Medicaid fraud and creating a public nuisance, among other things. So far, not much has come of these suits, but that could change.
Ohio is ground zero, where ten people die every day from opioids leaving behind families and friends and creating holes in cities and towns in the Buckeye state that don't heal easily. And there is a cost beyond the human. Children moved from addicted parents to foster care cost $45 million a year. Indeed, half the kids in foster care come from parents addicted to opioids. Counseling and medication costs $216 million a year. Treating kids who are born drug dependent adds another $130 million. Ohio estimates that work lost because of the opioid crisis, fatal overdoses, and medical expenses costs $4 billion a year. From 2011 to 2015 3.8 billion doses of opioid meds were prescribed in Ohio. The state only has 11.6 million residents. In 2016, it lost 4,050 of those residents to overdoses of opioids, heroin and fentanyl, a dangerous synthetic opioid, according to Ohio's own data. 
Allergan is a holding in Jim Cramer's Action Alerts PLUS Charitable Trust Portfolio . Want to be alerted before Jim Cramer buys or sells these stocks? Learn more now.
Ohio Attorney General Mike DeWine gave the companies listed above as well as Teva subsidiary Cephalon and J&J sub Janssen Pharmaceuticals until the end of November to come forward to settle a lawsuit that alleges the companies mislead doctors as well as the public regarding the safety and addictive qualities of their opioid-based drugs. The companies are accused of unfair sales practices, Medicaid fraud and creating a public nuisance.
The clock has run out and DeWine's office posted a link to the letters inviting the companies to sit down for settlement talks on its website. All eight of the companies responded to Ohio with letters. Janssen, Teva and Allergan said they were willing to meet with the AG's office. Amerisource and McKesson did meet and in a letter to McKesson, DeWine questioned the company's willingness to work toward a solution. In letters made available to TheStreet by DeWine, the attorney general told Endo, Cardinal and Purdue that their response wasn't good enough, which included a suggestion by Endo and Purdue that Ohio drop its lawsuit.
"I am disappointed in your response to my letter suggesting we meet to discuss ways to address Ohio's opioid crisis, DeWine said. "I had hoped you would see this as an opportunity to come together to find ways to help alleviate the vast harm the opioid epidemic has caused and promote strategies to prevent future harm. Instead, you reiterated a tired denial of responsibility and conditioned any further discussions on my office abandoning the case we have filed against you. That is something I simply cannot do."
The public release of information about settlement meetings puts the companies on notice they are in for the kind of legal battle that not only brought tobacco companies such as Philip Morris International Inc. (PM) - Get Report , Reynolds American and Lorillard (now part of Reynolds to the bargaining table, but, found them paying out billions of dollars without going to trial.
Ohio's lawsuit represents a material risk for the companies according to analysts. "Purdue is the poster child for the opioid epidemic," said Jeffrey Loo, an analyst for CFRA. "This could be very material."
Besides the lawsuits filed by other states, counties and cities, the possible action by the collective 41 state attorneys general looms large in terms of legal fire power. The requests by that group for documents from the pharmaceutical companies are viewed as a way to gauge whether a legal effort by the group could succeed.
DeWine's lawsuit, filed in Ross County in May actually points at the pharmaceutical companies for behavior similar to the tobacco companies, "borrowing a page from Big Tobacco's playbook" by hiding or downplaying the risks of addiction by using opioids.
The action also details the use of front groups in the marketing of opioids to the public, a tactic also utilized by the tobacco companies to sell cigarettes. 
While the pharmaceutical companies may not be beating a path to Columbus to talk to DeWine, that doesn't mean they aren't responding. A spokesman for Janssen said in an email "We believe the allegations in the lawsuit against our company are both legally and factually unfounded. Responsibly used opioid-based pain medicines give doctors and patients important choices to help manage the debilitating effects of chronic pain. Janssen has acted in the best interests of patients and physicians with regard to opioid pain medicines, which are FDA-approved and carry FDA-mandated warnings about possible risks on every product label."
Teva had no comment on DeWine's offer to settle. Endo said it did not comment on pending litigation. Janssen declined to comment on DeWine. Purdue and Allergan did not respond to repeated requests for interviews.
In an email to TheStreet, a representative of AmerisourceBergen said "We welcome the opportunity to meet with Attorney General DeWine and work with the people of Ohio as well as fellow members of the wholesale distribution community, the wider pharmaceutical supply chain and law enforcement and regulatory professionals to combat opioid abuse."
Ronny Gal, pharmaceutical analyst for Sanford C. Bernstein said "I would be surprised if at least some of the manufacturers do not consider discussion. Never hurts to talk."
In September, Purdue asked the court to toss the lawsuit. The company said that the action fails to prove that the company's marketing of its pain killer caused specific harm and that the legal action bumps up against federal law because the Food and Drug Administration approved Oxycontin as well as its safety warnings.
The lawsuit is still in process.
Familiar Faces to Fight With Ohio
To fight Big Pharma, Ohio in particular, has brought in some battle-tested veterans to get the job done.
Ohio has hired attorneys Steve Berman, Grant Woods and Mike Moore who are kind of putting the band back together, having all participated in the Tobacco Master Settlement Agreement, the landmark lawsuit that pitted the four largest tobacco companies in the U.S. against attorneys general from 46 states that resulted in a $246 billion settlement in 1999.
Berman, managing partner in Hagens Berman Sobol Shapiro, and Woods and Moore of Grant Woods Law and Mike Moore Law Firm, respectively, have all been retained by Ohio.
Those firms, along with Isaac, Wiles, Burkeholder & Teeter LLC, Davidson Bowie PLLC, and McGowan, Hood and Felder have been retained on a contingency basis to litigate against the five pharma companies, with the maximum payout of $50 million in fees.
Moore, the former attorney general of Mississippi, gained some degree of fame from his pursuit of the tobacco settlement. He starred as himself in Michael Mann's film "The Insider "along with Russell Crowe and Al Pacino.
One of the tactics used by Moore, Woods, Berman and others in the tobacco battle was to portray the companies in a public light as unwilling to address the public health issues their products had caused. By making the offer of settlement meetings public, Ohio looks as if it wants to address those issues, and if the companies don't at least take the meetings, the pharmaceutical companies will look like they are ducking the problem.
Richard Ausness, the dean of the University of Kentucky law school and an expert on product liability, points out that in the current environment, pharmaceutical companies need to protect their public personas. "Of course they care about their reputations, but it goes beyond that," he said. "The environment plays a large role with the courts and they can't help but be influenced by outside factors."
Moreover, DeWine has made no bones about the fact that his state would like to deal with the deadly and expensive opioid issue quickly, not wanting a trial to drag on for years.
And Ausness points out that individual lawsuits brought by consumers against tobacco companies historically failed. "But once the government entities became involved in a large number, things changed."
Pharmaceutical companies say that lawsuits like the one brought by Ohio are flawed because the companies only make the approved drugs and that they are far removed from the possible abuse of the drugs as the products flow to wholesalers, pharmacies, prescribing physicians and even street dealers.
The argument is similar to the one used effectively by gun manufacturers in lawsuits brought by cities when some judges ruled the companies were not liable for the misuse of the product.
Ohio Isn't Alone
There are other states suing over drugs like OxyContin, Percocet and Duragesic. Massachusetts, Washington, New Jersey, Missouri, Alaska, Mississippi, New Hampshire, New Mexico, Oklahoma, Louisiana and South Carolina have all filed, and the lawyers-full-employment act doesn't end there.
At least 41 state attorneys general have banding together and are demanding the companies make internal documents available, "Our subpoenas and letters seek to uncover whether or not there was a deception involved, if manufacturers misled doctors and patients about the efficacy and addictive power of these drugs," New York Attorney General Eric Scheiderman said in a statement about the action.
More than a third of the counties in Wisconsin are going to court as well.
Cities in New York, Pennsylvania, Illinois, Indiana, Ohio, Washington, Texas, Oregon and Florida have joined the fray, retaining law firms to address the opioid issue.
Even the Native American Cherokee Nation is teeing up lawyers, going after Walgreens Boots Alliance (WBA) - Get Report , CVS Health Corp. (CVS) - Get Report , Wal-Mart (WMT) - Get Report , AmerisourceBergen, McKesson and Cardinal Health for their roles in the distribution and sale of prescription pain killers.
The rise of opioid use has extracted a cost on a national basis as well. A new report released Nov. 20 by the president's Council of Economic Advisors puts the cost of the opioid crisis in 2015 at $504 billion, or almost 3% of that year's GNP. The American Society of Addiction Medicine reports that in that same year, 20,101 deaths were caused by prescription opioids and another 12,990 deaths were attributed to heroin overdoses.
At least 716 people in Arizona are believed to have died of opioid-related overdoses during a six-month stretch of 2017, far exceeding previous death statistics that span an entire calendar year, according to the state health department.
A Long History of an Up-Hill Battle
Loo said he would think the pharma companies being sued by Ohio would feel it's not in their best interest to settle the lawsuits now.
Certainly, the company with the most experience in opioid-related lawsuits is privately-held Purdue Pharma. The company introduced OxyContin in 1995 to much attention as a long-lasting pain prescription. Its active ingredient, oxycodone, is a relative to heroin and more powerful than better known morphine. Earlier this year, Purdue paid $20 million to Canadian plaintiffs who alleged the company had "overmarketed" its drug and recently launched a campaign to show what it is doing to address the opioid issue.
In 2015 Purdue settled a lawsuit brought by Kentucky charging the company had failed to make clear how addictive the drug was, with the payout of $24 million. Eight years earlier, the company paid $470 million to state and federal agencies to settle similar charges, and paid another $130 million to lawyers and plaintiffs to settle civil actions. Those settlements also covered criminal charges against the company for misbranding its product. Purdue also paid almost $20 million to 26 states and Washington DC to settle allegations that it had encouraged "over prescription" of the drug. In 2004, the company settled with West Virginia for $10 million.
Quintiles IMS Holdings Inc. estimates opioid sales totaled $8.6 billion in 2016. Industry estimates put Purdue's share of that at $1.3 billion.
Ausness, of the University of Kentucky, points out that lawsuits may not necessarily change behavior of Purdue or any of the other companies being sued. "Purdue was sued years ago, and they are being sued again."
While Purdue is the highest profile player in the opioid crisis, they certainly aren't alone.
McKesson, the San Francisco-based drug distributor, has spent its share of time in the harsh glare of the media spotlight. Investigative stalwart 60 Minutes and the Washington Post teamed up on a December report that showed the infighting between the Drug Enforcement Agency and the Justice Department over how best to go after McKesson regarding allegations that the company had been careless in its distribution and sale of opioids. While the DEA felt it had a criminal case against the company and more than enough evidence of wrongdoing for federal prosecutors, the case never saw the inside of a courtroom. Prosecutors maintained the case didn't merit criminal charges and wasn't strong enough. At one point the DOJ allegedly suggested the DEA become friendlier with the pharmaceutical industry. 
Instead the DOJ huddled with a team of lawyers defending McKesson, negotiating a settlement that included a $150 million fine and a suspension of four of McKesson's drug warehouses and increased staffing as well as McKesson hiring an independent monitor.
While the DEA chafed on TV and in print, McKesson denied wrongdoing and said that the report was inaccurate in a public statement. As for the DOJ, it has been radio silent on its handling of the McKesson case.     
It was the second time that McKesson had issues over its sale of opioids. In 2008 the company paid a fine of $13.25 million for failing to report hundreds of suspicious oxy sales. Perhaps companies look at federal action as the cost of doing business. Or the lack of criminal charges against McKesson earlier this year may mean pharmaceutical companies have nothing to fear from the feds. Or perhaps Professor Ausness is right, threats of legal action may not change corporate behavior.
Can States Kick the Can Upstairs (to Washington)?
Not all government entities are equally engaged. When he was on the campaign trail, then candidate Trump promised if elected, to deal with the opioid crisis. After gaining the White House, Trump put a commission together led by New Jersey Governor Chris Christie, and in August Trump said he was going to declare a national emergency. In October he made good on that pledge, declaring an emergency but failed to make any federal funds available to take up recommendations made by the commission. 
So far, his national emergency looks like a photo op. 
Still, despite the lack of action from the feds, the pressure may be building on the pharma companies. Purdue has bought full page as in the New York Times and the Wall Street Journal stating that "No one solution will end the crisis, but multiple, overlapping efforts will. We want everyone engaged to know you have a partner in Purdue Pharma. This is our fight, too."
It's a fight that could cost pharma companies billions.
Ausness points out that the invite to Ohio may be a cost cutting measure on the part of the lawyers representing the state, looking at a quick settlement as a way of cutting the cost of potential litigation as well as the discovery process. "This kind of lawsuit is expensive to pursue for plaintiffs lawyers, but the pharmaceutical companies have no worries about legal bills," he said.
But something else isn't adding up for Ausness. "It isn't unusual for plaintiff law firms to approach the other side quietly to talk settlement. But that isn't what happened here."
More of What's Trending on TheStreet: