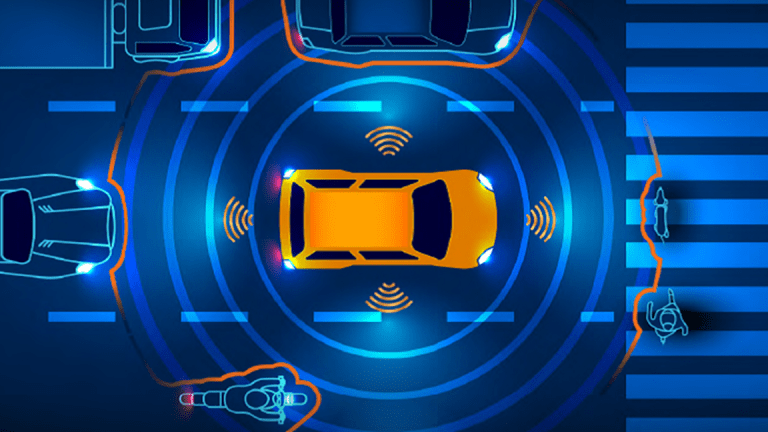 How Nvidia, Google and Others Will Make Autonomous Driving a Reality
Simulation is the key to acceleration the safety and the arrival of autonomous driving.
It's time to face the facts about autonomous driving. There are simply too many auto-related deaths that occur for us to not find a solution. 
I hope that when we look back 30 or 40 years from now, we wonder how society ever functioned with numbers like this. In the U.S. alone, 37,000 people die each year in auto-related accidents. 
That's more than 100 people a day and way too many of us -- friends, family and colleagues -- have been impacted by the split-second, life-altering results of a car accident. Not every accident spells doom, but even beyond those 37,000 fatalities, consider all of the people that are paralyzed, injured and/or put out of work after a car accident.
The results are simply unacceptable and everyone from the Big Three to Silicon Valley is here to help solve it. While companies like Ford Motor (F) - Get Ford Motor Company Report , General Motors (GM) - Get General Motors Company (GM) Report , Alphabet (GOOGL) - Get Alphabet Inc. Class A Report via Waymo, Nvidia (NVDA) - Get NVIDIA Corporation Report , Tesla (TSLA) - Get Tesla Inc Report and others are working on autonomous driving technology, a wave of optimism is starting to show light at the end of the tunnel.
That optimism is being fueled by simulation.
Alphabet is a holding in Jim Cramer's Action Alerts PLUS member club. Want to be alerted before Jim Cramer buys or sells GOOGL? Learn more now.
Simulating the Autonomous Driving Experience
"I personally think that simulation has a lot of promise."
That's what Derek Kan, the under secretary for policy at the Department of Transportation (DOT) told Nvidia's Danny Shapiro, the senior director of automotive, in a discussion at Nvidia's GTC DC conference this week.
Simulation is something that Nvidia has talked about quite a bit and is something that Waymo has implemented as a means to accelerating the development of its autonomous driving systems.
The difference between simulated testing and real-world testing is obvious: The former is done using software and virtual environments, while the latter involves a real-life car driving on real roads in the real world. To get autonomous driving right, both are necessary.
"I think the main point, we've said this repeatedly, is that we are intently focused on safety first and ensuring a great user experience," Ruth Porat, Alphabet's CFO said on the company's quarterly conference call on Oct. 25 in regards to Waymo.
The company has now logged 10 million miles of real-world test and is adding about 1 million miles a month to that log. This comes as Waymo preps for a commercial launch of its mobility-as-a-service (MaaS) platform. Also during the conference call, management said it is beginning to charge customers for rides as it experiments with different pricing models.
But here's an important distinction: Waymo has logged 7 billion simulated test miles -- 700 times more than its real-world tests.
While simulation isn't the only consideration to making autonomous driving a reality, it's a big component. You can clearly see how many more miles Waymo can simulate vs. test in the open world. Importantly, that will improve both the time it takes to get autonomous driving on the road as well as the safety of these vehicles. 
Nvidia, which does not supply Waymo for its autonomous driving efforts, refers to its simulating testing as a "hardware in the loop" process. But what does that mean? 
Nvidia's DRIVE Pegasus is an onboard platform that has the capability of powering level 4 and level 5 self-driving vehicles and is now shipping to customers. Its DRIVE Constellation platform is not yet shipping to customers, but it brings together the whole process. By running Constellation on a separate server, companies can build their own environments and test them over and over again. 
Rather than waiting for those "perfect dangerous and tough situations" -- a bit of an oxymoron -- Constellation users can run those scenarios repeatedly in a closed, virtual environment. Those environments run on Constellation, while on a separate server Pegasus, the onboard self-driving computer, is reacting as if those scenario are occurring as if they are real. 
So this "hardware in the loop" process is able to greatly accelerate the learning curve. Plus, it not only keeps drivers safe during testing, it also improves the safety of the self-driving platform. That's why Kan, Shapiro, Waymo and so many others view simulation as such a promising piece to the puzzle. It's also what will make autonomous driving a reality much sooner than many consumers realize. 
Want to Buy $1 Worth of Stock for 90 Cents or Less? You can with certain so-called "closed-end" mutual funds - an often overlooked investment class. Click here to register for a free online video in which TheStreet's retirement expert Robert Powell and an all-star panel tell you all you need to know.
This article is commentary by an independent contributor. At the time of publication, the author had no positions in the stocks mentioned.