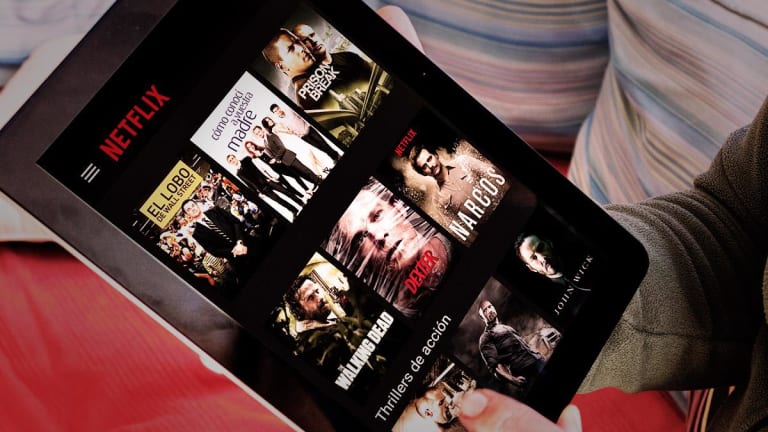 How Much Could Netflix Make From Running Ads?
The streaming giant could make billions of dollars per year by running ads, by some estimates. And it's delved into at least one form of advertising already.
Despite the company's insistence to the contrary, the rumors keep swirling that Netflix could eventually feature advertising in its shows. Or at least, that it should.
That take is shared by many streaming industry observers, who speculate that Netflix (NFLX)  could add an advertising-supported tier in order to sustain an edge as it faces increasing competition from the likes of Disney (DIS) , Amazon (AMZN) , AT&T's (T) WarnerMedia and others. 
Netflix CEO Reed Hastings has steadfastly dismissed the idea of running ads on Netflix, saying instead that its goal is to use subscription revenues to deliver the best content and experience possible for its 149 million paying subscribers.
Yet research suggests that when it comes to direct-to-consumer streaming services, many viewers don't mind seeing ads: A January eMarketer poll, for example, found that 73% reported watching ad-supported streaming content, and 56% of respondents said they don't mind watching ads if they're paying less for a service.
That may be one explanation of why Hulu's advertising model has reportedly been so successful.
Hulu, which is now majority-owned by Disney after it purchased most of the entertainment assets of Twentieth Century Fox, said in January that its advertising revenue swelled to $1.5 billion in 2018, an increase of 45% over the previous year. Separately, a New York Times report said that Hulu's cheapest paid tier -- a $2-per-month option that also includes some ads -- is also currently its most profitable. 
"Pure subscription services like Netflix will, at some point, have to resort to additional monetization options (i.e., advertising)," commented eMarketer analyst Paul Verna. "It's also true that hybrid models will also face upward pricing pressure."
If Netflix were to introduce ad-supported content, they could likely earn billions in revenue annually, according to many advertising experts.
But getting there is a complex calculus.
Marissa Jimenez, president of Modi Media, explained that advertising rates in streaming are sold on the basis of impressions -- but that a company's overall take from delivering an ad can vary widely, depending on factors such as ownership rights to the content and how an ad is targeted.
"They get the CPM [cost per thousand] increases by the application of data to reach specific audiences ... it could run between $15 to $50 or even higher, depending," Jiminez said.
That's one of the reasons why it's so difficult to pinpoint precisely what Netflix could make by dishing out ads. But in the absence of more details -- such as viewership rates for certain shows, target capabilities, or what a hypothetical ad-supported layer would look like -- Hulu provides the best direct comparison, according to Shaun Zacharia of TripleLift, which specializes in streaming advertising. 
Zacharia estimated that Netflix could make around $3 billion per year by placing ads -- but also pointed out that marketers are still catching up to the new world of streaming.
"Marketers remain highly under-indexed in over-the-top, and over-indexed on traditional TV," he said. He added that over the next five years or so, marketers will shift much more heavily to streaming environments, potentially multiplying ad revenue for over-the-top services. 
However, for anyone advocating for ads on Netflix, there's another important point to remember: Netflix already does show some ads. 
Those come in the form of product placement or other brand integrations. And Netflix's willingness to delve into that form of advertising was on display in a scene from Stranger Things last year, which showed a family chowing down on a bucket of Kentucky Fried Chicken. 
Stranger Things actor Joe Keery, who plays Steve Harrington, even let fly the chain's famous tagline: "This is finger-licking good." 
It's unknown what that particular ad earned Netflix, but it reflects a growing segment of the ad industry: According to PQ Media, product placements and brand integrations are already an $11 billion market. 
Netflix shares are up 47% year-to-date. 
Disney and Amazon are holdings in Jim Cramer'sAction Alerts PLUS Charitable Trust Portfolio. Want to be alerted before Cramer buys or sells these stocks? Learn more now.