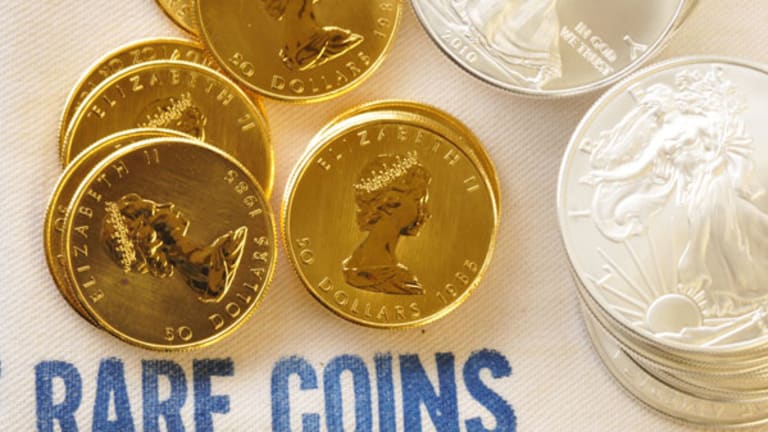 How Middle East Unrest Hurts Gold Miners
One of the biggest struggles for gold miners at BMO Capital Markets Global Metals and Mining Conference this year is high oil prices.
(Article updated with gold prices information and additional commentary.)
HOLLYWOOD, Fla. (
) -- Unrest in the Middle East and North Africa is hurting gold miners as oil prices pop.
On the one hand, recent violence in Libya has helped gold reclaim its identity as a safe-haven asset, pushing the metal up to a record close of $1,431.20 an ounce Tuesday. High
can keep miners rolling in dough as low cash costs mean high profit margins.
But the biggest roadblock gold companies are confronting now is higher oil prices, which can eat into these profits. Oil topped $100 a barrel Tuesday and was trading above that level today, while Brent crude touched $116 on Tuesday.
Gold mining CEOs attending the BMO Capital Markets Global Metals & Mining conference here Monday and Tuesday were unanimous in putting oil at the top of their risk lists.
Vote: Where will gold prices finish in 2011?
Jeff Pontius, CEO of
International Tower Hill
(THM) - Get International Tower Hill Mines Ltd. Report
, a Canadian miner with a 10 million ounce gold deposit in Alaska, says "we do see inflation in a number of places, fuel, of course, is always a big deal." International Tower Hill will start producing in 2016. The company will complete its pre-feasibility study in 2011.
To try to combat skyrocketing oil, International Tower Hill is buying its own fuel and then supplying it to the drillers to make sure they aren't overpaying. "Typically if
drillers are buying the fuel they're going to try and put into their bid additional money." Pontius is gearing up for the volatility, financially prepared for oil prices between $80 and $100 a barrel.
Helping the company is the strength of the Canadian dollar against the U.S. dollar, a trend that's increased International Tower Hill's purchasing power. The company is also leaning on Alaska to provide it with alternative energy options.
"There's a number of initiatives in Alaska to bring natural gas down to Fairbanks, which potentially would provide us with on-site gas," Pontius said. Alaska is also looking into a hydro project, or water-based energy, to lessen its dependence on oil.
Mark Bristow, CEO of
Randgold Resources
(GOLD) - Get Barrick Gold Corporation Report
, a West African gold miner, says "oil is the big inflator where we are." Randgold is expecting to produce 750,000 to 790,000 ounces of gold in 2011 at cash costs below $600.
Randgold is charting a similar course as International Tower Hill. "Our production profile and our energy profile change quite a lot over the next five years as we move from diesel generator ... to grid power in the Ivory Coast to hydropower in the Congo," said Bristow. These moves are expected to reduce emissions and kilowatt cost.
In the meantime, oil prices will hurt but Bristow is prepared. "We've been to $140
a barrel before ... it puts some pressure on our costs but we're eminently profitable," he said. The company made 29 cents in the fourth quarter and can make big money as long as gold stays over $900 an ounce.
CEO of
NovaGold
(NG) - Get Novagold Resources Inc Report
, Rick Van Nieuwenhuyse, warns "if oil continues to go up that will have reverberations around the industry ... if it goes too high that can affect the world economy and then things slow back down again."
NovaGold is in the process of revising its 2009 feasibility study at Donlin Creek, its large gold deposit in Alaska, to incorporate a natural gas pipeline, which could reduce costs by 25%.
At its other big deposit, copper mine Galore in British Columbia, the provincial and federal government have teamed up to build the power infrastructure for the main power corridor in the region.
Barrick Gold
(ABX)
, the biggest gold miner in the world, is not immune to higher oil prices. CEO Aaron Regent said that cash costs for 2011 will be 10% higher with 5% of that increase coming from rising energy costs.
To mitigate the risk, Barrick has effectively hedged oil at $85 a barrel. "We have an energy division within Barrick which produces about half of the requirements," says Regent. "Then we have financial contracts for the balance."
Goldcorp
(GG)
is in a similar boat to Barrick. CEO Chuck Jeannes said in 2011 there will be a "6% absolute dollar increase year on year" due to inflation, the most painful aspect being high oil prices.
Jeannes blames uncertainty in the Middle East leading to uncertainty in oil prices, which causes price uncertainty for the company. For its part, Goldcorp has hedges on oil and in its operations in Mexico, which use a lot of fuel, the government sets the price. Nevertheless, Goldcorp is still building a natural gas power plant in Mexico to help cost issues.
Gold Fields
(GFI) - Get Gold Fields Ltd. Report
CEO Nick Holland says "oil prices in particular can have a profound impact on the open pit operations because of the .... distances out of the pit
and to the factories ... and we may have to re-engineer the way we do things."
Holland is thinking about a conveyer system in areas where the company is vulnerable and, in the future, would consider new operations that don't require a large amount of oil. The CEO believes that oil prices could hit $150 a barrel in a few years and warns that the gold mining industry has "to start factoring that in."
Agnico-Eagle
(GFI) - Get Gold Fields Ltd. Report
is trying to do just that, but much of the company's operations are in the Arctic and CEO Sean Boyd says there are no alternatives to diesel right now. "We look closely at hedging. We have hedged diesel."
Agnico-Eagle has its fuel requirements for Meadowbank, in Nunavut Canada, at $80 a barrel until September 2011. Boyd says liquid natural gas might be an option in the far future, but that Agnico-Eagle is stuck with oil for now.
Whether a big producer or small explorer, the theme is clear at BMO: high oil prices are becoming the Achilles' heel for gold miners.
--
Written by Alix Steel in New York
.
>To contact the writer of this article, click here:
Alix Steel
.
>To follow the writer on Twitter, go to
.
>To submit a news tip, send an email to:
.
RELATED STORIES:
>> Where will gold prices finish in 2011?
>> How High Will Silver Prices Go in 2011?
>> Gold Miners Face a Cost Crunch
Disclosure: TheStreet's editorial policy prohibits staff editors and reporters from holding positions in any individual stocks.