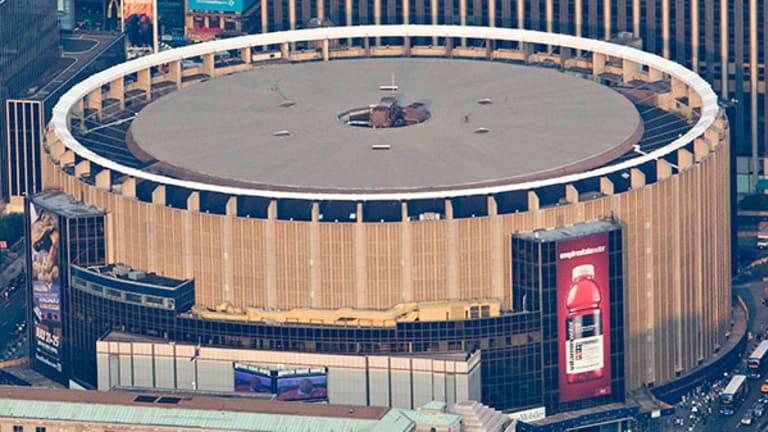 Madison Square Garden (MSG) - Get Madison Square Garden Co. Class A Report, the owner of the New York Knicks and Radio City Music Hall, was notably absent from the first stage of planned upgrades to Penn Station announced in September. But the decades-long quest to renovate Manhattan's much-trafficked rail and subway hub could still bring a windfall for the sports and entertainment holding company, BTIG analyst Brandon Ross suggested in a Friday note.
Madison Square Garden could play a role in the overhaul, Ross wrote, and could potentially negotiate for valuable air rights associated with the entertainment group's eponymous eyesore.
The press and pundits have speculated for years that the Garden would move from its home atop Penn Station as part of the train station's redesign. But when Governor Andrew Cuomo announced on Sept. 27 plans to remake the James A. Farley Post Office, which sits across 8th Avenue in New York and will be part of the expanded transportation hub, the arena was not part of the script.
"Cuomo did not mention Madison Square Garden when he revealed the plans," Ross conceded. "However, our examination of Cuomo's plan has actually given us increased confidence that the Penn Station renovation could generate significant [net asset value] for MSG and create a potential path to unlock such value."
As part of a deal, Madison Square Garden Chairman James Dolan could negotiate for more air rights in exchange for concessions such as selling property to the state to make room for the expanded station architecture. Ross suggested that Madison Square Garden could more than double its unused air rights from 1.4 million square feet to 3.7 million square feet, which would boost the value of the excess air rights from $479 million to $1.3 billion.
Madison Square Garden declined to comment for this story.
Selling air rights has some inherent challenges, however.
A Columbia Business Law Review article on a Midtown East re-zoning project addressed some of the restrictions on transferring unused "Transferable Development Rights," as air rights are formally known. "TDRs are normally transferred by merging two adjacent zoning lots," the article states. "However, because of the stringency of the adjacency requirement, the market for TDRs using this method is small and fairly limited."
There is talk of loosening restrictions, however. The Midtown East re-zoning reportedly could allow owners to sell rights to non-adjacent buildings, opening up the market.
Madison Square Garden could negotiate for similar flexibility to sell air rights to owners of properties that are not contiguous to the arena, BTIG's Ross noted.
"We don't have an idea of what the negotiation will yield; but we do believe that MSG has no reason to cooperate without the ability to unlock significant value," the analyst wrote. "And, Governor Cuomo appears dead set on not only rebuilding Penn Station as a hub for his New York City transportation plans, but doing so in an expeditious manner."
To be sure, Governor Cuomo said in January that Madison Square Garden's Theater could be part of a deal with the state. Ross suggested that Madison Square Garden could sell the Theater to the state or swap it for land in the Hudson Rail Yards to free up space to create a "grand entrance" to the new Penn Station.
Grandeur is certainly lacking from the current iteration of Penn Station, which has been described as "an architectural crime scene." The original version, a Beaux-Arts monument that opened in the early 1900's, was demolished a little more than fifty years ago, drawing  protests from architects and citizens.
Time Magazine reported that Irving Felt, a businessman who championed the construction of Madison Square Garden and became its Chairman, said, "Fifty years  from now,  when  it's  time  for  [the new  Madison  Square  Garden]  to  be torn  down,  there  will  be  a  new  group  of  architects  who  will  protest."
Air rights were introduced to the city in the 1960s as a means of preserving landmark properties. Rather than sell their properties to developers, owners could keep their buildings intact and profit by selling air rights.
Madison Square Garden may survive the reconstruction of Penn Station. But contrary to Felt's prediction, its perseverance, rather than its demolition, may draw the ire of architects. Investors will cheer, however, if the sports and entertainment group can boost returns from air rights.