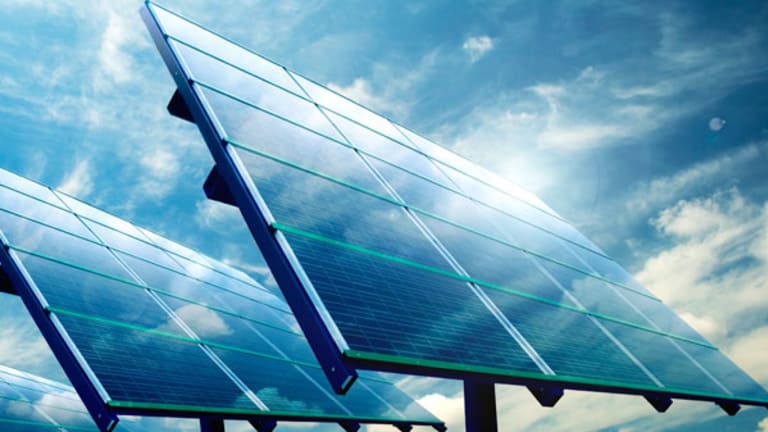 How Low Can Chesapeake Energy Go? Try Under $15
JPMorgan says shares of Chesapeake Energy will decline to under $15, territory it hasn't seen since 2004.
NEW YORK (
) --
Chesapeake Energy
(CHK) - Get Report
may be one of the greatest short-term trades an investor can make, but that's because it continues to be such a frustrating idea as a long-term investment.
Chesapeake Energy does so much wrong -- at least as far as Wall Street and investors are concerned -- that any time it makes good on a promise or an unexpected catalyst emerges -- the stock rallies. Those pops usually come right after the shares have hit a low-water mark, making Chesapeake Energy shares ripe for a quick profit. Any more than a quick hit, though, and an investor is asking for a lot out of a stock that continues to bounce around and seems to always come back to at least the low-$20s.
Chesapeake Energy has been a dry hole for long-term shareholders.
Consider these three recent examples.
In 2010, longstanding balance sheet concerns about Chesapeake -- its appetite for land acquisitions relative to a mounting debt pile -- kept the company's shares in the low $20s. In December 2010, activist investor Carl Icahn came out of nowhere to disclose a significant stake in the company. In the three months after that news broke, Chesapeake shares rose as high as $35, as the market bet the Icahn would finally get Chesapeake Energy CEO Aubrey McClendon "into line."
Hardly. Icahn took his short-term payday and got out of Chesapeake. Chesapeake did announce a plan to significantly reduce debt after Icahn's investment, a plan it says it is sticking to this year. However, shares ran from the $35 mark right back down to the low $20s.
In July 2011, Chesapeake shares returned to $35 or so after the company said it valued its Utica acreage -- which it planned to find a joint venture partner for - at $15 billion to $20 billion. That spike didn't last long either: Shares went the way of all Chesapeake Energy trading spikes and back to the low-$20s by November.
Chesapeake shares began trading 2012 in the low-$20s, and already this year the stock has experienced two mini-rallies, though nothing like the "heyday" of its $35 share price.
The share spiked as high as $24.31 after
the company announced a joint venture involving the Utica -- which the company had already announced but just hadn't slapped a partner name on until January. It was
Total
(TOT) - Get Report
, which surprised no one.
The shares rallied again this Monday when the company announced it was
shutting down some production because of the low natural gas pricing environment.
On Thursday, Chesapeake shares came right back down to Chesapeake reality, when JPMorgan downgraded the stock to a sell and put a $14.50 share price on it. At $21.90 on Thursday after a 6% decline, shares are now lower than where they started the year.
In its research note accompanying the downgrade, JPMorgan said Chesapeake will be an underperformer in the low natural gas price environment, that the company has lingering funding concerns, and that it can't make up the difference with the monetization deals it has planned. The firm sees a huge financing hole of $9 billion to $10.6 billion.
JPMorgan also noted that Chesapeake sold off all of its natural gas hedges in 2011, leaving it exposed to spot pricing. The company's plans to monetize its oil service assets, including its stake in planned IPO Frac-Tech, may also not work out too well because of the pains in the North American pressure pumping market.
These are all catalysts for Chesapeake shares that
TheStreet
previewed earlier this year.
JPMorgan also included a thesis that has been raised by Argus Research analyst Phil Weiss, the most bearish analyst on Chesapeake (and because of that distinction, he was removed from the Chesapeake Energy investor relations page analyst coverage list).
"Behavior in late 2011 suggested to us a need for cash," JPMorgan said. "These actions include monetizing its gas hedges, accelerating the Total Barnett Shale JV carry payments, and even issuing the Utica Shale perpetual preferreds after a smaller-than-expected JV."
Earlier this week, when the first line of Chesapeake Energy's press release on its production shutdown included this preamble -- "Chesapeake Energy today provided an update on additional steps it is taking to continue creating shareholder value..." -- an investor would not have been wrong to smirk at those last four words.
Indeed, it's very good at creating value for shareholders like Icahn and anyone else who gets in and out of Chesapeake shares in a hurry. So when Chesapeake hits JPMorgan's target of $14.50, buy aggressively. It'll do something to "create shareholders value." At least for a little while.
-- Written by Eric Rosenbaum from New York.
RELATED STORIES:
>>5 Energy Stock Battlegrounds in Obama's America
>>In Fracking Boom, Oil and Gas Companies Boxed In by Sand
>To contact the writer of this article, click here:
Eric Rosenbaum
.