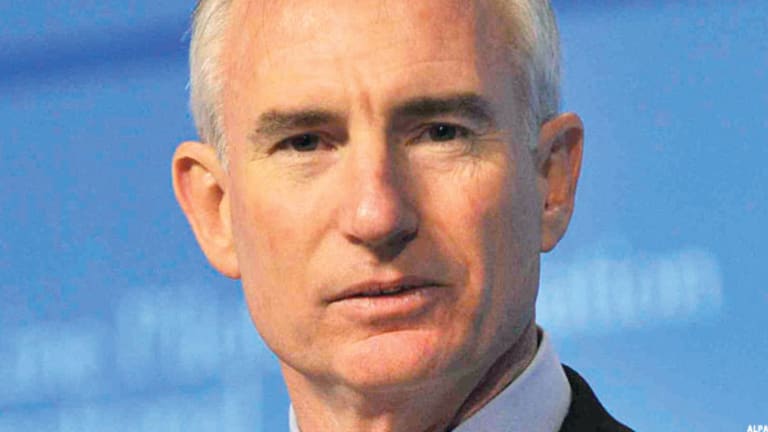 How Lee Moak Changed the Airline Industry
Delta pilot leader Lee Moak helped shape the carrier's transition from bankruptcy to dominance, and the airline industry followed.
Delta pilot leader Lee Moak helped shape the carrier's transition from bankruptcy to dominance, and the airline industry followed.
WASHINGTON (
) -- As president of the
Delta
(DAL) - Get Report
pilots union during the six most critical years in the history of what became the country's leading airline, Lee Moak brought a new, more flexible approach that enabled a transformation not only at Delta but also throughout the airline industry.
Today, as the likelihood of a merger between
American
(AAMRQ.PK)
and
US Airways
(LCC)
appears to represent the final stage of three decades of industry consolidation, Moak is particularly visible. Mergers have become the norm. The Delta pilot contract has become the industry standard. And Moak himself is national president of the Air Line Pilots Association, the country's principal airline pilot union, with about 51,000 members at 35 airlines.
In assessing the key players in the industry's 21st century transformation, three individuals stand out. One is Delta CEO Richard Anderson, who arrived at the carrier from Northwest in September 2007 and then pursued the merger that his predecessor had opposed. Another is US Airways CEO Doug Parker, who in 2005 presided over the first merger to follow the industry's wave of bankruptcies, and then provided the spark that ignited the rest of them. As for Moak, he stepped in just before Delta's bankruptcy, signed a contract that seemed to benefit both parties, helped the carrier fend off a hostile merger and then made the pilots key players in putting together a merger that worked. His approach may be described as "for pilots to win, airlines must win too."
"I worked hard on my part of (the Delta/Northwest merger)," Moak said, in an interview. "I have a different philosophy than others in the labor movement and maybe in the airline industry, and Delta has been successful, going into bankruptcy and then restructuring and merging. But I wouldn't say it's just Lee Moak. Lee Moak is the face of a large team of people who believe in the same idea."
Anderson called Moak "an incredible leader" and "on a personal level, an exceptional individual," who has good relationships with several Delta executives. "His father was a Marine sergeant and Lee was a Marine fighter pilot, so when you're talking about someone with discipline and determination, you're talking about Lee Moak," Anderson said, in an interview. "He is also polite, and that makes him effective.
"Maybe some pilots represented by ALPA think it's not always a great idea to be close to management." Anderson said. "I think that Lee has broken the mold and proven that when we all cooperate, the industry does better and the employees do better. (At Delta) we have moved from a regulated era of 'us vs. them' to 'we're all in this together,' and we trust each other and work together to make our airline successful."
Jason Goldberg, an American pilot and principal in The Leading Edge consulting firm, said pilots respect Moak because he is "a charismatic, pragmatic well-spoken guy" whose approach benefited Delta and its pilots. Moak's influence was enhanced by "a historical culture at Delta that was much more trusting between employees and management than other (airline cultures)," Goldberg said. "They had a foundation they could build on."
Moak's leadership derives from "moderating expectations for both airline management and airline pilots," said aviation consultant Robert Mann. "He's done that by describing the benefits of growing the pie for everyone, as opposed to arguing about the size of each slice of the pie."
Moak and Anderson "worked together at Delta to tame the pilot seniority integration problem and get the economics to work (and) were able to very quickly get the benefits of Delta's expanded network," Mann said. "That became the model for how to do it well." As for Parker, Mann said he should be recognized for "not worrying about getting a bloody nose now and then."
Moak, a 55-year-old native of Tulsa, Okla., who resides in New Orleans, was elected chairman of the Delta ALPA chapter in August 2005, a month before the carrier sought bankruptcy protection. He served three terms until January 2011, when he took office as ALPA president.
In September 2010, Moak laid out his vision of airline/pilot relations in a letter to Delta pilots, where he declared that "anger is not a strategy." He discussed his approach, quoting Sun Tzu, an ancient Chinese warrior and author of The Art of War, as saying: "It is the unemotional, reserved, calm, detached warrior who wins, not the hothead seeking vengeance and not the ambitious seeker of fortune."
At the time, three and a half years after emerging from bankruptcy, Delta posted a record quarterly profit. It was implementing raises that made pilot pay rates higher than before the bankruptcy was filed. Meanwhile, pilot unions at both American and
United
(UAL) - Get Report
had replaced confrontational leaders, who accomplished little, with more moderate successors, although progress on achieving contracts has been slow at both carriers.
During his tenure at Delta, Moak made two major deals. The first was the bankruptcy contract that allowed the airline to emerge successfully and enabled pilot gains later on. The second was a four-year deal, signed in 2008 after Delta and Northwest announced plans to merge. It brought Northwest pilots to Delta pay rates, gave all pilots annual pay raises and pushed seniority integration into the future. The 2008 contract marked the first time a labor agreement was reached in advance of the close of an airline merger. It became the industry standard as pilots at other airlines contemplated merger contracts. In June 2012, six months before that contract expired, Delta pilots signed a new one.
Looking back, Moak said the intense drama at Delta between 2005 and 2008 demanded that he learn quickly and think strategically. Delta was facing a shutdown when he took office, Moak said. "Delta never really believed in the idea of going into bankruptcy," he said. "They had tried to restructure out of court in 2004. When they finally made the decision to file in 2005, it might have been a little late: They were short of cash and came close to liquidation."
In November 2006, as Delta prepared to exit bankruptcy, US Airways launched a surprise $8 billion takeover bid. Pilots took the lead in fending it off, launching a "Keep Delta My Delta" campaign that not only underscored their importance but also brought employees and management closer. Parker withdrew the offer in January 2007 and Delta emerged from bankruptcy in April 2007. It announced plans to merge with Northwest in April 2008.
The carrier quickly faced another problem -- sharply rising oil prices. "It became apparent that we might have to file again," Moak said. "Having been through that process, we knew it wasn't good for anyone. (Rising fuel cost) was a secular change, not a cyclical change, and Delta pilots saw that ahead of other pilots. The pilots' strategic planning showed that the best way for the airline industry to become profitable was to participate in mergers and consolidation, so we started to pursue that."
-- Written by Ted Reed in Charlotte, N.C.
>To contact the writer of this article, click here:
Ted Reed