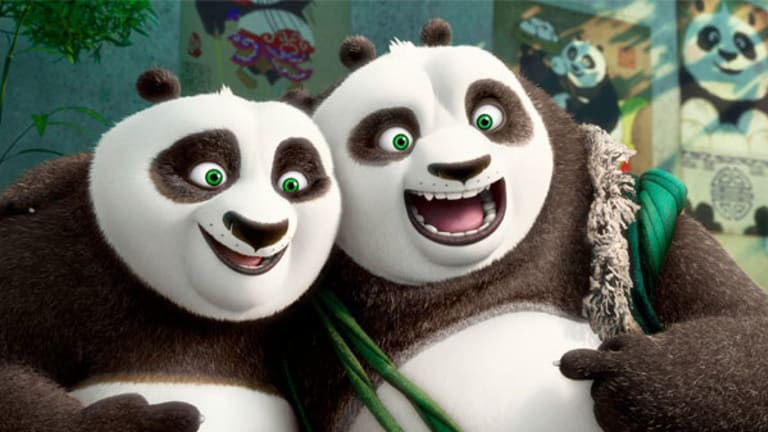 How 'Kung-Fu Panda 3' Can Pull DreamWorks Out of the Weeds
DreamWorks Animation is in the midst of an unlikely resurgence, bolstered by a deal with Netflix and prospects for the latest installment of its 'Kung Fu Panda' franchise.
All but left for dead a year ago, DreamWorks Animation (DWA)  is in the midst of a rebound.
Shares of the Glendale, Calif.-based movie and television producer have climbed 44% since late-September, fueled by a licensing and production contract with Netflix (NFLX) - Get Free Report , and the prospects that its next film, Kung-FuPanda 3, will break a string of disappointing movie results.
DreamWorks' latest installment in the life of Po, the animated hero of its Kung-FuPanda series, comes nearly a year after CEO Jeffrey Katzenberg engineered a full-scale reorganization of the production company he founded with Steven Spielberg and David Geffen in 1994.
Analysts are betting that Kung Fu Panda 3, slated for a January release, will repeat the enormous success of 2011's Kung Fu Panda 2, which generated worldwide ticket sales of $666 million, according to Box Office Mojo.
"The film business was on a rocky content stretch," said Ryan Fiftal, an analyst with Morgan Stanley, who has an overweight/cautious rating on the stock. "Since then, they did a restructure and they replaced their head of creative operations, and they've done some other things to get the core film business back on track."
In January, DreamWorks laid off some 500 employees, about 19% of its staff, while cutting its annual film output from three to two and trimming its management ranks. The studio was forced to take a $290 million restructuring charge and close an animation facility in Northern California.
Katzenberg's acknowledgement that DreamWorks had to get smaller to survive followed a series of movie stumbles that led to a $11.9 million writedown in 2013 for Turbo, and a $96.7 million writedown for Mr. Peabody and Sherman and The Penguins of Madagascar last year.
DreamWorks has always operated in the shadow of much larger Hollywood rivals such as Time Warner's (TWX) Warner Brothers Pictures and Comcast's (CMCSA) - Get Free Report Universal Studios. But the reorganization made an independent studio like DreamWorks an even more vulnerable to the vicissitudes of a movie industry under pressure from digital entertainment.
Indeed, DreamWorks' mediocre run came as the rising popularity of online offerings led by Netflix, Amazon (AMZN) - Get Free Report Prime and Hulu drove U.S. theater attendance in 2014 to its lowest level in two decades. Improvements in the user experience of home-video have put increasing pressure on Hollywood's largest studios, which generally produce high-cost films that they hope will play well both in the U.S. and internationally, said Jason Resnick, a Los Angeles-based media consultant.
"There's been carnage at the box office," Resnick said. "It's a challenge for the movie business because more and more people prefer to consume entertainment at home, since it's more expensive to go to a theater."
Since the beginning of the year, the studio has enjoyed some success with the release of Home, which generated $386 million worldwide, and increased revenue from its television unit, which tripled in the third quarter to $50.7 million from the same period a year earlier, in part due to wider distribution of AwesomenessTV, an Alphabet (GOOG) - Get Free Report  YouTube channel targeting teens that it acquired in 2013 for $33 million.
To be sure, DreamWorks remains a studio in transition. Despite rising 10% this year, shares are down 31% since the start of 2014.
Looking into the new year, the studio's Chinese joint venture, Oriental DreamWorks, may provide further growth. Kung Fu Panda 3, DreamWorks' first official project for its China studio, will debut just ahead of the Chinese New Year. The release will also skirt the opening weeks of Disney's (DIS) - Get Free Report almost certain blockbuster, Star Wars: The Force Awakens.

"It's very hard for an independent company that's trying to compete on a studio level to succeed," Resnick added. "Just doing film and trying to be successful from that is pretty hard in the current climate."
Katzenberg is hoping that the right combination of film and television can further propel DreamWorks' resurgence.