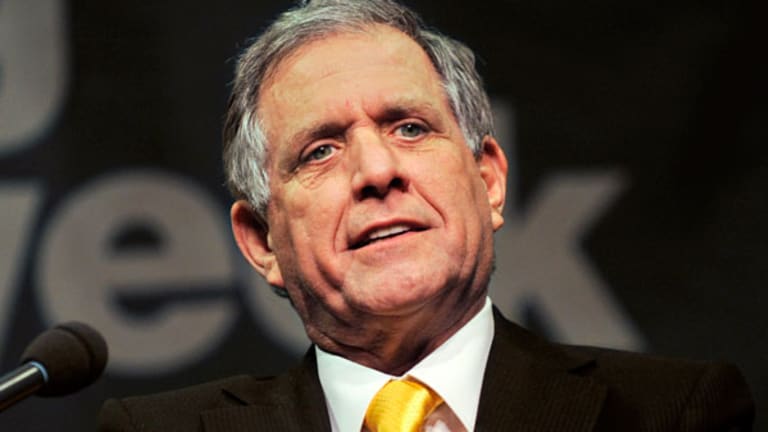 How Hulu Can Help Push CBS Toward TV's Streaming Future
Hulu's spending on content is welcome news for network broadcasters under the gun from sluggish TV ad spending.
LOS ANGELES (TheStreet) -- The focus of CBS Corp.'s (CBS) - Get CBS Corporation Class B Report first-quarter earnings call wasn't the company's better-than-expected performance or higher retransmission fees. Nor was it that CBS was once again the most-watched broadcast network.
It was Hulu.
The video on-demand venture from CBS rivals Comcast (CMCSA) - Get Comcast Corporation Class A Report, Twenty-First Century Fox (FOXA) - Get Fox Corporation Class A Report and Disney (DIS) - Get Walt Disney Company Report had CBS President and CEO Leslie Moonves excited now that Hulu has started buying up syndicated series such as Seinfeld for hefty sums in a bid to compete with Amazon (AMZN) - Get Amazon.com, Inc. Report and Netflix (NFLX) - Get Netflix, Inc. Report.
"SVOD (subscription video on demand) is now more competitive than ever in terms of buying premium content as evidenced as Hulu's recent spending spree, which is another good sign for us going forward," Moonves said on Thursday's post-earnings call with analysts. "We're selling SVOD in a big way."
CBS is also making more of its content available over the Internet through its standalone Showtime offering, which Moonves said will launch in the "coming months."
The Showtime service will compete head-on with Time Warner's (TWX) HBO Now, and Netflix.
But Hulu's entry into the big spending stakes of original and syndicated content seemed to excite Moonves even more. Hulu's more aggressive position is good news for network broadcasters as they seek to take pressure off of traditional TV ad revenue, which has slowed as ratings -- especially those among younger viewers advertisers desire most -- have tumbled in recent years.
Declining ad revenue pushed CBS' first-quarter net income down almost 15% to $394 million, or 78 cents per share. That, however, topped Wall Street's estimates of 75 cents per share, according to analysts polled by Thomson Reuters. Shares of CBS were up 2% to $62.50 in pre-market trading on Friday.
CBS has already stuck an exclusive deal with Hulu for the more than 300 episodes of its popular mystery series CSI: Crime Scene Investigation. The terms of the deal announced in February were not disclosed.
Hulu's aggressive posture is especially welcome for CBS, which will have its biggest competitors effectively paying the bills. Hulu is shelling out a reported $160 million for 180 episodes of Seinfeld. And as Moonves happily noted, CBS owns a 9% stake in the comedy famous for being about nothing.
"Clearly, there's another player in the marketplace that's saying this show that hasn't been on the air for 10 years is worth that kind of money," Moonves told analysts. "Though with Netflix still playing strong and with Amazon playing strong, with Hulu, you see all sorts of other programmers getting into the marketplace. And as long as we continue doing what is our job, which is to produce hit content, we're going to be fine and grow a lot."
CBS has TV's top comedy, The Big Bang Theory, and top drama, NCIS. In all its iterations, the crime series has more than 400 episodes that could be attractive to a streaming service.
Online syndication is a way for Moonves to reassert CBS -- known for having the oldest audience on broadcast TV -- as an essential part of the mix for Web-streaming services.
Moonves also is surely piqued that Netflix now has a market capitalization of about $3 billion more than CBS. A reference he made to explorer Marco Polo on the call was seen as a subtle dig at Netflix's costly and widely panned historical epic and a boast that establishment CBS still makes hits in the so-called new golden age of television.
Moonves believes that services such as Netflix, Hulu and CBS's own CBS All Access streaming platform will bring audiences back to watching TV, a phenomenon that worked well for the final seasons of AMC Entertainment's (AMC) - Get AMC Entertainment Holdings, Inc. Class A Report Emmy-winning cable drama and ratings juggernaut Breaking Bad.
"What remains very, very clear is that the value of hit programming continues to drive the syndication marketplace on any platform," Moonves said. 
Moreover, Hulu's push to rival Netflix and Amazon should help viewers adopt SVOD and may spur more subscriptions to CBS All Access and CBS' planned Showtime standalone streaming service.
"The point is viewers will continue to watch the best content wherever they can find it," Moonves added.
This article is commentary by an independent contributor. At the time of publication, the author held no positions in the stocks mentioned.