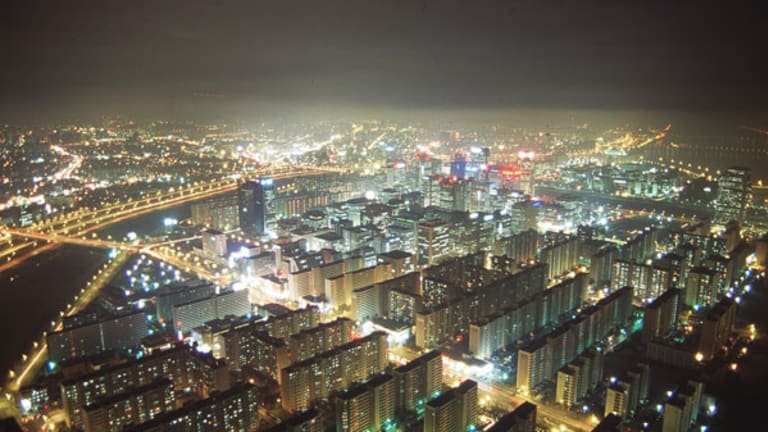 How High Will Oil Prices Go?
Oil prices surge on political unrest in Libya, as the first OPEC nation suffers an oil production shutdown.
(Oil prices story updated for Libya political events, energy market oil price forecasts)
NEW YORK (
) -- Oil prices continued to surge on Thursday a with the escalation of violence in Libya and market fears of still higher oil prices. Brent crude reached as high as $119 on Thursday before pulling back to $114. U.S. crude was above the $101 in pre-market trading.
The only event that seems to scare the markets as much as fear of the political events in the Middle East spreading to Saudi Arabia is fear of $4 -- maybe even $5 -- gasoline at the pump in the U.S. The fears were continuing to escalate on Thursday morning. Goldman Sachs warned of fear of global oil shortages as a trigger for a continued surge in oil prices. BNP Paribas raised its second quarter 2011 average oil price forecast to $105 for U.S. crude and $117 for brent crude.
The CEO of Italy's
Eni
(E) - Get Report
, which is most exposed to Libyan production among foreign oil companies, said on Thursday that Libyan oil production had declined by 75%.
The surge in Brent crude and U.S. oil futures continues to set new highs and evoke memories of oil prices last seen in the days leading up the the fall of 2008 financial crisis.
For investors, the mere mention of the fall of 2008 could create queasiness in the stomach. It was July 2008 when oil hit a record price of $147, and it was shortly thereafter, in the fall of 2008, that the markets truly collapsed. Sure, there was a little thing called the Lehman Brothers bankruptcy and financial crisis that caused the market implosion. However, for some market pundits, like former CIBC World Markets chief economist Jeff Rubin, it's the price of crude oil that has the lasting power to sink the global economy.
The year began with bullish energy market commentary about oil easily surpassing the $100 mark, yet the optimistic outlook for crude wasn't linked to a potential slowdown in the global economy until the Middle East unrest ensued, and now, the market jitters are apparent as oil prices hit levels not seen since right before the 2008 crash.
Nevertheless, oil price commentators like Jeff Rubin have been making the case since the fall of 2008 that the global economy has done nothing to de-link itself from a rising price of oil. As long as transportation is dependent on oil, a higher price of oil is embedded in the global economy and ultimately will lead to significant shocks for the system.
Indeed, market commentators were beginning to speculate this week that OPEC would step in to add production and keep oil in a range between $90 and $100. The
FT
reported on Thursday that Saudi Arabia is considering increasing its oil output centers on the Saudi's diverting oil intended for Asia to Europe, or potentially sending more oil to Asia while Western African oil usually sent to Asia is diverted to Europe.
Oil is nowhere near the $147 per barrel price (yet), but the first true global oil supply shutdown event and the surge in oil prices this week raises the question of how high oil prices will go yet, and it if will lead to a global economic slowdown, and this time, without even requiring the assistance of subprime mortgages?
The equity markets have solar off this weeks in a classic "flight to safety," as investors clearly were reflecting fears that oil prices could ultimately put the brakes on the global economy recovery.
The winds of political change across Northern Africa and the Middle East have stoked fears of global oil supply disruption, and ever-higher crude prices. Yet it wasn't until the Libyan situation descended into chaos that the fears became tangible in terms of oil production and oil export impact.
Take Egypt, where historic events have taken place, but in a country that is a net importer of oil. There were fears of a Suez Canal closure in Egypt, and some specific energy companies with production in Egypt were caught up in the headlines, but at least so far, the Egyptian political crisis has not been an energy-sector crisis maker.
By contrast, any way the data is crunched, oil is a much bigger deal for the global markets. Libya exports roughly 1.7 million barrels of oil per day, according to the International Energy Agency (IEA), making it the third largest oil market in Africa.
Europe, and European oil and gas companies, are heavily invested in the Libyan oil production and export market. Italy and Ireland, for example, had 22% and 23%, respectively, of their crude oil imports from Libya in 2010, according to IEA data. Overall, Europe receives 85% of Libyan oil exports; China received 3% of crude oil imports from Libya in 2010, according to the IEA.
European oil companies, led by Italy's Eni and Spain's
Repsol
( REP) have exposure to Italy that mirrors Europe's reliance on Libyan oil. Italy's Eni is the largest European oil producer in Libya. Repsol shut down its Libyan operations this week, citing port closures.
Royal Dutch Shell
(RDS.A)
pulled all of its workers out of Libya this week. China National Petroleum reported on Thursday that its Libyan offices had been attacked and it evacuated staff.
For Libya, crude oil and gas are expected to account for 95% of export earnings and 80% of fiscal revenues through 2014, according to the International Monetary Fund. Libya is also the first OPEC country to suffer an oil production disruption as a result of the recent political crisis in Northern Africa and the Middle East.
The International Energy Agency (IEA) said on Monday that production of about 50,000 barrels of oil daily had been shut down as a result of the political crisis in Libya. The IEA said it would discuss this week the tapping of strategic supplies to make up for any shortage in Libyan production. OPEC would also be expected to cover any oil production shortfall caused by the political unrest in Libya.
Oil prices are
the
markets story this week and raise the question,
How high will crude oil prices rise in 2011?
Take our poll below to see what
TheStreet
thinks....
-- Written by Eric Rosenbaum from New York.
>To contact the writer of this article, click here:
Eric Rosenbaum
.
>To follow the writer on Twitter, go to
.