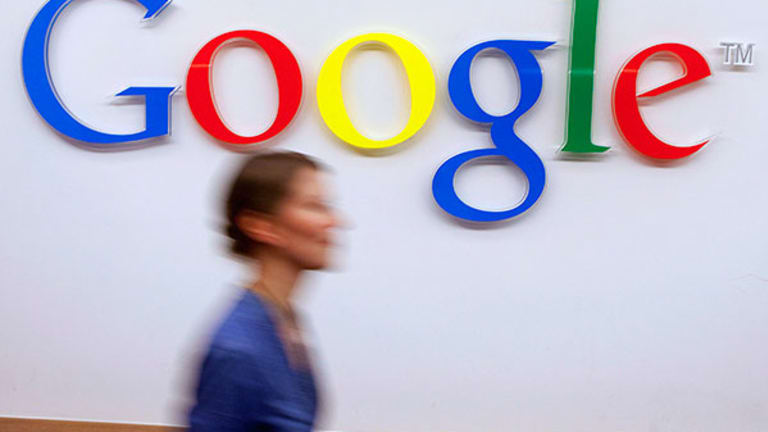 How Google's Record-Breaking EU Fine Will Impact Its Second Quarter Earnings
The tech giant will take on a sizable one-time charge related to the fines when it reports earnings on Monday.
Alphabet Inc.'s (GOOGL) - Get Alphabet Inc. Class A Report monster $2.7 billion antitrust fine will be front and center when the internet giant reports fiscal second-quarter results after Monday's closing bell.
Late last month, the European Commission fined the Google parent company $2.7 billion for favoring its own shopping services over those of rivals. The company has until the end of August to decide how it will resolve the issue and inform the EU of its plans. And it has until the end of September to change how it presents results, lest it risk being fined up to 5% of Alphabet's daily revenue. 
Google is still considering an appeal of the decision and said it disagrees with regulators' case that consumers or rivals have been harmed via its Shopping service. 
The one-time charge is unlikely to be onerous for a company that had about $92.4 billion in cash at the end of March, but its earnings will take a hit in the second quarter. Alphabet said in a release that the $2.74 billion charge is not tax deductible, so it will reduce its earnings per share and net income by the full amount.
As a result, several analysts cut their earnings estimates for Alphabet's second quarter. BMO Capital Markets analyst Daniel Salmon now expects the company to report earnings of $4.56 per share, down from $8.45 per share, while Stifel analyst Scott Devitt lowered his estimates to $4.02 per share from $7.91 per share. 
For the quarter, Wall Street expects Alphabet to post earnings of $4.47 per share and $20.91 billion in revenue. Alphabet's other businesses, including mobile search, YouTube and programmatic advertising, are all expected to remain healthy during the quarter. Total cost per click, which measures how much Google pays per ad, is expected to fall 16.4%, but that's lower than the 19% decline it saw during the first quarter.
Another key metric, total paid clicks, or how many times people click Google's ads, is expected to rise 37.2%. Other Bets, which includes Waymo, Verily and Nest, is still expected to lose money. 
Analysts are likely to ask some questions about the fine on the company's earnings call late Monday. This is because the fine not only has implications for how Google's Shopping business is run, but also may lay the groundwork for its future dealings in Europe. Alphabet faces increased oversight from EU regulators for the next several years, especially as it's involved in two other ongoing cases with regulators -- one over its Android operating system and the other dealing with its AdSense advertising service. 
Others remain concerned that the EU will continue to try to limit how U.S. tech giants do business overseas. Google is not the first of the Silicon Valley juggernauts to face scrutiny from the European Union. Apple Inc. (AAPL) - Get Apple Inc. Report , Microsoft Inc. (MSFT) - Get Microsoft Corporation Report and Facebook Inc. (FB) - Get Meta Platforms Inc. Class A Report are just a few companies who have been fined previously by the European Commission, Europe's largest antitrust watchdog. 
Monness, Crespi, Hardt analyst James Cakmak believes the recent string of charges represents "more posturing on the EU's part," but that it's unclear how U.S. officials will ultimately respond. "Fines are one thing, forcing change on business practices is another," Cakmak said. 
It seems likely that Google will be able to pay the one-time cost and move on with few major disruptions to its search engine ad business, he added. 
"We believe there is an ever-growing need for paid search advertising given consumer consumption patterns on mobile, thereby limiting the effectiveness of organic results," Cakmak explained. "Hence, the wind is very much at Google's back."