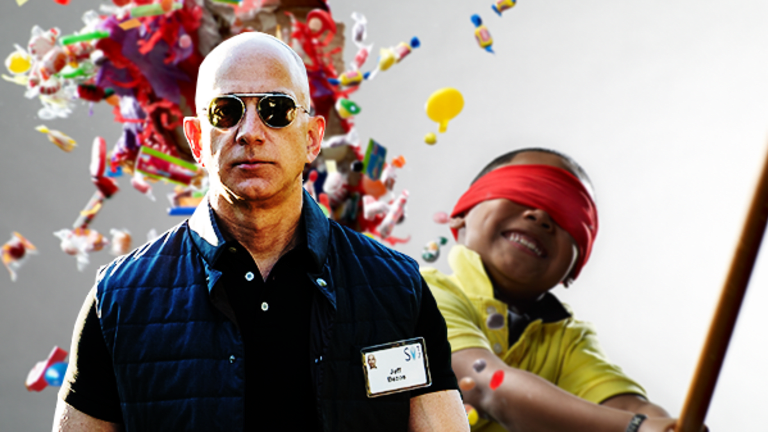 Publish date:
How Google's Deal With Walmart Coincides With a Special Gift to Amazon
As Google draws closer to Amazon's biggest competitor, it's also giving up on trying to provide an alternative to Amazon Prime.
As Google draws closer to Amazon's biggest competitor, it's also giving up on trying to provide an alternative to Amazon Prime.
There's probably a measure of concern at Amazon.com Inc.'s (AMZN) - Get Report  headquarters about Walmart Stores Inc.'s (WMT) - Get Report new alliance with Alphabet Inc./Google (GOOGL) - Get Report . After all, it's a partnership between Amazon's biggest direct rival and -- given Google's importance as a traffic-generator for so many online retailers -- its biggest indirect rival. One that clearly aims to slow Jeff Bezos' company's runaway North American momentum.
But some Amazon execs might be smiling a little too. For Google is also giving up on a paid service that had sought to be an Amazon Prime rival, and by doing so is cementing Prime's monopoly-like U.S. position.
Jim Cramer and the AAP team hold a position in Alphabet for their Action Alerts PLUS Charitable Trust Portfolio. Want to be alerted before Cramer buys or sells GOOGL? Learn more now.
Google and Walmart state that "hundreds of thousands" of Walmart products will be available for purchase by interacting -- whether by text or voice commands -- with the Google Assistant service. Google Assistant, available on Google Home speakers and more importantly gradually rolling out to hundreds of millions of Android phones, will also leverage Walmart's online and in-store shopping data to give customers shopping recommendations and make it easy for them to reorder items, provided they link their Walmart and Google accounts.
Also: Walmart will be joining the Google Express shopping platform, which is already supported by Target Corp. (TGT) - Get Report , Costco Wholesale Corp. (COST) - Get Report , Staples Inc. (SPLS) and over two dozen other retailers, and for which Google collects commissions on sales. Simultaneously, Google Express is ditching its $95 annual membership fee. Consumers shopping on the platform, accessible through both Google Assistant and the Express website and apps, are still promised free shipping provided they meet a particular store's order minimum. Orders that don't meet the minimum carry a shipping fee of $4.99 per store.
The Google Assistant part of the tie-up is getting a lot of media attention. Both because of rising interest in voice-based shopping, and because it helps Google Assistant counter the ability of Amazon's Alexa assistant -- found on both Echo devices and a growing array of third-party hardware -- to enable Amazon purchases. Amazon has been actively promoting this feature, even going as far as to offer Prime members a $10 credit for their first Alexa-based order.
Making the inventory of big online retailers accessible via Google Assistant also helps Google address the thorny problem of how to profit from voice queries without irritating users -- unsurprisingly, an early voice ad test for Google Home speakers that involved a Beauty and the Beast promo wasn't well-received. Though financial terms of the Walmart deal haven't been disclosed, Google has previously signaled that it will eventually try to monetize Assistant by taking a cut on enabled transactions.
With all that said, it feels like the hype surrounding voice-based e-commerce is overblown for now. Though potentially effective when a shopper is set on buying a particular item from a particular seller -- admittedly normal activity for many people hooked on Amazon Prime -- it's less convenient when comparing multiple items on a site or comparing the listings of multiple sellers. It's also worth remembering that -- as shown by data from Adobe Systems Inc. (ADBE) - Get Report  and others -- far more U.S. online purchases are still done on PCs than smartphones. Simply having a smaller screen to browse items on is a deterrent for many shoppers. It's safe to assume that many of these shoppers won't be thrilled with the idea of foregoing screen-based browsing altogether in favor of voice commands when they're not sure what to buy or whom to buy from.
More of What's Trending on TheStreet:
Regarding the Google Express side of the partnership, adding Walmart to Express and eliminating the $95 annual fee should do much to make Express a more popular online shopping hub, and it wouldn't be surprising if the Walmart deal is followed by similar deals with other big online retailers. However, with the annual fee gone and orders fulfilled by individual retailers, a case can be made that in many respects, Express is now merely providing a more convenient way to do online shopping that users could already do via Google searches and the Google Shopping site.
Walmart, Target, eBay Inc.  (EBAY) - Get Report and many other online sellers have already been huge buyers of the shopping ads -- they're typically accompanied by a picture and price info -- that appear at the top of Google Search result pages and on the Google Shopping site. These ads, which can take up a ton of screen real estate when doing searches on a smartphone, are a big reason why Google's total paid ad clicks and impressions grew 52% annually in Q2, and 61% on Google properties.
Amazon, it should be noted, also buys Google search and shopping ads. However, it depends less on them than many peers, since a large portion of its customer base has grown accustomed to directly visiting Amazon's site and apps. That's a big reason why Alphabet chairman Eric Schmidt once declared Amazon, rather than Microsoft or Yahoo!, to be Google's biggest search rival.
Helping Starbucks and IBM Predict the Weather Is One Hot Business
Turning Express and Google Assistant into personalized shopping platforms that Google users in general can access will further bolster Google's status as an invaluable ally to retailers battling Amazon. Other moves, such as Google's attempts to track the impact of online ads on offline sales, don't hurt either. But considering how important Google already is to these retailers (Walmart included), the Express/Assistant integrations are arguably incremental moves rather than revolutionary ones.
On the flip side, ending Express' annual fee means that Google, unlike Amazon with Prime, can't use membership fees subsidize the rapid delivery of orders. Orders need to be profitable on a standalone basis. Thus order minimums need to be hit to obtain free shipping, and Express, which started out as a same-day delivery service, now says orders eligible for free shipping will arrive in one to three days.
Moreover, Express' about-face comes about six months after Walmart ditched a $50-per-year Amazon Prime rival called ShippingPass in favor of providing free shipping for 2 million-plus items (still much less than Prime's 50 million-plus) when a $35 minimum is hit. Amazon has countered in part by gradually lowering its free shipping minimum for non-Prime members from $49 to $25.
But Prime's tremendous growth, which led Amazon's total retail subscription service revenue to rise 51% in Q2 to $2.2 billion, is clearly the larger problem for both Walmart and Google. Amazon has been estimated to have over 50 million Prime members in the U.S. alone, and has recently stepped up its efforts to win over lower-income U.S. consumers.
And as both Amazon's Prime base and e-commerce sales keep rising, the company can more easily finance new warehouse and logistics investments that allow it to further grow the number of items it can support same-day, 1-day or 2-day delivery for. Which, of course, further grows Prime's appeal to both consumers and third-party sellers.
Bitcoin's Crash Could Be Epic -- Here's the Price One Firm Sees
Thanks in large part to Prime, Amazon's North American e-commerce segment saw its revenue growth accelerate to 27% in Q2 from 24% in Q1 and 22% Q4 2016. Even with the North American segment closing in on hitting $100 billion in trailing annual sales, its growth remains well above the 15% growth comScore estimates for the U.S. e-commerce market in general.
Here's who else Amazon should buy. 
Walmart, to be fair, saw its e-commerce net sales grow 60% in its July quarter thanks to both organic growth and a string of acquisitions (the largest being last summer's $3 billion deal to buy Jet.com). But it's operating from a much smaller base, and the company's e-commerce growth is partly being driven by orders for items that are picked up from Walmart stores and otherwise might have been purchased there.
Amazon Prime remains one of a kind, and Google's about-face for Express is just the latest evidence that Prime's incredible scale and resources make it pretty unlikely that a credible alternative will be arriving anytime soon.