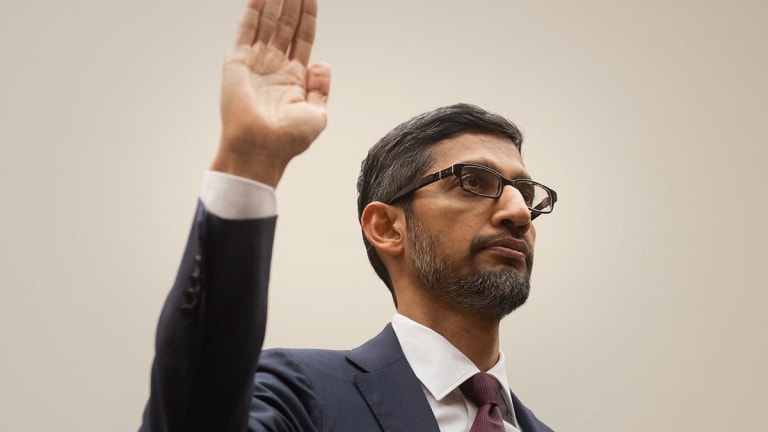 How Google, Amazon, Facebook and Apple Could 'Fake' Breaking Themselves Up
It's unlikely the DoJ or FTC will implement any breakup of Big Tech, but just to be on the safe side, Alphabet and the rest should consider some defensive tactics such as forming subsidiaries out of their most prominent non-core businesses.
There's a lot of excited talk of late about breaking up Big Tech, but it's unlikely to result in any substantial change to the structure of Alphabet (GOOGL) , Facebook (FB) , Amazon (AMZN) or Apple (AAPL) .
What may very well happen, though, is that these giants will carry out some minor changes that will appease public opinion and some regulators in order to take the heat off themselves. 
Those changes could include appointing new division heads for some lines of business, designating certain business units as legal subsidiaries, spinning off divisions as separate companies, and putting controls in place that limit capital investments in areas where a company might be perceived to have an unfair advantage. 
Nothing has ever happened like this across an entire industry, at least not in recent memory, but the pressure on Alphabet and the rest at the moment is exceptional, and so it may call for extreme measures for self-preservation. 
The U.S. Department of Justice on July 23 said it was initiating a broad review of whether dominant tech businesses are stifling competition. That followed a February announcement by the U.S. Federal Trade Commission that it would review past mergers and acquisitions by tech companies via a newly established task force charged with determining if there's anti-competitive behavior. And on Aug. 1, The Wall Street Journal reported that the FTC is in particular looking at Facebook's past deals, such as its purchase of communications startup WhatsApp, citing multiple unnamed sources.
Although Facebook has gotten the most bad press, it's generally perceived that Alphabet, Amazon and Apple are also vulnerable. As TheStreet noted last month, Microsoft (MSFT) , despite its heft in software and consumer products and cloud computing, has somehow escaped scrutiny. 
Given that there have been hundreds of acquisitions by the giants, the companies have become a hodgepodge of businesses that could be reorganized in a number of ways. 
Alphabet and Facebook
Among the four, Alphabet and Facebook in some ways have the simplest structure, since the vast majority of each company's revenue is from advertising. For that reason, there are pressure points within those advertising operations that could be a source of scrutiny. 
Google's control of both advertising and the Android software that runs most of the world's smartphones is the most obvious target. The European Union last year fined Google €4.3 billion after concluding the company placed illegal restrictions on other companies' access to the platform. Google last week said it would allow rival search engines to be installed by users as the default on Android, a kind of weak nod to ongoing scrutiny. It would behoove Google to move Android into the status of a subsidiary of the company, perhaps eventually even a spin-off. 
The YouTube and cloud computing parts of Google are also conspicuous. YouTube is a media empire growing in importance in the media landscape. And Google Cloud has hooks into many enterprise businesses. It's conceivable both could prosper while pursuing new lines of revenue if each was made a separate subsidiary. It might even allow Google CEO Sundar Pichai to have a finer focus on Google's core advertising business if these giant, trapped businesses were set free. 
Facebook
Facebook's challenge looks more difficult, as its Instagram photo-sharing property is arguably the preferred part of the company among investors precisely because it has been free of the scandals over privacy that have enveloped the main Facebook social property. Facebook could therefore create new value for shareholders by spinning off the unit as a separate company and stock. 
Of course, the opposite could happen, too, with Facebook pulling its various product groups in more closely to create a sense of cohesiveness and avoid a breakup. There's already some indication of that in a report by The Information last week stating that Facebook is planning to re-brand its WhatsApp and Instagram services to make them seem more tightly coupled with the main Facebook property. 
Amazon and Apple
Amazon, the king of cloud computing services, seems well-positioned to carve a separate company out of its AWS cloud unit, given that AWS already reports standalone financials every quarter. Amazon could continue to have a constructive relationship with the unit even if it were to do so. 
A more ambitious move for Amazon would be to make its logistics operations a distinct unit within the company with clearly independent leadership. That could address concerns that fulfillment of product deliveries is a mysterious source of leverage that Amazon possesses over other retailers. 
As for Apple, the only obvious structural move for the company is to distinguish its services business, which is now at meaningful scale, at $11.5 billion in revenue in the most recent quarter, roughly a fifth of total revenue. Spinning off the business is out of the question, given that services is supposed to be the growth engine to offset slowing iPhone sales. But Apple could clearly set the unit apart by distinguishing it as a separate subsidiary, which would remove some of the concern that Apple's own offerings are given preferential treatment on the iOS platform. 
All these possibilities could form a game plan for regulators, but a forced break-up of any of these companies faces challenging odds because anti-trust law doesn't presently support such radical moves. Whether or not any of the tech giants pursue these moves detailed above, the firms will surely be hounded by investigations for some time to come, raising the urgency of performing at least cosmetic changes to show good faith efforts to allay the concerns of regulators and the larger public. 
Facebook, Apple, Amazon, Microsoft and Alphabet are holdings in Jim Cramer'sAction Alerts PLUS Charitable Trust Portfolio. Want to be alerted before Cramer buys or sells these stocks? Learn more now.
Tiernan Ray neither trades nor owns any shares of any companies mentioned in this article.