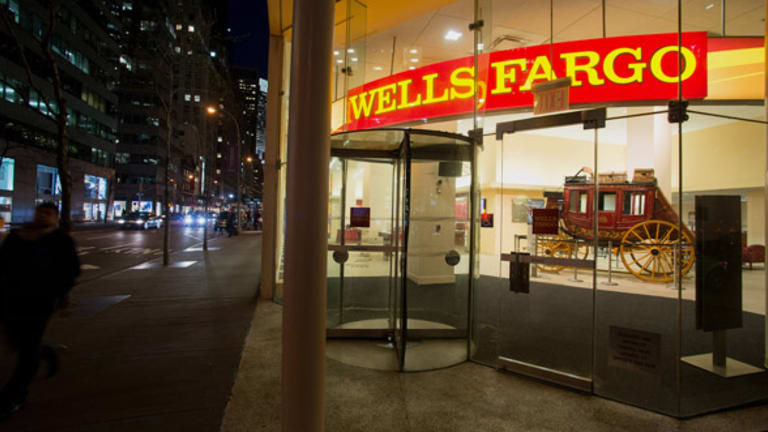 How 'Going for Great' Tarnished Wells Fargo Chief's Reputation
Allegations that Wells Fargo workers secretly opened 2 million accounts for customers is a strike against CEO John Stumpf, though he still gets credit for 'a lot of good things.'
Just last year, Wells Fargo (WFC) - Get Wells Fargo & Company Report  CEO John Stumpf penned an open letter to employees in which he outlined his vision for the San Francisco-based lender -- and its values.
"Our success has as much to do with attitude as aptitude -- what's in our hearts," Stumpf wrote. "We start with what the customer needs -- not with what we want to sell them."
It's a statement that rings somewhat hollow following the revelation last week that employees secretly and illegally opened more than 2 million accounts without customers' authorizations, at least partly to hit performance targets that triggered bigger bonuses. The improper sales practices stretched over more than five years, according to the U.S. Consumer Financial Protection Bureau, and involved roughly 5,300 employees who have since been terminated.
Stumpf is likely to keep his job due to the bank's track record of steady revenue growth during his nine-year term as CEO, not to mention a relative lack of prior debacles, say analysts at brokerage firms CLSA, Rafferty Capital Markets and Keefe, Bruyette & Woods. But Wells Fargo's reputation, considered tops in the industry by many Wall Street investors, is at risk. And that reputation has been a key factor in supporting its stock price. 
Stumpf is "not going to have to go, but when he starts talking about doing what's good for the customer, you'll have to look at that with a bit of skepticism," KBW analyst Brian Kleinhanzl said in an interview.
To settle the claims, Wells Fargo will pay $185 million in fines, including penalties imposed by the U.S. Office of the Comptroller of the Currency and the City and County of Los Angeles, according to a statement last week from the consumer bureau. The bank also agreed to hire an independent consultant to review the caliber of employee training while ensuring an "ethics hotline or similar mechanism" is available for reporting untoward activities. 
Wells Fargo executives agreed to settle the allegations "in the interest of putting this matter behind us," according to the bank's own statement. Investments in training and monitoring have already been made, and there's now more emphasis on customer satisfaction and ethics instead of just performance metrics, according to the lender. 
Stumpf, in a message to employees last week, issued a series of talking points on how to respond to questions from family and friends given that "the news will be widely reported."
"Our entire culture is centered on doing what is right for our customers," Stumpf wrote. 
A Wells Fargo spokeswoman didn't respond to a request for additional comment.
"There's this perception in the investor community that Wells is a high-quality bank," KBW's Kleinhanzl said. "The more times these incidents occur, that perception can change."
EXCLUSIVE LOOK INSIDE: Wells Fargo is a holding in Jim Cramer's Action Alerts PLUS charitable trust portfolio. Want to be alerted before he buys or sells the stock? Learn more now.
The episode has turned the spotlight on Wells Fargo's almost cult-like zeal for "cross-selling" -- peddling as many products as possible to existing customers -- from checking accounts to credit cards and mortgages. The sales culture pervaded all aspects of the lender's community-banking operations; branches were referred to as "stores," and executives compared their firm favorably to mass-market retailers Wal-Mart and Home Depot. 
In the mid-2000s, then-CEO Richard Kovacevich described cross-selling as "our most important strategy."
"The more you sell customers, the more you know about them," Kovacevich wrote at the time.""The more you know about them, the easier it is to sell them more products."
To measure its success, Wells Fargo tracked and reported a key metric -- the number of retail bank products per household. When the bank passed five products per household, Kovacevich urged employees to reach for six, and even eight as part of a "journey to great."
"We're over five! Shooting for six! Going for Gr-eight!" Kovacevich wrote. "It's working! But we still have a long way to go."
That figure climbed to 6.11 retail bank products per household last year from 5.7 at the end of 2010, Wells Fargo documents show.
Mike Mayo, an analyst at CLSA, remembers the exhaustive -- and sometimes exhausting -- presentations by Kovacevich, Stumpf and other Wells Fargo managers on the bank's cross-selling metrics. 
"As a kind of game, we would literally count the number of times the CEO said cross-sell," Mayo said. "I think I once got to, like, 17."
Stumpf, a 34-year veteran of Wells Fargo and its predecessor bank Norwest, inherited the cross-selling culture and reveled in it. In last year's "Vision and Values" document, he wrote that "an outcome of offering customers the products and services they need, want, and value is that we earn more opportunities to serve customers, or what we call cross-sell." 
Wells Fargo's board awarded Stumpf a $4 million annual bonus last year as part of a $19.3 million overall pay package, citing factors including "living our Visions and Values" and "building and maintaining enduring relationships with our customers."
Since Wells Fargo has touted cross-selling as such a core driver of its strategy, the latest allegations are harder to dismiss as typical internal motivational gimmicks, says Rafferty Capital analyst Dick Bove. Indeed, he says, Wells Fargo's reputation for sales success is a key factor in the stock's valuation. 
According to YCharts, the shares trade at a 39% premium over "book value" -- the equity value recorded on Wells Fargo's financial statements. By contrast, JPMorgan Chase (JPM) - Get JPMorgan Chase & Co. Report  trades roughly even with book value, while Bank of America (BAC) - Get Bank of America Corp Report  sells at a 34% discount. 
Bove cut his rating on Wells Fargo's stock to sell from hold last week, arguing that the premium over peers is no longer justified. Its stock has fallen 2.8% to $48.34 since the settlement was announced, a sharper decline than either the S&P 500 or its smaller financials index.
"The premium exists because investors believe that there is a significant difference in this company that leads it to show better earnings improvement, and that it better understands the retail market," Bove said. "What we know now is that it may not have a better understanding of the retail market."
Wells Fargo may have to shift to a more-costly strategy of marketing credit cards and loans to new customers, according to KBW's Kleinhanzl. Kovacevich once said that it costs 10 times as much to sell a product to a new customer as to an existing one.
Kleinhanzl said he never put much weight on the cross-selling figures, since it wasn't clear how they were calculated.
"You can have one product one quarter, and all of a sudden you change your methodology, and all of a sudden your products have increased, when nothing has changed with the customer," the analyst said.
CLSA's Mayo said it doesn't appear that Wells Fargo's profit or revenue benefited much from the improper sales practices. So it's hard to imagine that Stumpf was motivated to encourage the behavior, Mayo said.
If anything, the bank suffered -- by paying bonuses to undeserving employees, he said.
"You could say there was too much pressure to meet sales quotas, but welcome to the world of sales," Mayo said. "The sales quotas at car dealerships don't mean you lie about how fast a car can go from zero to 60."
Stumpf deserves credit for improving Wells Fargo, including successfully pushing more branch-banking customers to use cheaper phone service following its 2008 acquisition of the bank Wachovia, Bove said. He's also been instrumental in increasing the lender's trading and investment banking business, which is smaller than those at Wall Street rivals.
According to Wells Fargo regulatory filings, Stumpf led the 2008 acquisition of Wachovia, the largest banking merger in U.S. history.  
Because of all that, Stumpf probably will retain his CEO role, according to analysts.
"He's done a lot of good things and this is a big, bad thing," Bove said.