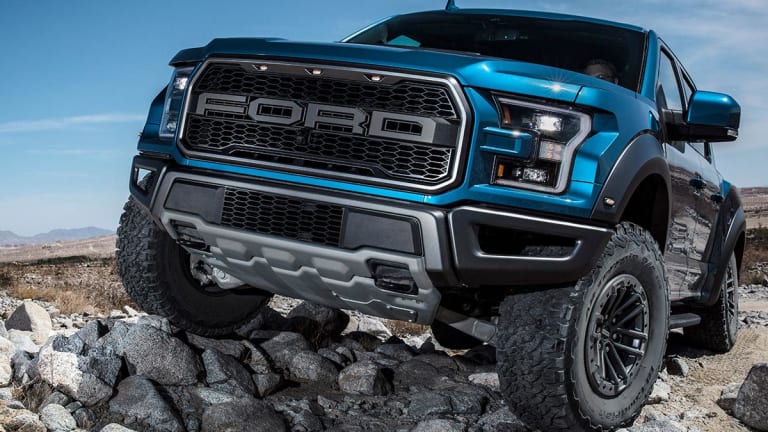 How Ford Will Eat Tesla's Lunch in the Next Two Years
A Mustang-inspired electric crossover could challenge Tesla's Model Y, while an electric Ford F-150 could derail Elon Musk's dreams of an electric Tesla pickup truck.
No automaker has managed to make money manufacturing and selling electric cars yet. In fact, electric-car giant Tesla (TSLA) has been the prime example of what happens when you try to sell a product that's so expensive to manufacture that you have to price it at below-cost to post unit growth.
Tesla sold 245,000 cars in 2018 and is on track to sell almost 360,000 in 2019, but has posted losses every single year since its inception. For example, the company lost $1 billion in 2018, and 2019 doesn't look like it will break this trend. After all, Tesla managed to lose $702 million in 2019's first quarter alone.
What irks established automakers about this situation isn't Tesla's unit growth. Heck, you can sell as many dollar bills as you want if you charge 75 cents for them.
Instead, what ticks off established automakers is that Wall Street is rewarding Tesla with a sky-high multiple -- on sales as well as on non-existent profits -- despite the company's seemingly perpetual annual losses.
Investors are doing this for a couple of reasons:
Good Automotive Design
There's widespread consensus that both Tesla's Model S and Model 3 are more beautiful-looking than almost all competitors' electric cars. In fact, one could argue that the Model S and Model 3 would have sold very well whether they were electric cars or not.
Electric Pickup Trucks
There's hope that Tesla will soon take its electric technology and "branch out" into pickup trucks, a segment that offers better chances for profit than you'd get from either hatchbacks (i.e., the Model S) or sedans (the Model 3).
If Tesla can unseat (or at least rattle) the F-150 from Ford (F)  -- the U.S. truck market's No. 1 bestseller -- that would give TSLA a better shot at generating profits. It would also reward Tesla shares with the highest industry-valuation multiple possible.
Eu Tu, Elon?
In other words, Tesla's valuation rests largely on its ability to make the best-looking cars, coupled with the prospect of eventually competing against the F-150, Ford's most-profitable pickup truck.
But surprise, surprise -- those are precisely two areas where Ford is suddenly about to enter the electric-vehicle picture. If Tesla has been treated so far like the Caesar of electric cars, Ford has not come to praise it, but to bury it. (Full disclosure: I'm short TSLA and long F.)
Ford is looking to take the glory off of Tesla's electric-car crown in two ways:
A Mustang-Inspired Electric Crossover
Step No. 1 is to produce a car that simply looks better than what TSLA offers.
After all, the best-looking cars can have all sorts of deficiencies and still become objects of desire -- like the Ford Mustang, both when it was first introduced the 1960s and then again with the model's current generation.
That's why Ford plans to soon exploit the Mustang's good looks to unseat Tesla from TSLA's leadership position in exterior design. In a few months, Ford plans to unveil a Mustang-inspired crossover vehicle that will go up against Tesla's upcoming Model Y.
Both models will arrive in the market approximately at the same time (2020's second half), but there'll be major brand deflation for Tesla if the consensus is that Ford made the better-looking electric vehicle. What will that do to Tesla's multiple?
An Electric Ford F-150
Tesla CEO Elon Musk has promised to unveil an electric pickup truck by summer's end -- unsurprising given that the U.S. market saw 2.94 million 2018 truck sales and experts widely view trucks as the industry's most profitable segment.
However, Ford currently has a 38% market share in the full-size segment -- the biggest and fattest pickup-truck target of them all.
Frankly, Ford can't take a chance that Tesla's pickup truck will be a success. Even if a Tesla electric truck doesn't sell all that much -- let alone make any profit -- Ford can't let TSLA be seen as the industry's future leader of electric trucks. If that happens, the market will decide that it's only a matter of time before Tesla dominates the truck segment totally and rewards TSLA with an even-higher stock multiple.
But guess what? Ford won't allow that to happen.
Even if TSLA shows off an electric-truck concept vehicle before Ford does, F will likely have an all-electric truck in mass production well before Tesla does. Ford's electric F-150 is already more than halfway into development (which takes between 4-1/2 and five years) and is already undergoing road testing. (You can't come out with a pickup truck that hasn't been rigorously tested and expect people to take a risk on such an important work tool.)
Ford also has a secret weapon in this fight -- "factories." It has several factories in multiple states that can produce an all-electric F-150 just as soon as the model becomes ready for production. F also has a superior supply chain and approximately 3,000 dealerships in the United States alone that can sell and service all-electric F-150s as soon as they ship.
By contrast, Tesla needs to overcome significant hurdles to enter the truck business, such as:
Developing a Test Vehicle. This includes significant "torture-testing" of a model, which will likely involve driving hundreds of prototype trucks millions of miles in the harshest conditions (including towing) for about 24 months. There are no signs that Tesla has even started this process.
Raising Cash. Tesla needs to raise the money to build a pickup-truck factory. How much? Probably at least $1.5 billion and more likely $2 billion.
Creating a Factory. Tesla also needs to actually build said factory. It can't put this factory in China because of a 25% U.S. tariff on non-NAFTA pickup trucks. That means Tesla has to most likely build a fully permitted factory in America -- something that will take probably two years even under the best of assumptions.
The Bottom Line
Even if it does all of the above, can Tesla actually make a profit selling pickup trucks? How many would it need to sell -- and at what price and gross margin -- to do so?
Yes, Tesla will almost certainly unveil a concept pickup truck with great fanfare a few short months from now. But actually producing one and making a profit on it is likely to be several years away.
If the stars align for Tesla, I think 2022 might be a possible target year for mass production. By contrast, Ford is likely to unveil a near-production-ready all-electric F-150 some time in 2020 and possibly put the model into production in 2021's fourth quarter.
And remember, Ford already has both the money and the factories to do so, while consumers will know that an electric F-150 will be fully tested and can be serviced at approximately 3,000 U.S. Ford dealerships. From towing to hauling to going off-road, which brand are truck buyers going to trust more?
What this means for investors over the next two years is that Tesla's price multiple is likely to deflate, whereas Ford has a good opportunity to pick up the electric glory from Tesla.
Watch
:
Audi, Jaguar, Ford: Here's What the Future of Electric Cars Looks Like
At the time of submitting this article for publication, Wahlman was short TSLA and long F. However, positions can change at any time. Wahlman also regularly attends press conferences, new vehicle launches and equivalent, hosted by most major automakers.