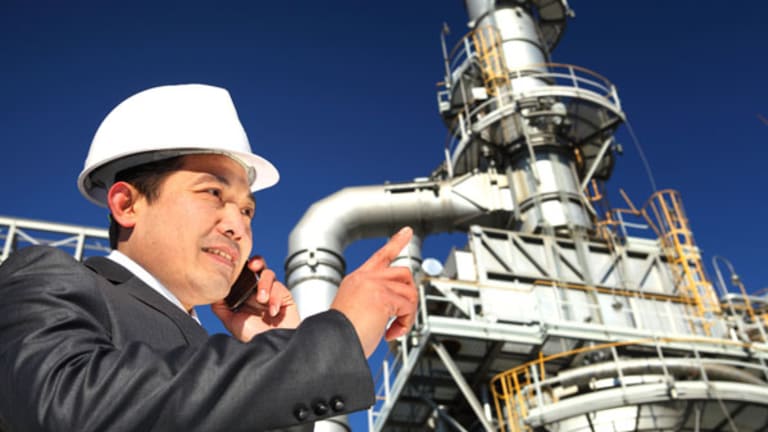 Publish date:
How Ford Started a New Business Called Lincoln
Ford is trying to establish Lincoln as a player in the competitive luxury market.
Ford is trying to establish Lincoln as a player in the competitive luxury market.
DETROIT (TheStreet) -- For what could well be his last revitalization project at
Ford
(F) - Get Report
, CEO Alan Mulally has established a start-up business inside a $132 billion corporation.
That business is called Lincoln. Its goal is to introduce a new player, albeit one with an old name, in the harshly competitive, well-established luxury-car business, where the odds for success are long. The effort begins Tuesday. Last night, Lincoln unveiled the first step in its transformation, the MKZ luxury sedan.
"What you're going to see at the New York Auto Show with the MKZ is going to be one of those tremendous proof points that allows everyone to see where Lincoln is going, and then we'll follow up with other vehicles," Mulally said in an interview.
"We're doing it just right," Mulally said. "We had to restructure Ford and get Ford going again. Now we can do the same thing with Lincoln, and wait till you see the reaction."
10 Consumer Stocks for the Stay-at-Home Investor
A team of about 200 people is working on Lincoln. That team has been growing -- 18 months ago, it numbered just 10 people -- with members brought in from outside as well as some hand-picked from within Ford. Included is design director Max Wolff, who was hired away from Cadillac in December 2010.
"We've got an incredibly dedicated Lincoln team of people who eat, breath and sleep Lincoln," Wolff said. "The Lincoln studio is proof of that from a design standpoint. It (represents) the first time Ford has dedicated space purely for Lincoln." The team includes about 25 dedicated designers.
For Wolff -- indeed, for many at Lincoln -- the excitement comes from working to transform something historic into something that is new.
"One of the things is that Lincoln, as a brand name, is recognized: I knew about it growing up in Australia," Wolff said. "But we have the opportunity now to position Lincoln as a different brand, a world class luxury brand, and design is one of the great differentiators."
Lincoln's design is "very modern -- not brash and overstated but refined," he said. Its elements include an open center console with a push button gear shift that enables an expanded storage area, a new interpretation of the split-wing grille first seen on the 1938 Lincoln-Zephyr, and an interior replete with leather and wood. Options include a retractable glass roof.
One unique element to the Lincoln start-up is that "we didn't delegate the brand to one person," said Jim Farley, Ford group vice president for global marketing, sales and service. "There is no head of Lincoln because we (on the team) all own Lincoln." Mulally called Farley, whom he hired from Lexus in 2007, "my greatest acquisition from
Toyota
(TM) - Get Report
," and said, "He really knows how to do this."
7 Companies That Keep on Growing
Farley said Lincoln is "a little personal" because his grandfather, who joined Ford in 1913 as employee number 389, operated a Lincoln dealership in Grosse Point, Mich. Mulally said the Lincoln project has three focus areas: product, the distribution system and customer experience. Farley is overseeing development of a targeted dealership network that will provide personalized service for its luxury customers.
Dealerships will be located in the 130 U.S. markets where 90% of all luxury cars are sold. "That's something new at Ford, where we treated everybody the same," Farley said. "Before, Ames, Iowa, was the same as Los Angeles." Ford has culled some dealers: The survivors have invested millions to upgrade their facilities, about half of which are brand-new. Farley cited the example of Columbus, Ohio, where Lincoln had a half-dozen dealers, most shared with Ford. Now Columbus has a single Lincoln dealership, devoted exclusively to the brand, in a new facility.
What does the luxury customer want? Farley ticked off requirements including dedicated employees; same-brand loaner cars; an open, bright location; technology display areas; an attractive lounge, even a café, with wireless access; clean restrooms and personalized service from people "who know who you are and what you like," as an alternative to calling a dealership and waiting to be connected to parts or service.
10 Dow Dogs That Are Barking for Gains
The U.S. luxury market, with about 1.3 million in annual sales, is a challenging one, dominated by German brands
BMW
and
Mercedes
, global brands who have been at it for decades and have full product lines. By contrast, Lincoln in 2011 sold just 85,643 units and now has just four models: MKT, a three-row crossover; MKS large sedan; MKX two-row crossover; and MKZ. The new 2013 MKZ will be available around the end of the year, and Lincoln plans seven new or refreshed vehicles over the next few years.
"We saw the concept (MKZ) car at the Detroit Auto Show, and it really looked terrific," said Joe Phillippi, principal of AutoTrends Consulting. "But Ford is starting on a task that Cadillac has yet to complete after spending countless billions of dollars on new vehicle development, so they have to understand that they have to be very patient. They have to be willing to stick with it when things might not go so well."
In several ways,
GM's
(GM) - Get Report
experiences can be instructive. Cadillac, which sought revival before Lincoln, sold 152,389 units in 2011 and still trails the German firms. Analyst Rebecca Lindland of IHS Global Insight said Lincoln can also learn from Buic: "The baseline problem with Lincoln is that they have to do what Buick did, which is to get people to reconsider the brand," she said. "Buick is on people's radar screens now; it wasn't a couple of years ago."
Meanwhile, Farley said discontinued Saturn got it right in terms of customer service. "The execution at the beginning was stellar," he said. "Saturn was the
Apple
(AAPL) - Get Report
Store 20 years ago."
Fixing Lincoln is a necessity, not a choice. Said Farley: "For us at Ford, nothing was more frustrating then when we had high end customers who buy Fusions and Explorers, and then they left the brand because we didn't have a compelling luxury offering.
"The Ford (turnaround) story has given us this opportunity," he said. "Customers want a second car to be a luxury car, and we have the obligation to be there."
-- Written by Ted Reed in Charlotte, N.C.
>To contact the writer of this article, click here:
Ted Reed
>To follow the writer on Twitter, go to
.