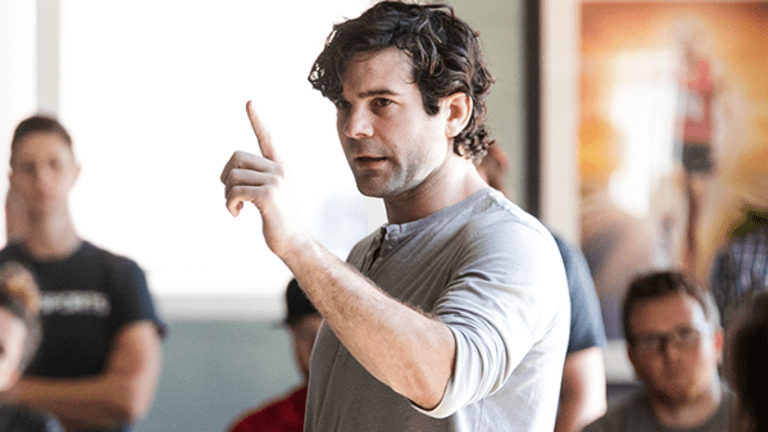 We're living through something of a schadenfreude moment for sports media.
ESPN, the Disney (DIS) - Get Walt Disney Company Report cable-TV juggernaut that reshaped, overwhelmed or held sway over sports viewers and advertisers for more than 20 years, is retrenching. The 24-hour cable-TV sports network this week laid-off some of its best known on-air personalities as ESPN President John Skipper chartered a plan to adjust the network's programming and cost structure to focus on mobile platforms.
For Martin Floreani, CEO and co-founder of FloSports, a nascent streaming service based in Austin, Texas, these are days of opportunity. While the internet hasn't exactly leveled the playing field, it has lowered the bar to entry. Size matters less than specialization, digital distribution and controlling costs. Those are areas, Foreani says, where ESPN may be its own worst enemy.
"ESPN is in an innovator's dilemma," Floreani told me over lunch earlier this month. "The faster they cultivate a direct-to-consumer digital online property, the faster they're going to canabalize their cable-TV network. They're waiting for the right time to switch over but right now they have to play the difficult game of trying to figure out when is the right time to move completely digital."
For FloSports, that time is now, or even four years ago when Floreani began laying the groundwork for the company with his brother Mark, the company's operations chief. Floreani moved to Austin, where his brother was in college, after graduating from California Polytechnic State University with a degree in engineering. A former college wrestler -- Mark was a track star at Texas -- the brothers came up with the idea of a sports streaming service after hearing the frustrations of fellow athletes that their games and events weren't getting much exposure.
After some tinkering, FloSports charges $12.95 per month or $150 for a year, for a deep dive into sports that don't often get played on ESPN: wrestling, gymnastics, track & field, martial arts, rugby, lacrosse, cheerleading, climbing, rodeo, elite fitness, singing, dancing and swimming. Yes, singing and dancing. The list is currently at 24 though its expected to reach 30 by year's end. 
As of May 1, Floreani said FloSports will have 150,000 subscribers. That's a tiny speck when compared to ESPN's 89 million. But while FloSports is growing, albeit by thousands rather than millions, ESPN is losing subscribers. Disney's most valuable network has lost 12 million subscribers since 2011, and most alarming, lost 621,000 subscribers in October alone. That eye-popping decline likely sparked the soul-searching that led to this week's layoffs.
But if FloSports has a sustainable future, it's built around the notion that viewers in the digital age want to create their own bundle rather than have a media conglomerate do that for them. They also want to pick the content they want to watch, putting a premium on streaming. Equally important, Floreani says, most people have one or two favorite sports, but not five or six. Their interests, he never tires of saying, are usually an inch wide and a mile deep.
"What you're seeing right now is the complete transformation of sports media," said Floreani, who speaks with the rapid-fire enthusiasm of a student who just figured out a complicated problem. "This is about catering to a digital-first clientele that wants to be interactive, that wants more than just appointment viewing. That's something linear television just isn't built to offer.
For devotees of a sport like wrestling, FloSports emerged just as Rich Bender, president of USA Wrestling, was looking for a way to broadcast his association's live events without having to pay the upfront costs.
Up until last year, USA Wrestling had been producing and posting videos of matches on Alphabet's (GOOGL) - Get Alphabet Inc. Class A Report  YouTube. Though the videos were shared by the federation's members, the site's cookie-cutter presentation limited its appeal, he said. To pay for production, USA Wrestling would sell advertising in addition to allocating money from its annual budget to cover the costs of filming two or three multi-day tournament per year.
But even that effort was underwhelming, he said.
Trending news on TheStreet:
Unfortunately for Chipotle, the Price for One of Its Most Beloved Ingredients Is Soaring
Taking Apart Samsung's Galaxy S8 Beside an iPhone Shows How Picky Apple Is About Design
"What USA Wrestling has struggled with for years is just aggregating enough content where it really made sense in a linear space," Bender said in a phone interview. "The advertising dollars just didn't pay for production costs."
When Bender was approached by Floreani he jumped at the opportunity. Through an eight-year deal signed a year ago, FloSports produces features and profiles on college wrestling teams, coaches, schools and players in addition to covering a slew of tournaments. The deal with FloSports pays USA Wrestling a flat fee with the potential to go higher as FloSports adds subscribers.
But more than just covering wrestling events, Bender says FloSports is building a place where enthusiasts of wrestling can go to watch on-demand and live events, and connect with the sport.
"Martin understood that although we want to generate revenue, we also really want to raise the relevancy of wrestling, to expose our sport on a much higher level than we've ever had it," he said. "There's a culture that exists right now that is very comfortable consuming sport digitally. What's nice is that we're on a platform with other sports where we can also expose our programming to casual fans."
Streaming services focused on individual sports are having a heyday. MLB.TV and the WWE Network, the online subscription services of Major League Baseball and World Wrestling Entertainment, are the two most popular sports streaming platforms, ranking 4th and 5th among the top 10 U.S. streaming services behind Netflix (NFLX) - Get Netflix, Inc. (NFLX) Report , Hulu and Amazon (AMZN) - Get Amazon.com, Inc. Report Prime Video, according to Parks Associates, an industry research firm based in Dallas.
Mark Wan, co-founder of Causeway Media Partners, a part-owner of the Boston Celtics and an early investor in FloSports, likes to cite the meteoric popularity of WillowTV,, the global cricket website as an example of enthusiast who will watch live events but also additional video and reports on their favorite sport. Causeway's $8 million investment in 2014 marked FloSports' first round of outside funding. 
"The world is changing from watching whatever comes through a cable-TV box to being able to consume just the content they're interested in and when they're interested in watching it," Wan said in a phone interview from Jackson Hole, Wyo. "Netflix and Hulu probably paved the wave, but it's what has put the linear, cable-TV model under so much stress."
In August, Causeway Media Partners joined with DCM Ventures, headed by Jason Krikorian, a co-founder of Sling Media, Bertelsmann Digital Media Investments as well as World Wrestling Entertainment (WWE) - Get World Wrestling Entertainment, Inc. Class A Report and Discovery Communications (DISCA) - Get Discovery, Inc. Class A Report  in a second round of financing for FloSports that came to a comparatively small $21.5 million.
Flosports, he said, can become the go-to platform for fans of dozens of athletic events rarely seen on ESPN or the major broadcast networks. In recent weeks, FloSports has streamed the International Brazilian Jiu-Jitsu Federation's championship, attracting viewers from 100 countries, games of the Nike Elite Youth Basketball League and college competitions in a variety of sports.
For the moment, FloSports is something of a David in a industry dominated by Goliaths: ESPN along with CBS, NBC and Fox. But viewing habits are changing. For proof, he says, just look at soccer. Ten years ago, many scoffed at the notion that it would ever be popular within the U.S. But U.S. audiences for the 2014 World Cup broke all sorts of record.
"In the traditional model, there's clearly a crack in the dam," Floreani said, "It hasn't collapsed, of course, but the crack is there, and we're going to see the walls of all the traditional sports broadcasting models go down, and the endless possibilities of the internet will really emerge. The distribution of sports content will become more global and new sports competitions will be created. That's our market."
Trending news on TheStreet:
Unfortunately for Chipotle, the Price for One of Its Most Beloved Ingredients Is Soaring
Taking Apart Samsung's Galaxy S8 Beside an iPhone Shows How Picky Apple Is About Design