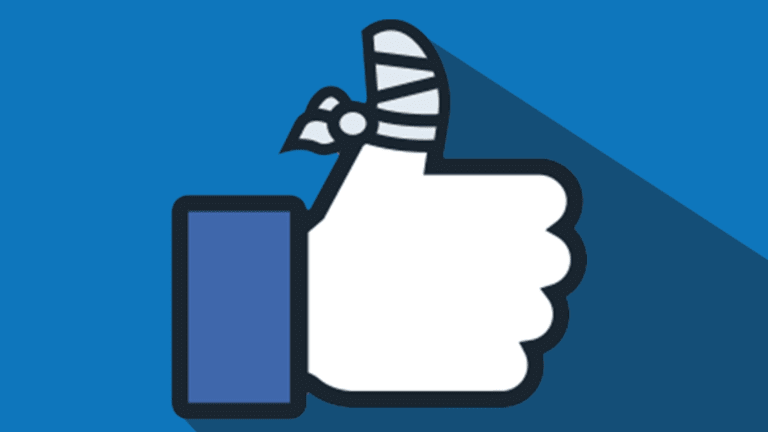 How Far Is Facebook Willing to Go to Reenter China After Google Gave Up?
China remains elusive for yet another U.S. tech giant after Facebook's WeChat messaging app was subjected to censorship this week.
Facebook (FB) - Get Meta Platforms Inc. Class A Report  CEO Mark Zuckerberg has done his best to remain upbeat about the company's ability to reenter the strictly regulated China market, but that could change after the recent censorship of the company's messaging app WhatsApp. 
Zuckerberg, 33, has taken years of Mandarin, spoken to China president Xi Jinping and China Internet Chief Lu Wei, and even posted an infamous photo on his Facebook page of him jogging through the polluted streets of Beijing with a smile on his face. But this week China sent another message that it was weary of Facebook by censoring photos, videos, and texts on the company's WhatsApp messaging app in China.
And that's just the latest defensive move the country has made against the U.S. tech and social media giant that's used to getting its way. 
Facebook was first blocked in China in 2009 after race-centered riots made authorities nervous about people spreading criticism or creating anti-government groups on the platform. In 2014, China also blocked Instagram, which Facebook had acquired for $1 billion in 2012. In 2014, Facebook acquired WhatsApp for $19 billion and three years later, the government doesn't seem to be warming up to it. 
In late 2016 Facebook was working on a censorship tool that would automatically censor posts on its platform in China, the Wall Street Journal reported. However, it's not clear what happened to the tool. Facebook may have marketed the tool casually through back channels it has with China or it may have had exclusive meetings with China officials to propose the tool as a way for it to reenter China, noted Jackdaw Research chief analyst Jan Dawson. Either way, the tool isn't in use and Facebook still isn't in China. 
There's also the problem of Facebook giving up its Western view of free speech if it wants to use that tool to gain access to China's 700 million Internet users. Certain Facebook employees working on the tool even left the company, the New York Time reported. While Facebook has been eager to work with the government, if the company goes so far as to say, "We'll do anything to get into this market," then it will be an endorsement of China and its policies, Dawson said. "That's not a great look and it will most certainly receive backlash," he explained. 
By using the censoring tool, Facebook would be setting a new standard for how to enter China, he continued. When Alphabet Inc's (GOOGL) - Get Alphabet Inc. Class A Report Google was pressured to censor its searches, the company pulled out of China in 2010. Google had an 'all or nothing' stance on China, meaning that it didn't want to be in China if it had to compromise on its values. But Facebook may depart from that stance. 
Zuckerberg said in a meeting with employees that he was willing to compromise to get a foothold in the country. "It's better for Facebook to be a part of enabling conversation, even if it's not yet the full conversation," Zuckerberg said, according to employees who spoke to the Times.
Facebook and Alphabet are holdings in Jim Cramer's Action Alerts PLUS Charitable Trust Portfolio. Want to be alerted before Cramer buys or sells FB or GOOGL? Learn more now.
However, if Facebook allows its content to be censored, then it's not offering anything different from the social media sites that are already allowed in China, Dawson pointed out. The China officials will see Facebook as a high-risk, low-value option. "There's not a gaping hole in China when it comes to social media so they won't have much incentive to bring Facebook back," he said. The one exception would be if China sees accepting Facebook with its censorship tool as a way to show people that things aren't as bad as they seem there, he said. 
Dawson thinks Facebook should focus its attention on other markets because even if it can succeed in getting back into China, there's no guarantee that it can compete with competition from China-based companies like Tencent Holdings Ltd.  (TCEHY) or that China won't just kick it to the curb again in a few years. "It shouldn't be placing all of its eggs in the China basket," he concluded. 
The big questions going forward for Facebook is how badly does it want to be in China and what compromises is it willing to make to get there, Dawson said. At this point, it's possible that Facebook's only option left is to wait, he said. 
Facebook nearly got a stab at establishing a China footprint in 2015 when it was granted a permit to open a representative office in two office-tower suites in Beijing. However, the license was only for three months and Facebook never opened the office because it was frustrated by the unusually short lease, the Times said. 
Now, two years later, the environment is somehow tougher for U.S. tech companies to enter. In August, Chinese-based ride-hailing app Didi Chuxing took over Uber's business in China after a bruising competition. Shortly after, U.S. streaming giant Netflix Inc. resorted to (NFLX) - Get Netflix, Inc. Report  to licensing its content to Alibaba (BABA) - Get Alibaba Group Holding Ltd. Report , Tencent and Baidu Inc. (BIDU) - Get Baidu Inc. Report  rather than enter the market alone.