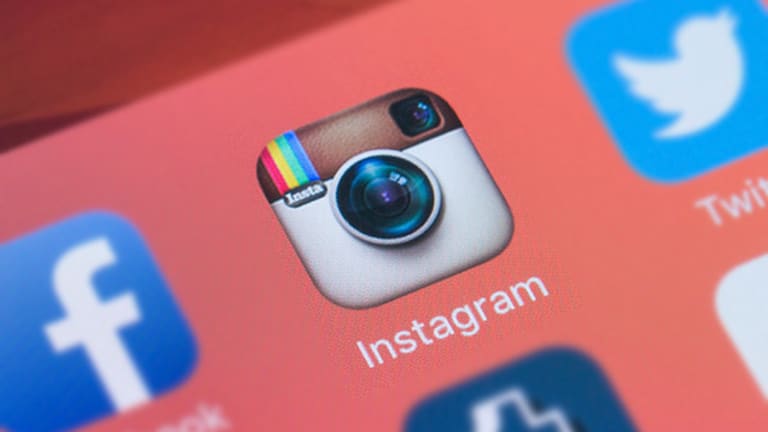 How Facebook's Instagram Is Becoming a Veritable Cash Cow
The popular image-sharing app could double its revenues to $3.5 billion next year as it continues to add new users and features, says SunTrust.
A growing user base and a slew of new products, some of which borrow from Snapchat's playbook, are significantly boosting revenues at Facebook's (FB) - Get Report Instagram, according to SunTrust analyst Rodney Hull.
Instagram sales could nearly double from $1.8 billion to $3.5 billion or more next year, making up 10% of the Internet giant'srevenue, SunTrust forecasts in a Monday report.   
The photo and video sharing site has become a key asset for Facebook in the battle for young eyeballs with Snapchat. The company disclosed on Dec. 15 that Instagram had gained 100 million monthly average users in the last six months, pushing its total user base to 600 million.
The previous addition of 100 million users took nine months, said Jim Cramer and Jack Mohr, the manager and research director for the Action Alerts PLUS portfolio, which owns Facebook.
"Instagram's growth appears to be accelerating, likely thanks to recent product innovations like Stories, which takes aim at SnapChat," Cramer and Mohr said. Stories borrows from SnapChat by grouping photos and videos in a slideshow that expires in 24 hours. "Importantly, Instagram remains under-monetized relative to core Facebook, offering significant upside as user traction continues to build," Cramer and Mohr noted.
Though advertisers do not currently use Instagram as heavily as Facebook, Michael Pachter of Wedbush Securities suggested in an email that the balance could shift.
"My bias is that as ad load growth slows on Facebook, it will gradually increase at a higher rate on Instagram, and Facebook's overall revenues will continue to rise," Pachter wrote.
To be sure, Instagram is an evolving piece of the ecosystem. Facebook has 1.6 billion to 1.7 billion monthly active users, Pachter noted, while WhatsApp and Messenger each have about 900 million. "There is a ton of overlap [between Instagram, WhatsApp, Messenger and Facebook users], but it's clear that a significant portion of Instagram users go there first, or go there exclusively, so it's important to Facebook to keep growing the platform," the analyst wrote.
Snapchat's revenues are growing even more quickly than Instagram's, although from a smaller base. The social media site's revenues are on pace to grow from a projected $366.7 million this year to $935.5 million next year, digital media research group eMarkter estimates. The social media group's sales should exceed $1.8 billion in 2018.
Instagram's growth is significant considering Snapchat's competition, Wells Fargo analyst Peter Stabler noted in a Sunday report.
"Instagram's continued strong growth provides significant additional advertising inventory for the Facebook ad platform as a whole, given how tightly Instagram has been integrated into the core [Facebook] ad platform," Stabler wrote. "We believe Instagram's growth also provides substantial benefits in its ability to offer extended reach of younger skewing demographics, counter-balancing [Facebook]'s engagement growth among older audiences."