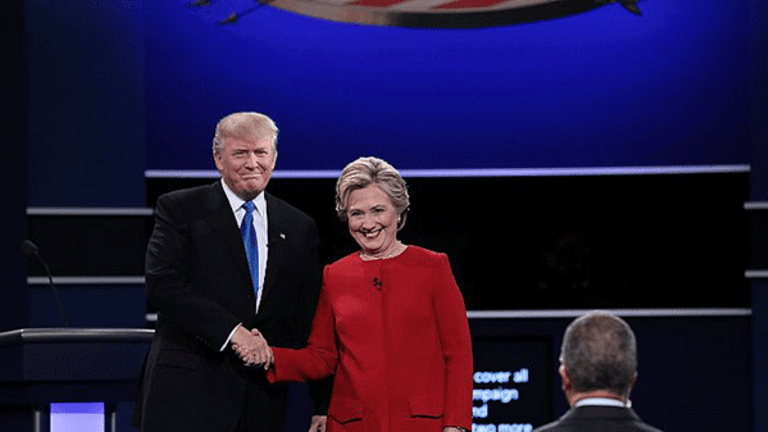 How Facebook, Google and Twitter Are Attracting More and More Political Ad Dollars
Social and online media are playing a larger role in political advertising, largely at the expense of television.
Editors' pick: Originally published Oct. 6.
As Donald Trump and Hillary Clinton grapple for votes among an increasingly polarized electorate, Facebook (FB) - Get Meta Platforms Inc. Report , Alphabet (GOOGL) - Get Alphabet Inc. Report , Twitter (TWTR) - Get Twitter Inc. Report and others are devising new tools to help candidates build lists of email addresses, raise funds, persuade voters to change their minds on an issue or a candidate and to get out the vote.
As social media helps candidates target and persuade voters, it is taking a greater proportion of political advertising spending.
In the beginning stages of the campaign, Twitter head of political ad sales Jenna Golden said, the candidates used social media ads to acquire data or dollars. "How can they use our advertising to target people who will submit an email address or will donate?" she said.
But the emphasis has shifted in the last month or two, she said, with the candidates using their social media ads to try to persuade voters on issues. "They are focused on bigger opportunities like video and rally changing somebody's mind in the midst  of a debate for example," Golden said.
Social media makes up a relatively small but growing piece of the roughly $11.7 billion in political advertising that Borrell Associates expects for the current cycle. Borrell forecasts $573 million in social media advertising in this campaign, out of total digital spending of $1.2 billion. Political advertising on social media has risen about 10 fold since 2012, when spending totaled about $54 million.
Borrell Executive Vice President of Research Kip Cassino says he expects to raise his firm's social media spending projection when it reports its latest estimates next week, as advertisers increasingly see the appeal of targeting their messages.
The largest players are Facebook and Google, but the campaigns use a broad social media palette. Pro-Clinton PAC Priorities USA, for instance, aims to spend $35 million on Facebook, Instagram, Twitter, Spotify, Snapchat, pre-roll ads across the internet that appear before videos, and other outlets, according to the PAC. Most of the PAC's total ad budget of $160 million, will go to TV.
Facebook has many advantages compared to Google when it comes to political advertising, argue Jim Cramer and Jack Mohr, the manager and research director for the Action Alerts PLUS portfolio, which owns both FB and GOOGL.
"Facebook's share of the ever-expanding digital ad budget should outpace Google's given the engaged nature of its social media community and more importantly its sophisticated targeting capabilities that allows not only presidential but local (Senatorial and Congressional) campaign spend to be efficiently and precisely segmented, allocated and tracked with proven [return on investment]," they said.
A shift from mass media to more targeted advertising has begun in this election and will become more pronounced, Borrell's Cassino said.
"Folks are gradually turning away from the idea that you have to speak to a mass of people and turning towards the concept that you want to speak to and energize the people who are going to vote for you," Cassino said.
Borrell forecasts that political advertising spending on social media will increase from $573 million in 2016 to nearly $2.1 billion in 2020.
The shift in advertising trends could cost TV station owners more than $1 billion in four years. Borrell sees political advertising on television dropping from nearly $5.9 billion in the current cycle to $4.7 billion in 2020.
"We believe that in the 2020 cycle you're going to see less mass media and more targeted," he added, which should play well for Facebook, Google and other social networks. "The most targeted you can get is social media right now," Cassino said.
Here's a look at what the major social and digital networks are doing with political advertising: 
Facebook
Facebook has introduced new forms of advertising that have appealed to campaigns. Former Republican hopeful Ted Cruz used Facebook's accelerated ad delivery feature to rile up voters opposed to Planned Parenthood during Republican primary debates.
Facebook excels in what Mark Jablonowski, the Chief Technology Officer for Washington digital ad network DSPolitical, described as direct response acquisition advertising.
"Anything from donations to email acquisitions to taking an action like filing a petition" fall into this category, Jablonowski explained. "They are able to deliver a very high return on investment when you are bringing new supporters into the fold."
Facebook's curation of advertising on news feeds makes the network less useful in ad campaigns designed to persuade or mobilize voters, though -- areas where DSPollitical specializes, Jablonowski said.
"They don't allow an advertiser to come in and flood their wall with vote-for-me messages or issue-based messages where you're trying to get in front of a user repeatedly to get that message really ingrained in their mind," he said.
DSPolitics' ad network uses Facebook and YouTube, but also places ads on web sites like ESPN.com and NYTimes.com and web sites for local TV news stations. Jablonowski likens the approach to strategies that online retailers deploy. "You go to Amazon (AMZN) - Get Amazon.com Inc. Report and look at buying a pair of shoes," he said. "The next thing you know those shoes follow you wherever you go online."  
Alphabet
While Google's YouTube is a mainstay for posting campaign videos, the company has also introduced new video advertising tricks that are gaining traction with candidates.
Hillary for America used Google's Lightbox ads to livestream her speech at the Democratic National Convention and other events. When a user scrolled over the ad, they could watch a video without going to a new page.
Borrowing from the playbook of publishers such as the Los Angeles Times, Google has begun selling ad space on YouTube's masthead. Donald Trump bought one of the splashy ads in late September.
Like Facebook and other social and digital companies, Google did not disclose political advertising numbers. However, a source familiar with the matter said most campaigns run search ads, and many have added YouTube advertising.
Twitter
While Facebook and Google have larger audiences and thus greater scale, Twitter gets increased play during real-time events such as the campaigns.
The Trump campaign bought a promoted tweet during the first presidential debate that featured Twitter's polling feature, asking respondents to vote for Hillary's biggest lie.
Embedding video into tweets is also gaining favor among candidates and PACs during the debates and other events. "We didn't even have video on Twitter in 2012," Twitter political ad sales head Golden said.
Snapchat
While Hillary Clinton has used Snapchat to troll Donald Trump, the millennial-friendly app's value as a political advertising vehicle is evolving.
"Snapchat is a fantastic platform for earned media," said DSPolitics' Jablonowski, referring to free stories, posts or publicity that a fan or follower creates without being paid. However, he added that the ability to target ads on the app is still in development.
"We really look forward to the day when that is there, because they have access to a very desirable audience," Jablonowski said.