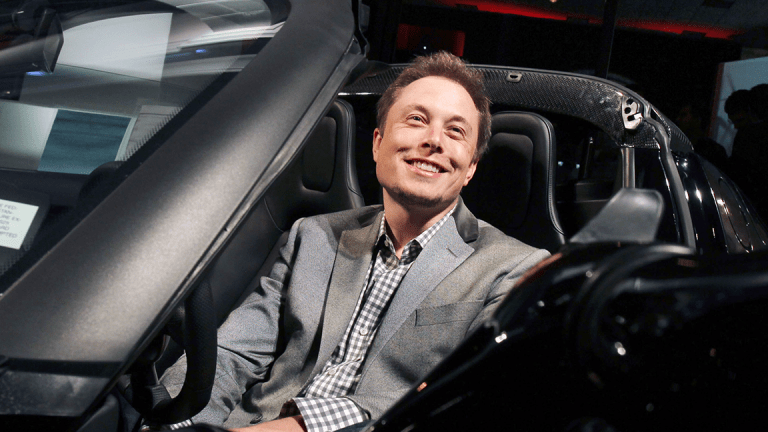 How Elon Musk Controls Tesla With Only a Minority Ownership Stake
Tesla's CEO has a complex form of control over the battery powered car company through his 22% equity stake on the one hand, and the company's super-majority voting rules on the other.
Elon Musk is firmly in the driver's seat at Tesla Inc. (TSLA) - Get Tesla Inc Report , but not surprisingly, it's a bit of an unconventional ride. 
Musk only owns 22% of the equity of the battery-powered car company that he founded and runs as CEO, but that stake coupled with corporate super-majority voting rules gives him a complicated form of control over the business, academics and investors say.
"The argument is that he has control, not voting control, not equity control, but a complex form of control by combination of his equity stake on one hand and supermajority voting provisions on the other," said University of Iowa Associate Professor of Law Gregory Shill.
Musk owns 22% of the equity and voting rights in the company, which may not seem like a lot considering that Facebook CEO Mark Zuckerberg controls 60% of the votes at the social media giant and much less of the equity. However, according to a lawsuit in Delaware Chancery Court, Tesla's bylaws contain supermajority voting requirements that require the approval of two-thirds of shares to OK major changes at the electric-car maker, including mergers, acquisitions or changes to the board's compensation.
Activist gadfly James McRitchie has submitted shareholder proposals in 2014 and 2016 to do away with Tesla's supermajority voting rules. In an interview, he notes that currently insiders -mostly Musk -- control about 25.5% of Tesla's shares and as a result, without Musk's support, a minimum of 89.5% of outside shares must vote to approve key changes -- an incredibly high hurdle.
"It is pretty close to control of the company," McRitchie said.
McRitchie said he spoke at Tesla's 2014 annual meeting, urging the company to collapse its supermajority voting structure, arguing that it impeded good governance. However, Tesla directors opposed the change. Roughly 42% of Tesla's stockholders backed the proposal - 56% support if one considers only non-insiders. In 2016, McRitchie submitted another proposal to eliminate the supermajority voting requirements, but the board recommended against it, and it received 42% support again.
Tesla defends the supermajority role, in a statement in response to McRitchie's proposal last year, arguing that it is "limited" and is intended to ensure that the company's mission and long-term objectives are not "frustrated" without a broad consensus for such a fundamental change. The company notes that the company's supermajority rules have never actually been invoked. 
The goal is to protect the company from hostile takeover proposals, which Tesla says can be harmful to  its long-term objectives. At the very least, it allows Tesla to fully understand the terms of offers and evaluate strategic alternatives, it says. 
"Limited supermajority voting provisions enable the company to meet the long-term interests of its stockholders without being disrupted by these short-term variations and the opportunistic scenarios they often attract," Tesla said. 
The matter of Musk's control over outside shareholders emerged in recent months in a class action lawsuit over the electric-car maker's 2016 $2.6 billion acquisition of solar panel maker SolarCity in an all stock deal. The lawsuit, which is ongoing, claims that the acquisition was a bailout of SolarCity to the detriment of Tesla shareholders.
"Tesla is being sued over the SolarCity acquisition, where Elon Musk went to the board and said, 'we should buy SolarCity, this company where I am the biggest investor and where I am chairman of board and where my cousin is CEO.'" Shill said. "After he brought it up two more times [to Tesla's board], they eventually bought the company."
Shill notes that the claim is that the acquisition was a bailout of Solar City. "Musk had a decent business case for acquiring a solar panel company for his battery powered car company, but he didn't go to the board and say let's buy a solar power company, he said let's buy this particular solar power company," he said.
Nevertheless, Shill said it is unclear whether the supermajority voting provisions played any role in this particular context, considering that 85% of the outside shareholders ultimately voted for the merger. "Even if they [bylaws] grant Musk something like control in some situations, he didn't need them here," Shill said.
Even so, last month Delaware Judge Joseph Slights refused to allow Tesla to dismiss the lawsuit, allowing it to proceed to trial. 
Last year, a large minority of Tesla investors urged the electric-car maker to have annual elections for its directors, a major rebuke to Musk and the company's board. According to securities filings, roughly 30% of the for and against vote -- 47% if Musk's stake was excluded --- backed a proposal that was seeking to collapse the company's staggered multi-year director election system. The company's annual meeting is expected in June - look for more shareholder proposals targeting governance and Musk's complex control regime to come.
Editor's note: This article was originally published by The Deal, a sister publication of TheStreet that offers sophisticated insight and analysis on all types of deals, from inception to integration. Click here for a free trial.