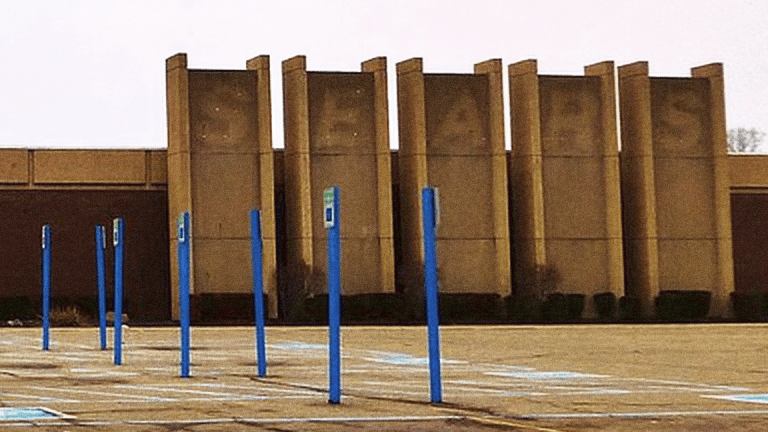 How Sears CEO Eddie Lampert May Come Out Ahead, Even If Retailer Dies
At least $1.6 billion of Sears Holdings loans are held by affiliates of Chairman and CEO Eddie Lampert's ESL Investments. That means Lampert could benefit from Sears' failure.
A Chapter 11 filing that hands a bankrupt company to new owners is one of the most common forms of restructuring. However, those waiting on new owners to take the helm of Sears Holdings Corp. (SHLD) following a much-speculated-about bankruptcy filing haven't taken a close look at the company's balance sheet.
An analysis of Sears' debt by The Deal, sister publication of TheStreet, found that at least $1.6 billion of Sears Holdings loans are held by affiliates of chairman and CEO Edward S. Lampert's ESL Investments Inc.
What exactly this debt stake would mean in a Chapter 11 filing isn't completely clear. There are still a lot of unknowns (including whether Sears will actually file for bankruptcy) and a lot of possible outcomes. But it does shed light on one of those possibilities—that, conceivably, Sears could enter bankruptcy, shed some of its debt, strike deals with other lenders and Lampert could wind up with ownership of whatever's left, including a significant amount of potentially valuable real estate. It also means that in a bankruptcy filing, Lampert is well protected as Sears is bound to him by much more than just an ownership stake that would be worthless in bankruptcy.  
Here's a more detailed breakdown of Sears Holdings' debt: ESL affiliates are the lender on at least five issuances of Sears loans with a total outstanding balance of more than $1.5 billion. The only loans that aren't clearly held by ESL affiliates in Sears' financials are under a header called domestic credit agreement. The domestic credit agreement loans are lent by a syndicate of lenders, according to the statements, and Sears owes about $2.1 billion to that syndicate as of October. Affiliates of ESL held about $100 million of that $2.1 billion last year and were repaid $36 million when the company sold Craftsman. Overall, this brings Lampert's debt tally to just under $1.6 billion.
These are the loans that Sears explicitly has disclosed are held by ESL. It's not clear whether ESL is in any of the other $2 billion.
Additionally, Sears Holdings has another $771 million in bond debt. One of two issuances of that bond debt was sold to stockholders, setting up the possibility that Lampert, who with affiliates holds 49% of Sears' outstanding shares, also has some of those $468 million in senior unsecured bonds.
In sum, Sears owed $4.5 billion in debt as of October, of which $3.6 billion were loans and $771 million bonds. So, as a percentage, Lampert holds just a little less debt, at least 36%, than he holds shares.
Nearly a month into 2018, speculation surrounding the possibility of a Sears bankruptcy filing has been bolstered by the announcement that it would attempt to restructure some of its bond debt and execute liquidity-boosting transactions, leading to rock-bottom ratings downgrades by all the ratings firms and the company's own admission that its board will have to consider "all other options to maximize the value of its assets" if these transactions aren't successful.
Lampert said in a statement in January that the transactions Sears is pursuing "are designed to accelerate our return to profitability and enable Sears Holdings to increase our investment in the most promising opportunities in our enterprise." But analysts are less certain.
"I would be surprised if we're having this conversation at the end of 2018," said James Gellert is the Chairman and CEO of RapidRatings, a financial health ratings firm, when asked whether Sears could hang on for another year using the tactics its implemented so far, namely with a drip-drip-drip liquidation of its real estate, assets and stores.
"This year, we see a significant event for Sears," Gellert added, specifying that he believes that event will be a bankruptcy, debt restructuring or sale.
Of the most recently announced restructuring, Moody's Investors Service said that "a more comprehensive refinancing will be required this year to avoid a bankruptcy filing."
If Sears does finally sit down to negotiate an in-court restructuring, it's not clear who would fill the chair at the other side of that table, as Lampert is the man behind all of Sears' curtains.
In the case of a bankruptcy filing, Lampert's position as a major debt holder would afford him more power than perhaps any other role he holds, due to provisions in the federal bankruptcy law that afford this group a high place in the repayment ranks.
Teresa Kohl, restructuring professional and managing director of SSG Capital Advisors LLC, explained—speaking generally about the bankruptcy process—that "senior secured debtholders can drive bankruptcy restructurings and have greater influence on the outcome than other creditors and equity holders."
She added that these debt holders "can often wind up with ownership stakes following a bankruptcy, especially if the debtholders aren't satisfied with values produced by a sale process."
Essentially, an outcome where secured lenders are the new owners isn't an uncommon one. And in Sears' case, they're one and the same.
Mark Cohen, a former Sears executive who served as CMO and president of Softlines and chairman and CEO of Sears Canada before Lampert took control, said explicitly what The Deal's analysis also showed. "He's the principal shareholder, but he's also the company's principal creditor," Cohen said of Lampert. "He'll be in charge of the company on the other side of a bankruptcy filing. If there's any remaining value, he'll get to reorganize again."
Sears didn't respond to request for comment on this article. 
More of What's Trending on TheStreet: