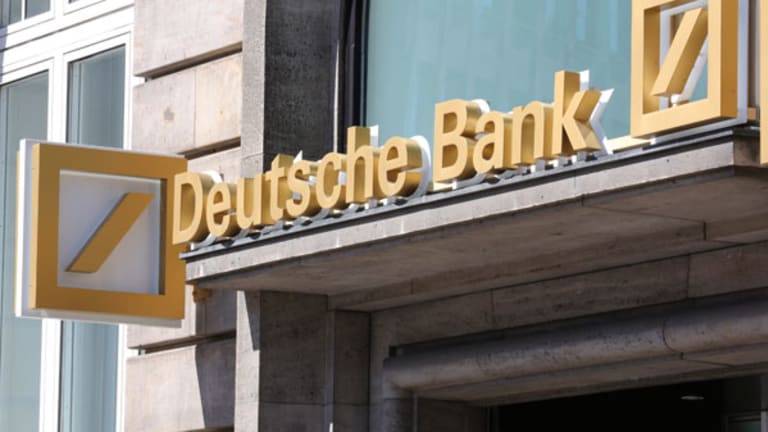 How Deutsche Bank Trust Investors Could Profit From JPMorgan's Legal Woes
As JPMorgan nears a reported $13 billion settlement, competitor Deutsche Bank may be on the verge of a profit.
NEW YORK (TheStreet) -- Investors in a trust handled by German banking conglomerate Deutsche Bank (DB)  may benefit from JPMorgan's (JPM) worsening legal woes, as the largest U.S. bank by assets nears a $13 billion settlement with regulators on its pre-crisis mortgage origination activity.
JPMorgan is reportedly in the process of finalizing a $13 billion settlement with the Department of Justice over the bank's practices in underwriting mortgages prior to the collapse of the housing market in 2008. The prospective settlement is reported by The New York Times to include $9 billion in fines and $4 billion in relief to homeowners and will leave open a parallel criminal probe brought forward by California, a legal issue the bank disclosed earlier in 2013.
A settlement would involve mortgages originated by JPMorgan and businesses it acquired during the financial crisis such as Washington Mutual and investment bank Bear Stearns. In acquiring WaMu in 2008, JPMorgan took over $190 billion in mortgage securities that had been taken over by the Federal Deposit Insurance Corp.
While analysts, investors and the media may focus on the size of a settlement and the extent to which JPMorgan would admit wrongdoing, some on Wall Street may have an even bigger reason to pay attention.
Deutsche Bank, as trustee to WaMu mortgage securities JPMorgan acquired from the FDIC, may see the terms of a prospective settlement as a means to end ongoing litigation surrounding those assets. It could also mean a multi-billion dollar windfall for the investors in mortgage backed securities trusts administered by the European banking giant.

In 2009, Deutsche Bank, as trustee of roughly $92 billion of notional WaMu mortgage securitizations, sued the FDIC alleging that the securities had breached representation and warrant provisions and should be repurchased from the trust. The FDIC, however, argued those repurchase liabilities should fall on JPMorgan's shoulders given that it had acquired WaMu's assets and liabilities as part of its $1.9 billion 2008 acquisition of the thrift.
A prospective $13 billion universal settlement on JPMorgan's mortgage origination activity that doesn't indemnify the bank for its rep and warranty liability on WaMu assets could pave the way for a settlement with Deutsche Bank.

"If in fact JPM is settling WaMu liabilities without putting them to the FDIC then you would expect they would have to settle on the Deutsche Bank suit," Joshua Rosner, a banking analyst at Graham Fisher & Co., said in a Monday morning telephone interview. Rosner calculates such a settlement could reach between $1.5 billion to $3 billion.
JPMorgan's potential settlement with the DOJ, which is also reported to include the Federal Housing Finance Authority, the Department of Housing and Urban Development, and the New York State attorney general, hinges on the extent to which the bank is liable for housing market activity conducted by firms it bought during the crisis such as WaMu and Bear Stearns.
Immediately following its acquisition of WaMu, JPMorgan acknowledged it had acquired the firm's associated liabilities such as rep and warranty claims. However, in subsequent years the bank demanded the FDIC indemnify those prospective claims, according to a March report from Rosner. Depending on the wording of a settlement and whether the FDIC does or doesn't indemnify any WaMu-related liabilities, JPMorgan could find itself subject to additional private litigation.
Reutersreported in September that legal issues such as the FDIC's potential indemnification of WaMu claims were holding up a larger settlement.
JPMorgan spokesman Mark A. Kornblau declined to comment, when reached by email. Renee Calabro, a Deutsche Bank spokeswoman, also declined to comment when reached by telephone.
Already, JPMorgan's legal liabilities are chipping away at the firm's earnings.
The bank reported its first loss under CEO Jamie Dimon in the third quarter, after it boosted its litigation reserve by $7.2 billion after taxes, in preparation of settlements with the DOJ and FHFA.
JPMorgan shares were little changed in Monday trading at $54.36. Shares in the firm have gained nearly 25% in 2013, outperforming the S&P 500 Index while slightly underperforming the KBW Banking Index.
-- Written by Antoine Gara in New York.