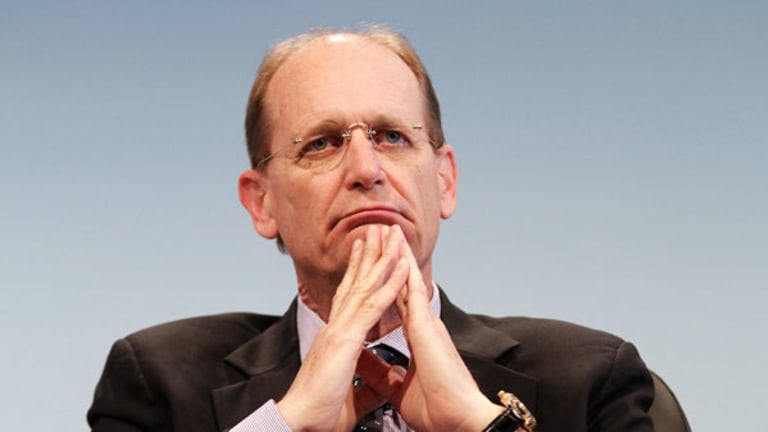 How Delta Plays Politics in Washington: Who Needs Eric Cantor?
Delta Airlines has gained increasing influence in Washington politics. House Majority Leader Eric Cantor's primary loss was a blow but it shouldn't be a lasting one.
Delta Airlines has gained increasing influence in Washington politics. House Majority Leader Eric Cantor's primary loss was a blow but it shouldn't be a lasting one.
ATLANTA (TheStreet) -- Maybe, finally, an airline is able to play politics with the big boys.
For decades, the airline industry has been a weak sister in Washington politics. Airlines may be widely known, but they have generally lacked political clout, a shortcoming best illustrated by the continuing increases in the industry's federally imposed tax and fee burden. On an average ticket, for a $300 domestic round trip, that burden has risen to 20%, up from 7% in 1972, according to Airlines for America, or A4A, the industry trade group.
In recent years, a single airline, Delta (DAL) - Get Report, has taken the lead in fighting back in Washington, speaking out far more than any other carrier. Additionally, CEO Richard Anderson has worked closely with the Air Line Pilots Association, which represents 50,000 pilots at 31 airlines, pilots and with A4A.
On Tuesday, Anderson will speak to the Aero Club of Washington, a club of aviation enthusiasts. The speech has been sold out for weeks.
Anderson will speak two weeks after the primary defeat of House Majority Leader Eric Cantor drew attention to one of Delta's key battles. Cantor has been a leader in seeking to maintain funding for the Export-Import Bank, which guarantees loans to foreign buyers of U.S. products. Boeing (BA) - Get Report customers have been the biggest beneficiaries of the purchases the bank finances. Those customers often compete with U.S. airlines.
But Cantor has also been a Delta ally. He had been seeking a compromise, hoping to please Boeing, Delta, mainstream Republicans and Tea Party Republicans. His loss underscores how tough it is to please everyone.
The bank financing issue is closely related to another key aviation issue, the rapid growth of the three Middle East airlines -- Emirates, Etihad, and Qatar. The three are backed by wealthy governments in the UAE and Qatar. Yet Emirates and Etihad have benefited from Export-Import Bank financing, which theoretically is provided to buyers who cannot secure financing elsewhere, and Etihad has benefited from a recently opened Customs and Border Protection station in its Abu Dhabi hub, enabling pre-clearance for passengers to the U.S., which is very rarely provided.
Three weeks ago, United (UAL) - Get Report CEO Jeff Smisek told an investor conference that U.S. government officials "don't have the teeth, nor do they have the desire" to serve the interests of U.S. airlines over those of Middle East carriers. But generally, it has been Delta that has been outspoken in publicly raising such issues.
"Delta has been out there on its own (because) it got its merger done first," said a Washington lobbyist, involved in aviation issues, who asked not to be named. "It got its house in order and now it has the luxury to take a bigger view on issues."
Delta's Washington emergence has not been simply a matter of the airline speaking out. It has also accompanied by changes at the industry's two most prominent Washington trade groups.
ALPA's visibility has grown since Lee Moak was elected president in 2011. Moak previously headed Delta's ALPA chapter. He has pushed ALPA to the forefront of issues confronting pilots and the airline industry. He remains a Delta pilot, and he has a close relationship with Anderson.
In a 2012 interview with TheStreet, Anderson called Moak "an incredible leader" and "on a personal level, an exceptional individual," who has good relationships with several Delta executives. "His father was a Marine sergeant and Lee was a Marine fighter pilot, so when you're talking about someone with discipline and determination, you're talking about Lee Moak," Anderson said.

Anderson was also deeply involved in orchestrating a 2011 shakeup at A4A. One result was that the organization's costs rose substantially: CEO Nick Calio makes $3.6 million annually, while his predecessor made about a third of that. Some question the expense, but A4A appears to have been fortified in its battles with a dysfunctional Congress that continues to look to the airline industry for revenue.
In a sense, while ALPA plays offense, A4A plays defense. It has often been successful in keeping Congress at bay.
In 2012, A4A beat back a plan to tax airline emissions over European air space, winning unanimous Senate support. In 2013, when the sequester slashed government spending, A4A led the charge to get spending restored for air traffic controllers. This January, Congress devised a plan to add 2,000 Customs and Border Protection agents for various assignments, including about 40% at airports.
The plan was for airlines to pay the cost of all the agents, but A4A learned of the plan and reduced airline funding to airports. Anderson has remained A4A's key industry backer.
Boeing shares fell 3% in the three days following Cantor's loss; speculation was that Boeing and Delta might both suffer consequences. (Delta shares were falling 8% on oil price concerns.) But current thinking is that neither company will be hurt significantly. Bank refinancing "is still going to be approved," said a second Washington lobbyist, a Democrat involved in the airline industry, who also asked not to be named.
Delta may be the world's second-largest airline, but in terms of lobbying it is dwarfed by Boeing. In recent years, however, it has found allies in its battle against the bank. Those allies are Tea Party Republicans, who view the bank as a symbol of an overly large government. The Democratic lobbyist said that "reflects badly on Delta, (which must) distance itself."
Delta spokesman Trebor Banstetter distinguishes between the opponents. "We are not against reauthorization of the bank," he said. "We never have been. We are narrowly focused on financing for widebody aircraft, and even there we have said that it is because financing is offered to airlines that have access to commercial markets."
Cantor proposes continued bank financing for one year with a loan cap of $113 billion through fiscal 2013, a third of what the Senate has proposed, while the bank's role is studied. The proposal includes two provisions backed by Delta, one requiring high-level talks aimed at reducing the incentives the European Union provides for Airbus purchases, and the other requiring a detailed analysis of the economic impact of widebody purchases by foreign airlines.
In March, a Politico story noted that "Boeing is hammering away at (Cantor's) close ties with Delta lobbyist and confidante Andrea Newman -- even as it fields a small army of its own." Newman attended the University of Michigan and George Washington University Law School, worked in the Reagan White House, and now serves as a Michigan regent. Cantor attended George Washington University, and his daughter attended the University of Michigan.
"Cantor and Newman have a close friendship," said a Washington lobbyist. "He has looked out for Delta, and when he lost, people thought Delta would be lost. But I don't see it as slowing Delta down. Delta has a way of making friends." 
Written by Ted Reed in Charlotte, N.C.
To contact this writer, click here.

United Pilots: We Flew to Chengdu on a Boeing 787 and Loved It
United Leadsin China ButAmerican and DeltaWant Bigger Shares
Biggest US Airways Union Backs Contract Deal, Breaks Logjam at American