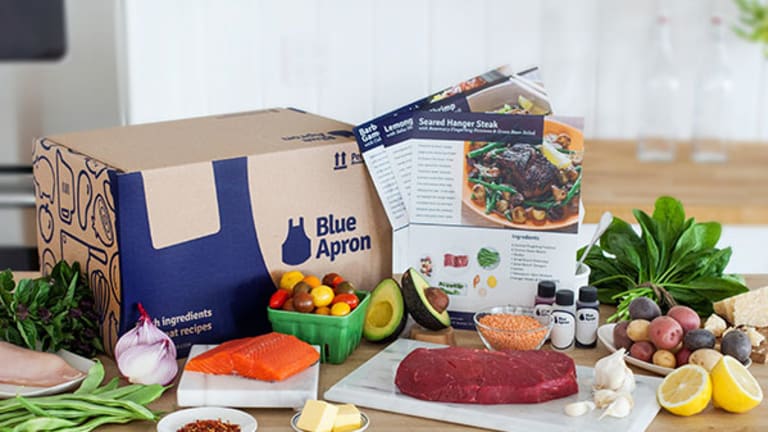 How Buying Blue Apron Ahead of any IPO Could Leave You Blue
Remembering old ticker missteps ahead of any IPOs by unicorns.
You're tuned into your business news channel, watching television the way you frequently do during work hours - with the volume off - and there's a news flash that says "Apple Shares Fall ..."
You've been waiting for this: an opportunity to buy into Apple but without paying the nosebleed multiple the stock typically commands. In your haste, you type in the full name instead of a ticker symbol. Your discount broker gives you a quote - Apple at $18 - and you think: huh? Wasn't Apple trading higher? Must've had a bigger pullback than the TV newsflash indicated. Still, this must be the bottom. Whata you say, give me a hundred shares.
When the confirmation comes in, you find out you got your 100 shares of Apple for $18. Only problem: what you bought was (APLE) - Get Apple Hospitality REIT Inc. Report , not (AAPL) - Get Apple Inc. Report . It's Apple Hospitality REIT. And it doesn't make iPhones. It owns hotels. Nothing wrong with owning hotels. And nothing bad about investing in a REIT.
But it's not what you thought you were buying.
You're in good company. Over the years, there have been multiple instances of widespread misunderstandings that left investors buying investments that differed dramatically from what they thought they were buying.
And there could be more ahead. Think of the Silicon Valley unicorns, those billion-dollar plus private companies frequently rumored to be on the verge of conducting IPOs. Who wouldn't want to get in on those puppies on the ground floor? Buy early and often.
What if Airbnb unleashed plans for an IPO? Does it make sense it would go with (AIR) - Get AAR Corp. Report as its ticker? And you decide to front run the IPO investors? Congratulations. You've just bought shares of AAR Corp., which provides products and services to the aviation industry. Not a bad business by any means—$1.7 billion in revenue—but it's not a facilitator of short-term home rentals.
You think it couldn't happen? Three years ago, excitement surrounding the imminent IPO of Twitter (TWTR) - Get Twitter Inc. Report led would-be buyers to the investment equivalent of the face plant: instead of front-running the Twitter IPO, they were wrongheadedly chasing shares of Tweeter Home Entertainment as it soared 1000% during the trading day.
Sure, investors could be forgiven. Tweeter, an electronics retailer, had traded under the ticker TWTR, which would soon become the way the market was made in Twitter. What those investors overlooked, however, was that Tweeter's TWTR had a suffix. Specifically, a "Q." Because Tweeter was bankrupt. Had been since '07. FINRA, the securities industry's self-governing regulatory agency, stepped in to make Tweeter change its ticker symbol, which the agency can do with Nasdaq traded stocks.
Hey, it happens. Few people would remember there was a company that traded under the ticker symbol (AMZN) - Get Amazon.com Inc. Report before the IPO of Amazon.com in 1997. That enterprise went by the name Amazon National Treasures. (Type the words "Amazon National Treasures" into Google, and there's an overwhelming chance that you'll learn that Amazon will sell you an adventure film starring Nicholas Cage.)
It's not as if ticker symbols don't get recycled. When Sun Microsystems, trying to distance itself from its workstation heritage, switched its ticker to JAVA, it was harkening back to the days when investors could tell a broker to buy some JAVA, because of a desire to invest in the company that manufactured Mr. Coffee machines. (Where have you gone, Joe DiMaggio?)
So when the hotly anticipated IPO from dinner kit company Blue Apron arrives and you load up on (BLUE) - Get bluebird bio Inc. Report —makes sense, right?—what you're actually investing in is a biotech company that makes blood-born therapies named bluebird bio. (Lower case being their preference.)
Consider Uber, perhaps the private company that investors are most fervently hoping to see hit the public market. Let's say it does. News gets out that there's an IPO aborning.
The thing is, you're on your own on how to trade it. The ticker symbol UBER would be the most logical mechanism. But there's no UBER listed on any of the exchanges. There is, however, an (UBR) - Get ProShares Ultra MSCI Brazil Capped Report . Maybe Uber seeks the class and distinctiveness of trading on the Big Board instead of Nasdaq, so it gets the three letter ticker. Take flyer: buy some UBR.
Only to find out that you've just invested in an ETF of Brazilian stocks.
Pinterest goes the Big Board route and you anticipate (PIN) - Get Invesco India ETF Report . You've just bought an ETF of Indian stocks.
The point is, you can't always make an intuitive bet on how a company names translates into a ticker symbol. Wouldn't it make more sense for the ticker of Apple (the iPhone maker, not the hotel owner) to be APPL instead of AAPL? And sometimes there's a reason the obvious symbol isn't the actual symbol. After all, the symbol of Gap would sensibly be GAP, instead of (GPS) - Get Gap Inc. (The) Report . Except that GAP was claimed. By the Great Atlantic & Pacific Trading Co.—more commonly known as the bankrupt supermarket chain A&P—which had a 110-year head start on the apparel retailer.