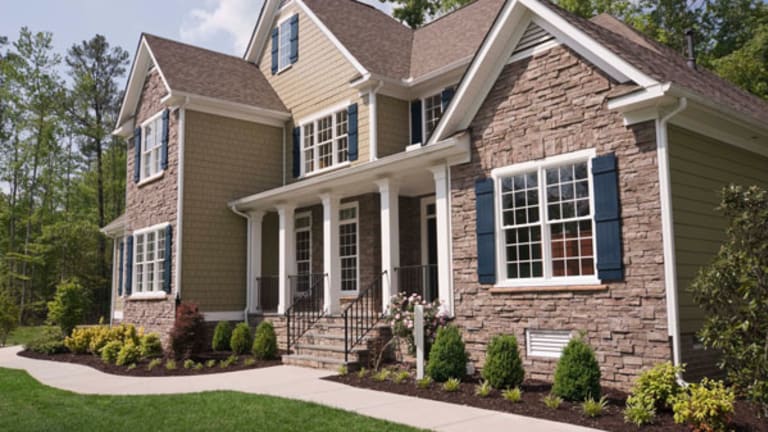 How 'Bricks and Mortar' Bets Had Solid Gains
The real-estate-focused mock portfolio surged this year after zeroing in on overvalued stocks.
Editor's note: "Bricks and Mortar" is a mock portfolio created by reporter Nicholas Yulico that is meant to help generate real estate and gaming-related stock ideas. In keeping with TSC's editorial policy, Yulico doesn't own or short individual stocks.
Find the winners and throw out the losers. That was my simple philosophy when starting the "Bricks and Mortar" mock portfolio earlier this year.
So far, it has turned out well. Though I made some bad calls, my picks averaged a 20% return since the portfolio's inception in late January. This beats the
S&P 500's
return of 4% in the same time frame.
Hopefully, you paid more attention to my "flags" than to my "buys." Finding overvalued stocks was clearly my forte this year.
A prime example is
Home Solutions of America
(HSOA)
. I first
flagged the construction services firm as overvalued in April. The stock has fallen 80% since then.
When I first looked at the company, I found many textbook red flags: several related-party transactions, ballooning accounts receivable coupled with negative cash flow, and just one bullish analyst covering the stock. I felt upcoming earnings were likely to disappoint because the company was no longer relying on high-margin cleanup work from Hurricane Katrina and had business lines tied to the residential housing market.
Home Solutions ended up posting two quarters of earnings in line with the analyst guidance. But last week, the company warned it would restate both quarters' results because it accelerated revenue recognition on certain related-party contracts. The stock now trades around $1.
I'm now pulling the stock out of the portfolio, closing the pick as a success.
Listening to my advice on
Trump Entertainment
undefined
also proved worthwhile. In late January,
I warned that the casino operator's shares were overvalued given the coming slowdown in the Atlantic City, N.J., market.
At the time, the stock was trading at $17.50 and swarming with rumors that
Wynn Resorts
(WYNN) - Get Free Report
was looking to buy the company. The stock is now down 74% to $4.60 after several quarters of ugly Atlantic City results.
Builders Burn
My calls on homebuilders proved very profitable as the housing market deteriorated throughout the year. I pegged
Ryland
(RYL)
as overvalued back in late January, in the same article. The homebuilder sector had been rallying at that time, because people expected a recovery in the housing market in 2007, a concept that seemed ludicrous to me.
As well, Ryland traded at one of the highest price-to-book multiples in the group in January. The thinking was that Ryland wouldn't record large impairment charges since it hadn't slashed prices on its homes.
Those ideas, as we now all know, have proven to be foolish. The builder recorded $357 million of impairment charges in the first three quarters of this year, and its stock has fallen 51% since my rating.
I continue to believe that small-cap homebuilder
Standard Pacific
(SPF)
is facing a possible restructuring or bankruptcy in 2008, and that is why I
flagged the stock as overvalued in late October. This story has yet to fully play out.
Standard Pacific remains at the mercy of its banks, as it has already violated several debt covenants. The builder also carries some of the largest joint-venture risk of any other homebuilder, with significant exposure to the California housing market (one of the worst in the country). The stock has fallen 32% in two months since my warning, and I continue to believe it is a value trap.
Buyout Boosts and Blunders
My advice to buy casino operator
Penn National Gaming
(PENN) - Get Free Report
and Hilton Hotels worked well, with both companies receiving buyout bids earlier this year at premiums of 47% and 37%, respectively, over the prices at which I recommended the stocks. To me, both companies looked cheap vs. their competitors, and private equity eventually stepped in to close this gap.
But now it's clear that the Hilton buyout announcement in early July marked the top in commercial real estate valuations in 2007. The subsequent rapid repricing of real estate --partially because of the freeze up in the debt markets -- has led to several bad calls on my part.
One of my worst picks this year was recommending that people buy
Starwood Hotels
(HOT)
in July when the stock was around $72.
After the Hilton buyout news, I felt Starwood could be the next target. And even if Starwood weren't bought out, the luxury hotel owner had a great growth story, a clean balance sheet and strong cash flow.
But the takeout premium has now clearly left Starwood, and my call has proven to be a disaster. The stock is down 37% since I added it to the
Bricks and Mortar
portfolio.
Starwood and other commercial real estate owners have some been of the most unloved of any stock sectors this year. The U.S. MSCI REIT Index, which tracks commercial real estate REITs, is down 22% since I started the mock portfolio.
Brookfield Properties
(BPO)
, an office owner that I felt had an attractive valuation, is down 32% since I said investors should buy it.
Both Starwood and Brookfield have decent fundamentals (albeit slowing), but multiples have contracted sharply -- and I'm not sure either stock will rebound soon.
International Intrigue
On a relative basis, my call that global real estate stocks would generally perform better than their U.S. counterparts worked well until recent weeks. The
SPDR Dow Jones Wilshire International Real Estate
(RWX) - Get Free Report
exchange-traded fund is now down 13% since I recommended buying it in January. But the ETF remains cheaper than its U.S. counterpart, trading at 18 times next years' earnings, compared with 24 times for the
iShares Dow Jones US Real Estate ETF
(IYR) - Get Free Report
). It's also down less than the U.S. MSCI REIT Index.
Melco PBL
undefined
, a Macau casino developer I recommended investors buy earlier this year, continues to be a frustrating experience. The stock is down 21% since I recommended it -- as management bumbled the opening of the Crown Macau casino this year.
I believe the
recent A-max deal will boast VIP play at the casino and get Melco's stock rolling again.
The lesson is that shedding losers -- by trimming them from your portfolio or shorting them -- can do a lot to improve results. Keep on the lookout for new recommendations in coming weeks, along with updates on existing portfolio names.