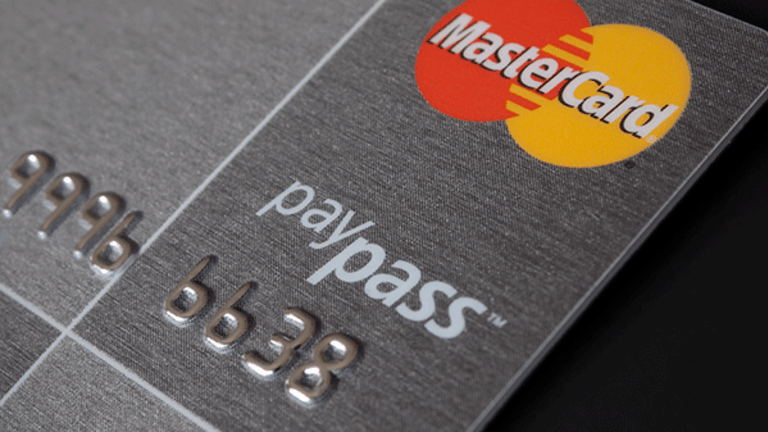 How Brexit's Damage to the U.K. Pound Energizes Mastercard, Visa
Card spending in the U.K. is surging, partly because overseas currencies are worth more in the island nation.
Great Britain's decision to leave the European Union hasn't been kind to either the country's currency, which is down 11% against the U.S. dollar, or its status as a financial capital.
It has however, been a boon for bond-trading desks at Wall Street banks and card-processing networks such as Mastercard Inc.  (MA) - Get Mastercard Incorporated Class A Report and Visa (V) - Get Visa Inc. Class A Report , which both cited higher transactions in the United Kingdom after beating quarterly profit estimates.
The country's retail sales grew 5% in the three months through June, MasterCard CEO Ajay Banga told analysts on a conference call on Thursday, July 27. That helped drive customer spending on the Purchase, N.Y-based company's cards in Europe up to $356 billion, accounting for about 28% of all transactions, and also buoyed rival Visa, which recently completed the acquisition of its former European subsidiary.
The U.K. is Visa's largest market in Europe, and it "has held up well," CEO Alfred Kelly told investors on an earnings call last week, partly because the diminished pound has made the country more appealing to both shoppers and travelers.
"Frankly, the weak pound has caused a massive amount of cross-border [transactions] into the U.K.," added Visa CFO Vasant Prabhu. Customer spending in Europe climbed 11% from the first three months of the year to $511 billion, or almost 20% of the companywide total.
Visa's debit-card business in the U.K. is "fantastic," William Sheedy, the head of European operations, told investors at a meeting in late June, "and our relationships across the large U.K. banks are deep and strong."
Indeed, the allure of the country's market is represented not only by the $16.5 billion Visa Europe deal but the agreement Mastercard recently struck to replace Visa as the debit-card provider for TSB, Britain's biggest digital bank, for the next seven years. 
"This is a significant win for us," Banga said Thursday, since TSB's customers make up about 4% of all debit-card users in the U.K. Mastercard concluded a separate $920 million purchase of British payments processor VocaLink Holdings Ltd. in late April.
The company's total earnings of $1.10 a share in the second quarter topped the $1.04 average of estimates from analysts surveyed by FactSet, while revenue climbed 13% to $3.1 billion. That compared with projections of $2.98 billion.
Mastercard's shares have climbed 6.2% this year to $128.96, trading at a 5.4% premium to Visa on a price-earnings basis. Visa traded at $99.81 on Thursday.
Earlier this month, several Wall Street banks also pointed to the repercussions of the Brexit vote as they reminded investors why their fixed-income trading desks had trouble matching their performances last year -- when the unexpected outcome of the country's referendum rattled markets and boosted trading volumes.
More than a year after the June 2016 decision, however, momentum for the move has waned, with Tory Prime Minster Theresa May negotiating with the EU from a weakened position after losing her majority in Parliament. 
The British pound traded at just $1.31 on Thursday, and several investment banks that operate from London, taking advantage of so-called passporting rules that required countries across the EU to accept licenses issued by any member nation, have said they will relocate some offices.
Among them are Bank of America (BAC) - Get Bank of America Corp Report , JPMorgan Chase & Co. (JPM) - Get JPMorgan Chase & Co. Report and Deutsche Bank (DB) - Get Deutsche Bank AG Report , whose CEO, John Cryan, said in a videotaped message that it was important for the lender not to wait until the last minute to adjust to whatever deal British negotiators reach. The country had hoped to negotiate a "soft" exit that would leave passporting intact.
"We're not really sure what shape it will take, but we do think it will impact us," said Cryan, who noted that many transactions booked in London now may ultimately be handled in the bank's Frankfurt, Germany, headquarters.  
For now, the lender will build infrastructure in Frankfurt that duplicates that in London and maintain both, at least during the transition period.
"We want to get to a position where London and Frankfurt can be used interchangeably," he said. "We can actually decide, on a future date, depending on Brexit, where we want to book."
Bank of America CEO Brian Moynihan echoed Cryan's position when he announced the Charlotte, N.C.-based company's plans to base its European businesses in Dublin, Ireland, after Britain leaves the EU.
"Dublin is the home of more of our employees than any other European city outside of the U.K.," he said. "We already have a fully licensed and operational Irish-domiciled bank which, combined with Ireland's strong commitment to business and economic growth, makes Dublin the natural location."