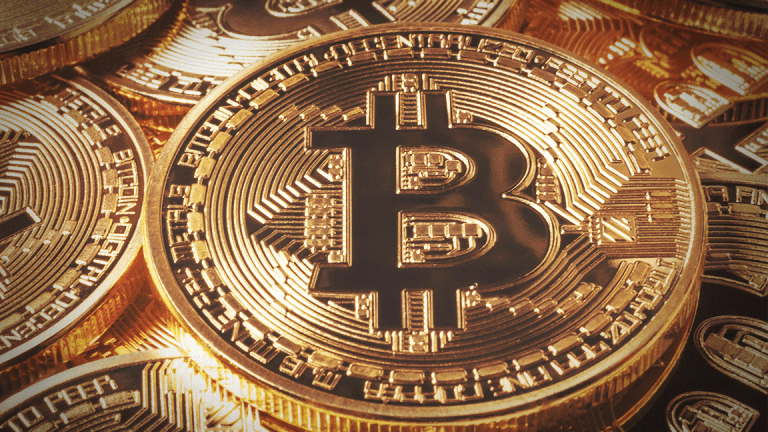 How Bitcoin's Meteoric Rise Is -- and Isn't -- a Sign It's an Investment Bubble
Bitcoin's epic run has much in common with stock and real-estate bubbles, but also helps validate it. At the same time, bulls shouldn't view chip stocks such as AMD, Nvidia and TSMC as Bitcoin plays.
Bitcoin's epic run has much in common with stock and real-estate bubbles, but also helps validate it. At the same time, bulls shouldn't view chip stocks such as AMD, Nvidia and TSMC as Bitcoin plays.
As Bitcoin has risen over tenfold this year, surging above $16,000 on Thursday afternoon and seeing its market cap (now well above $200 billion) top that of all but a handful of U.S. multinationals, it has sported quite a few of the traditional hallmarks of a bubble.
From parabolic moves higher in the absence of major news, to legions of retail investors who seem to know little about the asset rushing to set up accounts letting them purchase it, to the near-overnight arrival of new funds, asset sales and newsletters promising to help investors profit from the mania, to a sudden surge in media hype and attention, to celebrities wanting in on the action, there are quite a few parallels between what's been going on with Bitcoin, and to a large degree cryptocurrencies in general, and what has happened in the past in various equity, commodity and real estate bubbles.
And certainly, there's been no shortage of smart and successful people in the finance world pointing out these parallels.
This column has been updated from Nov. 29 with Bitcoin's latest price movements.
But there's also a key difference: Whereas the value of assets such as stocks and real estate is typically linked to their future earnings power and other objective criteria, a bet on Bitcoin has been a bet that the cryptocurrency will be more broadly accepted as a store of value, and perhaps also more widely used as a means of payment. And as Bitcoin has rallied, confidence in its status as a store of value -- in some ways, a secure, digital, globally-accessible alternative to precious metals such as gold and silver -- has grown with it.
In other words, whereas a stock objectively becomes a less compelling long-term investment when its valuation soars and can't be justified by any reasonable expectation of future cash flows, Bitcoin is a little more complicated. In a sense, the asset's surge, with all its bubble-like traits, has helped validate the asset, whose total market cap is still just a small fraction of the estimated total value of all the gold ever mined (currently north of $7 trillion). And certainly, many of the smart and successful people in the finance world betting on Bitcoin are expecting further validation to happen.
Though not going as far as to predict a crash, I argued at lower levels that the frenzy surrounding Bitcoin might not last, given how much aspects of its surge resembled past bubbles. Now, though I still think a major selloff is quite possible if profit-taking shakes out a lot of the retail investors and traders that have flooded into the cryptocurrency, I'm willing to admit that I might've been mistaken. Not because Bitcoin's behavior has become any less bubble-like -- if anything, it has become more so -- but because its growing acceptance as a store of value gives it a degree of investor support that it didn't have at the beginning of the year. At least provided that a selloff doesn't seriously shake that support.
For those looking for a way to profit from Bitcoin's surge via publicly-traded companies, there aren't a lot of good options. GPU makers AMD Inc.  (AMD) - Get Report and Nvidia Corp. (NVDA) - Get Report typically see their chips used to mine Ethereum and various smaller cryptocurrencies -- generally more speculative plays, particularly outside of Ethereum -- rather than Bitcoin. And even here, their exposure isn't necessarily huge. Nvidia got less than 3% of its October quarter revenue from sales of mining-optimized products, and did a moderate undisclosed amount of business selling gaming GPUs that ended up being used by miners. "[M]y sense is that although crypto will be here to stay, it will remain small [as a % of sales], but not zero," said CEO Jen-Hsun Huang on Nvidia's earnings call.
AMD is believed to be deriving a larger portion of its total sales from mining activity, but this is still a company that also sells large volumes of CPUs and GPUs for use in PCs (not counting mining rigs), game consoles and to a lesser extent servers, and is expected to post 2017 sales of $5.2 billion. On AMD's third-quarter call, CEO Lisa Su noted AMD had begun seeing "some leveling off" of GPU demand from miners, and that graphics card inventories depleted by mining activity had started improving.
Today, Bitcoin is largely mined via hardware relying on specialized chips (ASICs) developed by private firms such as Bitmain, ASICMiner and Canaan Creative. Taiwan Semiconductor Manufacturing Co. (TSM) - Get Report is responsible for manufacturing a large percentage of these ASICs. But it's worth remembering that TSMC is a colossus that also makes chips for Qualcomm Inc. (QCOM) - Get Report , Broadcom Ltd. (AVGO) - Get Report , Apple Inc. (AAPL) - Get Report , Nvidia, AMD, Xilinx Inc. (XLNX) - Get Report , MediaTek Inc. and a slew of other big "fabless" chipmakers, and is expected to do over $32 billion in 2017 sales.
As a result, Bitcoin ASICs account for just a small percentage of its sales. TSMC's broader exposure to crypto mining is a little higher, due to the GPUs it makes for Nvidia and AMD that wind up inside mining rigs, but is still just a sideshow relative to, say, the number of chips it makes for use in smartphones or data center hardware.
As a result, the simplest approach for public-market investors who are bullish on Bitcoin to bet on the cryptocurrency is to directly buy it through a wallet app or service. Or, if one is nervous that Bitcoin's parabolic rise could be followed by a major selloff, another option could be to invest in a fund that has taken a Bitcoin position but is also well-exposed to other assets. Like, for example, existing stores of value that Bitcoin is competing with.
Nvidia, Broadcom and Appleare holdings in Jim Cramer'sAction Alerts PLUS Charitable Trust Portfolio. Want to be alerted before Cramer buys or sells NVDA, AVGO or AAPL? Learn more now.
Jim Cramer weighs in on Bitcoin are more:
More of What's Trending on TheStreet: