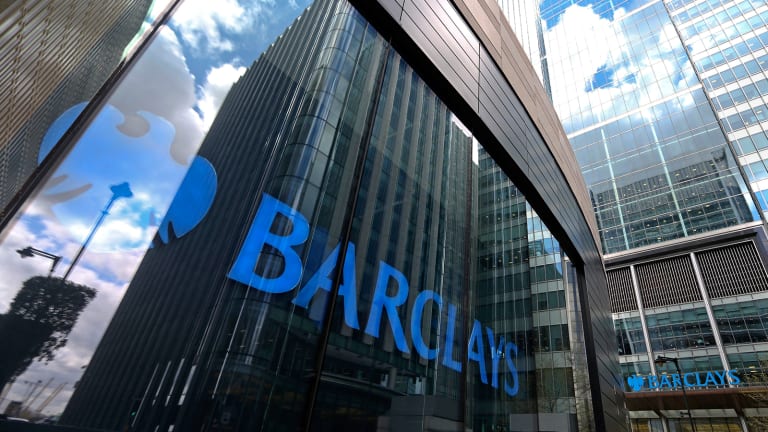 How Barclays' U.K. Fraud Case May Rekindle 'Too Big to Jail' Ire
It's a classic example of headline risk on a topic Wall Street would prefer to avoid.
This is what's known in financial markets jargon as headline risk: the chance that an event, such as the criminal charges against Barclays Plc (BCS) - Get Report and its former CEO, will prompt critical news coverage that hurts the stock of an individual firm, or even an entire industry.
Sometimes, it's just the context of an event.
John Varley, 61, who led the British bank from 2004 to 2011, is the highest-ranking executive at a global financial firm to face criminal charges involving actions during the 2008 financial crisis, a fact that chafes critics of the U.S. government's response.
While there were consequences for American firms, often severe, they were limited at the highest levels to civil and financial penalties. That prompted years of bitter complaints that those most to blame for the crisis didn't suffer like ordinary taxpayers, who picked up the tab for billions in bank bailouts while losing their own jobs and homes.
The Barclays' case, in which Britain's Serious Fraud Office has accused the bank, Varley and other former executives of conspiracy to commit fraud, highlights how behavior "in the executive suites of too-big-to-fail banks was not only not punished in the U.S.," it wasn't even seriously investigated, said Dennis Kelleher, chief of Better Markets, a non-partisan Wall Street watchdog group. 
The crisis, which wiped out trillions in market value and spurred a surge in U.S. unemployment, was rooted in the collapse of a mid-2000s housing bubble fueled by high-risk lending to consumers and compounded by arcane speculation on Wall Street.
Lenders seeking to boost profit as housing prices soared extended loans to progressively less creditworthy borrowers, then sold them to Wall Street, a move that allowed them to book profits immediately and insulate themselves from the risk the borrowers might default. Wall Street then packaged the loans into securities with other mortgages of varying credit quality and peddled them in financial markets.
But as the U.S. mortgage market surged to $15 trillion, trouble bubbled below the surface. When housing prices stopped rising, borrowers with adjustable-rate mortgages, who had counted on using higher valuations to refinance before their payments spiked, were trapped.
As they walked away from homes they could no longer afford, the stream of payments supporting the widely held and supposedly safe mortgage-backed securities began to dry up, leaving them impossible to value and prompting liquidity concerns for banks with large holdings.
Investment bank Bear Stearns, facing a shareholder run, agreed to sell itself to JPMorgan Chase & Co. (JPM) - Get Report in early 2008 for an initial price of $2 a share. By September, rival Lehman Brothers was forced into bankruptcy -- a move that U.S. regulators were unable to avert and which froze global credit markets -- and Merrill Lynch was taken over by Bank of America Corp. (BAC) - Get Report
Editors' pick: Originally published June 22.
Goldman Sachs (GS) - Get Report and Morgan Stanley (MS) - Get Report  , the last of the five biggest Wall Street investment banks, converted themselves into bank holding companies, enabling them to borrow from the Federal Reserve's discount window, a decision intended in part to assuage worried shareholders. 
Meanwhile, stock market indexes plummeted, led by banks, and Congress ultimately approved a $700 billion bailout package allowing the Treasury Secretary to buy hard-to-value securities to shore up markets.
In the aftermath, amid a slew of government reviews and shareholder complaints, former Bank of America CEO Kenneth Lewis was stripped of the title of chairman over his purchase of Merrill Lynch and troubled high-risk lender Countrywide Financial, and Goldman Sachs agreed to a record $550 million settlement with the Securities and Exchange Commission over claims it misled investors in a subprime mortgage product.
While bank stocks themselves began to rally as soon as 2009, the rest of the U.S. economy continued to suffer. Unemployment, which was 6.1% when Lehman Brothers collapsed in September 2008, rose to a peak of 10% over the following year. It would take another three years for the Dow Jones Industrial Average, which lost nearly half its value as it sank to a low of 6,547 in March 2009, to reach the 13,000 range it held in January 2008.
Interest rates, which were cut to nearly zero in 2008, were kept there for seven years -- pinching returns on pension plans as the Federal Reserve worked to restore economic growth. 
Public discontent found an outlet in the Occupy Wall Street protests of late 2011, where protesters decried the "lords of finance" in lower Manhattan. The subset of critics who argued that bankers should have been prosecuted, meanwhile, found a degree of validation two years later in then-Attorney General Eric Holder's March 2013 testimony to the Senate Judiciary Committee.
"The size of some of these [financial] institutions becomes so large that it does become difficult for us to prosecute them when we are hit with indications that if you do prosecute, if you do bring a criminal charge, it will have a negative impact on the national economy, perhaps even the world economy," Holder said.
"That is a function of the fact that some of these institutions have become too large," he added, and "it has an inhibiting influence -- impact on our ability to bring resolutions that I think would be more appropriate."
For critics, the takeaway was that Holder -- who later tried to walk back his statements -- had admitted banks were "too big to jail." It was a slogan that became the official title of a House committee report two months later and still overshadows debates about how large banks should be today.
"The Wall Street bankers and lobbyists whose greed and recklessness nearly destroyed this country may be toasting each other with champagne," Democratic Sen. Elizabeth Warren said when President Donald Trump began efforts to roll back financial regulations in February, "but the American people have not forgotten the 2008 financial crisis."
The Barclays news just provided another reminder, if one were needed. 
The fraud office's contention is that the lender and Varley, along with other former executives, conspired to commit fraud related to dealings with Qatar in 2008 and helped subsidize the purchase of the bank's shares, which British law bars public companies from doing.
The lender, which raised £7.3 billion ($11.7 billion) that October and £4.5 billion in June -- both through securities sales to investors including Qatar, extended a £3 billion credit line to Qatar that November, according to the office.
The charges imply "that Barclays failed to reach a settlement (speculated at £100-£200m last week) and that the Serious Fraud Office are looking for a higher fine," Edward Firth, an analyst with brokerage Keefe, Bruyette & Woods who has an underperform rating on the shares, wrote in a note to clients.
"It now appears that Barclays are fighting just about all the major regulators of the world," he added, and "at some stage, this must be a serious distraction to the management of the core business."
Barclays shares in the U.S. have fallen 4.3% to $10.09 since the announcement, while the KBW Bank Index has dropped 2.6%.
That the U.K. is willing to bring charges in what Better Markets' Kelleher views as a complex case highlights what he calls a dereliction of duty by the U.S. after 2008. "What the Barclays case shows is that if prosecutors are serious about investigating" such cases, they can find evidence, he added.
"I share the frustration that everyone else has about all that went on in 2008 and how no U.S. CEOs were charged," said Boston University Law Professor Cornelius Hurley. "But the blame was so diffused that unless you found a smoking gun, it is difficult to bring charges. The Barclay's situation appears to be a smoking gun."