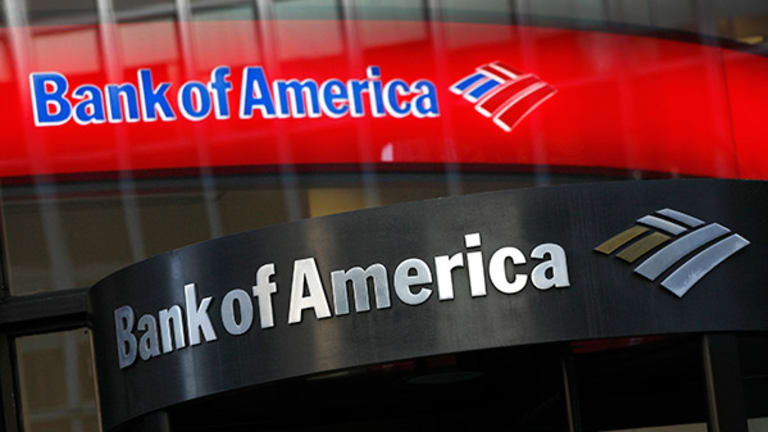 How Bank of America Landed a Spot in Warren Buffett's 'Big Four'
Swapping his preferred stake in Bank of America for common stock will generate an immediate gain of $12 billion for the Oracle of Omaha.
Warren Buffett didn't mention Berkshire Hathaway's "Big Four" investments in his annual letter to shareholders last February, breaking what had become a five-year tradition.
The moniker -- a shorthand reference to massive holdings in American Express Co. (AXP) - Get Report , Coca-Cola Co. (KO) - Get Report , International Business Machines Corp. (IBM) - Get Report and Wells Fargo & Co. (WFC) - Get Report -- won't mean quite the same thing if the billionaire CEO brings it back next year.
While Omaha, Neb.-based Berkshire (BRK.A) - Get Report , still holds shares of AmEx, Coke and IBM, they would be bumped from the top four spots by Apple Inc. (AAPL) - Get Report and Bank of America Corp. (BAC) - Get Report . Berkshire categorizes Kraft Heinz Co., where its stake is even larger, separately because it's part of a group controlling the business.
Despite his famous aversion to tech stocks, Buffett has built an $18.6 billion stake in Apple, which he described at Berkshire's annual meeting in May as "more of a consumer products business." The company draws the lion's share of its revenue, more than 60%, from its signature iPhone. 
And on Friday, June 30, Berkshire announced it would -- as promised -- swap $5 billion in preferred Bank of America stock for 700 million of the Charlotte, N.C.-based lender's common shares, worth about $17.1 billion.
The move, which would yield an immediate gain of about $12.1 billion, was prompted by the Federal Reserve's decision this week to let Bank of America increase its yearly dividend to 48 cents a share, Berkshire said in a statement. That means the common stock would yield $36 million more a year than $300 million annual dividend Buffett has received on the preferred stake.
A yearly payment high enough to claim the Oracle of Omaha as the lender's biggest investor is a significant accomplishment for Bank of America. The company was forced to cut its dividend from a 2008 peak of $2.56 to just four cents in2009, amid a financial crisis that ultimately forced it and other financial institutions to take billions of dollars in government bailouts.
CEO Brian Moynihan, who was appointed to his position in the aftermath, has been working since 2010 to restore the confidence of shareholders who responded to the dividend cuts and the bank's plummeting stock price by stripping predecessor Kenneth Lewis of the title of chairman.
Faulted for his acquisition of trouble high-risk mortgage lender Countrywide Financial and investment bank Merrill Lynch in the buildup to the crisis, Lewis left in 2009.
His successor now joins executives at most of the major Wall Street firms who are boosting investor payouts closer to 100% of net earnings after spending nearly a decade building sufficient capital buffers to satisfy the Fed.
At Bank of America, the higher dividend alone amounts to 32% of net income, nearly double the ratio a year earlier. Coupled with a stock-buyback of $12 billion, that would mean a total capital payout of about 79% of earnings.
Rivals Wells Fargo, Citigroup Inc. (C) - Get Report , JPMorgan Chase & CO. (JPM) - Get Report and Morgan Stanley (MS) - Get Report , also announced increases in dividends and repurchases after the Fed reported results from the second stage of annual stress tests on Wednesday, June 28.
EXCLUSIVE LOOK INSIDE: Apple, Citigroup and Wells Fargo are holdings in Jim Cramer's Action Alerts PLUS charitable trust portfolio. Want to be alerted before Cramer and the AAP team buy or sell the stocks? Learn more now.
With nearly half of the 23 banks covered by Goldman Sachs now paying slightly more than 100% of net earnings, investors will likely place a higher value on those that still have room to move higher, Sarah Cha, a Goldman analyst, said in a note to clients on Thursday, June 29.
Bank of America, Citi, JPMorgan and Wells Fargo are among the lenders that have the most capital relative to the buffer level required by the government, Cha said.
The minimum capital levels and the Fed's annual reviews were established as the government worked to guard the U.S. economy against a repeat of the 2008 crisis, when the collapse of a bubble in the country's $15 trillion mortgage market pushed investment bank Lehman Brothers into bankruptcy and froze global credit markets. U.S. stock markets lost roughly half their value, and unemployment spiked to 10% in the aftermath.
Today, "the public can see the capital positions of the major banks are very much stronger," Fed Chair Janet Yellen said during a presentation in London this week. "Would I say there would never be another financial crisis? Probably that would be going too far. I do think we're much safer, and it probably won't be in our lifetime."
Read More Trending Articles:
Here's Why Amazon Could Feast on the Remaining Carcass of Rite Aid After Failed Walgreens Merger
Nike Officially Arrives on Amazon, but Then Adidas' Stock Does Something Bizarre
Walgreens Punches One of Its Biggest Rivals in the Face With This Surprising New Deal