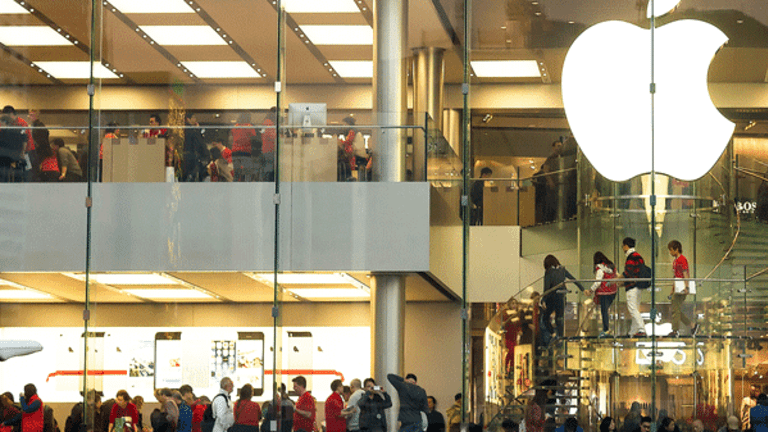 How Apple and Nokia Could Both Score Victories in Their Battle Over Patents
While Nokia may be able to favorably settle its new infringement suits against Apple, Apple's antitrust suit against Nokia could have more far-reaching implications.
This article originally appeared on Real Money on Dec. 22, 2016.
Nokia (NOK) has been hungry to better monetize its 30,000-plus patents since unloading its phone business to Microsoft (MSFT) in 2014. Apple (AAPL) has been notoriously stubborn in its licensing negotiations with patent owners.
It's little surprise, then, that the tech giants have kicked off what's shaping up to be their second bitter patent dispute in seven years. What makes this battle interesting is that both companies have avenues for scoring important legal wins, with an Apple victory potentially being a win for major tech companies in general.
On Wednesday morning, news emerged that Apple had filed an antitrust suit against Nokia and two patent assertion entities (PAEs, also known to some as patent trolls): Acacia Research (ACTG) and Conversant Intellectual Property Management.
Apple's argument: Nokia is trying to "extract and extort exorbitant revenues" from Apple and other phone vendors by striking deals with PAEs that (unlike Nokia) sell no products of their own, and thus could sue tech companies without worrying about the need for cross-licensing deals.
These deals with PAEs tend to involve patent sales for which Nokia is promised a revenue cut on any licensing agreements related to the patents.
Apple also claims Nokia's deals allow it to avoid commitments to license standards-essential patents on fair, reasonable and non-discriminatory (FRAND) terms, and that PAEs "can impose disproportionate discovery and litigation costs on the product companies they sue."
Apple is a holding in Jim Cramer'sAction Alerts PLUS Charitable Trust Portfolio. Want to be alerted before Cramer buys or sells AAPL? Learn more now.
The suit comes three months after an East Texas jury gave Acacia a $22.1 million verdict against Apple over the alleged infringement of a mobile communications patent Nokia sold to Acacia.
Just a few hours after Apple's suit became public, Nokia announced it's suing Apple in the U.S. and 10 European and Asian countries for allegedly infringing 32 patents. The company expanded its legal efforts on Thursday: It's now asserting 40 patents were violated covering "technologies such as display, user interface, software, antenna, chipsets and video coding" in 14 courts worldwide.
Nokia claims Apple declined licensing offers for the patents. They're separate from the ones Nokia agreed to license to Apple in 2011 in exchange for a substantial one-time payment and ongoing royalties on iPhone sales.
That deal settled a two-year dispute during which Nokia alleged infringement of patents covering 2G/3G radios, multitasking, data syncing, antennas and Bluetooth, among other things.
Given the breadth of the patents asserted by Nokia, and how successful the company has been in licensing its intellectual property to date -- see Nokia's 2016 deals with Samsung -- the odds of Nokia achieving some kind of favorable settlement for the patents in question appear strong. Especially when one considers Apple's history of settling lawsuits brought against it after licensing talks failed.
In addition to the 2011 Nokia deal, Apple struck a major licensing deal with Ericsson (ERIC) in 2015, about 10 months after the mobile infrastructure giant sued Apple. Apple also recently came to terms with 3G/4G patent holder Interdigital (IDCC) -- Interdigital hadn't sued Apple, but Apple was a notable holdout for a company that has had deals in place with many other smartphone makers for years.
(As an aside, all of this might bode well for haptic technology provider Immersion (IMMR) , which has licensing deals with most big Android OEMs and sued Apple earlier this year over the use of haptics within the iPhone, Apple Watch and MacBooks. The ITC agreed to investigate an Immersion suit against Apple and AT&T in June.)
But while the odds may look good for Nokia's suit, the same arguably holds for Apple's, which stands to tap into growing tech industry discontent over patent "privateering," in which larger firms turn to PAEs to pursue infringement claims in a way that they'd be nervous about doing on their own. Nokia has been especially aggressive in teaming with PAEs, but several other tech giants (including, ironically, Apple) have done it in the past.
Aside from industry support, Apple's suit could benefit from a legal environment that has steadily been growing more hostile to PAEs.
In 2014, the Supreme Court set limits on the use of software patents, and the Obama Administration issued executive actions taking aim at PAEs. Since then, the companies have seen many adverse federal court rulings, and the shares of most publicly-traded PAEs (including Acacia) have tumbled.
And just last week, the Supreme Court agreed to hear a case challenging the ability of patent owners to file suits in friendly locales, such as the East Texas district Acacia relied on to sue Apple.
Considering Nokia has deals in place with over a half-dozen PAEs that are using former Nokia patents to sue many companies besides Apple, any financial windfall Nokia gets on account of its infringement suits could feel like a pyrrhic victory if Apple gets a precedent-setting antitrust decision in its favor.