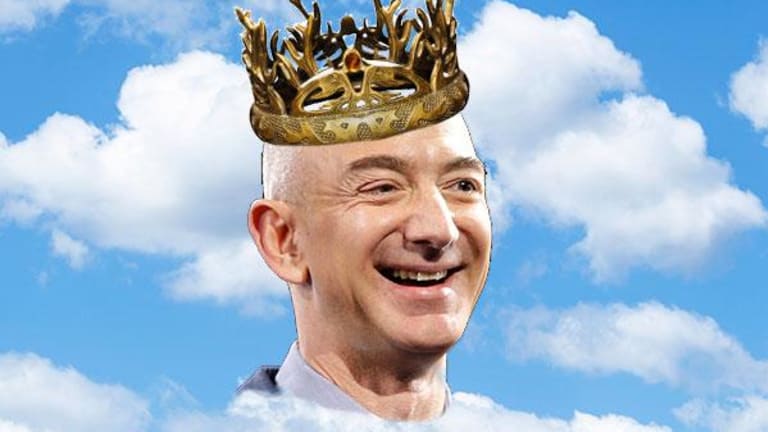 Amazon's Jeff Bezos Is Primed to Overtake Bill Gates as World's Richest Person
The Amazon founder's net worth has more than doubled over the last five years and analysts say he could eventually surpass Microsoft's Gates as Amazon continues to dominate.
Amazon (AMZN) - Get Amazon.com Inc. Report CEO Jeff Bezos' net worth is skyrocketing just as fast as one of his Blue Origin rockets.
Shares of Amazon have gained 50% in the past year, adding a cool $10.2 billion to Bezos' net worth and crowning him the second-richest man in the world, according to Bloomberg's Billionaire Index. Bezos now has a net worth of about $75.6 billion, surpassing billionaire investor and Berkshire Hathaway (BRK.A) - Get Berkshire Hathaway Inc. ReportCEO Warren Buffett, as well as Europe's richest man, Amancio Ortega. 
Bezos added $1.5 billion to his net worth on Wednesday alone, as Amazon's stock price gained $18.32 on the news that the internet giant had agreed to acquire Middle Eastern online retailer Souq.com, Bloomberg reports. Bezos owns about 81 million shares of Amazon, or roughly 17% of the company, according to FactSet.
It's not the first time that Bezos has surpassed Buffett's in the billionaire rankings. Last July, Bezos briefly passed Buffett and became the world's third-richest person as a result of Buffett donating $2.9 billion to the Bill & Melinda Gates Foundation. Bezos didn't achieve the title of second-richest person for the first time until several months later, as Amazon's stock continued to rise.
For all his wealth, though, Bezos still has a lot of ground to cover in order to catch up to Microsoft (MSFT) - Get Microsoft Corporation Report co-founder Bill Gates, who has a $10.4 billion lead on him with a net worth of $86 billion. Fellow Silicon Valley mogul and Facebook (FB) - Get Meta Platforms Inc. Report CEO Mark Zuckerberg isn't too far behind, either, in sixth place with a net worth of $61.4 billion.
Gates has held the title of the world's richest man on and off since 1995. At one point, Gates topped the list for 13 straight years, but fell to third place in 2008 when Microsoft's stock fell 15% as a result of the company's failed bid for Yahoo! (YHOO) . 
Gates briefly reclaimed his supremacy in 2009, but was unseated again by Mexican telecom mogul Carlos Slim, who held onto the No. 1 spot for four years until Gates took back the title in 2014 as Microsoft's stock began rising again. 
Several experts are now betting that Bezos could soon dethrone Gates as he continues to grow one of the most valuable companies in the world. 
The Amazon founder's net worth has soared 123% over just the last five years. That's due largely to Amazon's astronomical growth: The Seattle-based company, founded in 1994, has transformed into much more than just an online bookstore, disrupting almost every corner of the e-commerce market and beyond.
Editor's Pick: This story was originally published on May 30 at 5:29 p.m.
Now a nearly 25-year-old company, Amazon is estimated to have a total addressable market that's worth many billions of dollars and touches numerous areas beyond retail, such as the rapidly growing cloud computing market via Amazon Web Services and the nascent digital home assistant market via its best-selling Echo devices.
As a result, Barclays analysts estimate it could be one of the first companies to have a market cap of $1 trillion -- beating rival tech giants Alphabet (GOOGL) - Get Alphabet Inc. Report and Facebook to the punch. 
"Amazon is likely to be one of the first trillion-dollar market cap companies; it's just a question of when, not if, in our view," the firm wrote, adding that Amazon Web Services could eventually generate as much as $100 billion in annual revenue.
As Amazon continues to grow bigger and bigger, so do Wall Street's expectations. It means that Amazon has to meet a high threshold when it comes to earnings (despite a 55% increase in profits last quarter, the company still missed analysts' expectations), but it also means that Bezos' net worth will keep swelling. Analysts at Stifel estimate that Amazon's stock price could soon rise above $1,000 per share on the back of continued success from its e-commerce and cloud businesses.
RBC Capital Markets analyst Mark Mahaney goes so far as to predict that Amazon's stock price could hit $2,000 within the next five years. Mahaney also believes that, on top of its burgeoning cloud business, Amazon may find another high-growth market to add to its already multi-billion dollar revenue stream, such as groceries, shipping logistics or artificial intelligence, among other things. 
Amazon currently accounts for the lion's share of the global retail industry, but still has even more room to grow, said Jan Dawson, chief analyst at Jackdaw Research. 
"It's even breaking down barriers in some of the categories that haven't lent themselves well to e-commerce in the past, like groceries and clothing," Dawson explained. "Even now, it's still growing at over 20% year on year with little or no sign of slowing down."
Amazon's stock closed up 0.2% to $876.34 on Thursday, which still meant Bezos' net worth increased by $165 million. Not bad for a day's work. 
More Amazon news on TheStreet:
Apple and Amazon Are the Biggest Stories So Far This Year, but Fortunes Could Quickly Turn
Amazon's Household Goods Unit May Have Been a Casualty of Prime's Success