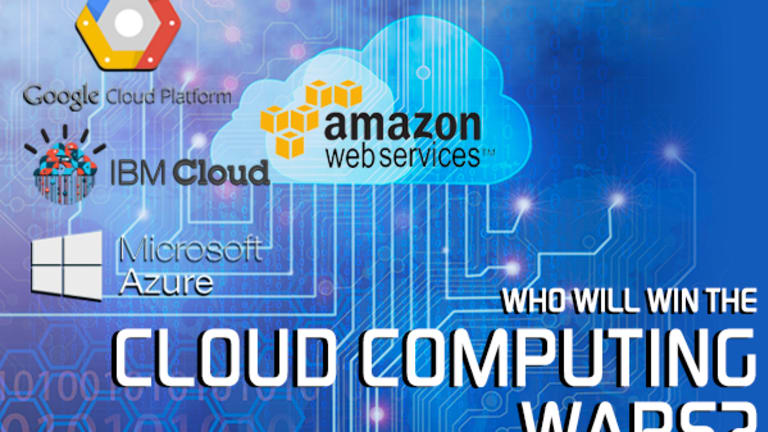 Publish date:
How Amazon, Microsoft, Google and IBM Battle for Dominance in the Cloud
Amazon Web Services is in a league of its own but capable rivals are vying for a bigger share of the cloud.
Amazon Web Services is in a league of its own but capable rivals are vying for a bigger share of the cloud.
The newly launched Amazon Connect call center product is the latest evidence of Amazon's (AMZN) - Get Report  endless capacity to add features and tweaks to its market-dominating cloud service. Amazon Web Services, which has a strong lead over Microsoft's (MSFT) - Get Report Azure, Alphabet's (GOOGL) - Get Report Google Cloud, IBM (IBM) - Get Report Cloud and others, introduced more than 1,000 new services to its cloud service last year. As the cloud call center offering shows, the tweaks keep coming.
The competition and pace of innovation is fierce. "In the past couple of years there's been a bit of a feature war," Microsoft VP of Cloud Marketing Julia White told investors at a Goldman Sachs conference in February.
Amazon Web Services, or AWS, is the indisputable leader, with a breadth of services and clients ranging from blue chips such as Coca Cola (KO) - Get Report and General Electric (GE) - Get Report to app-economy stalwarts like Netflix (NFLX) - Get Report , Tinder and Lyft. Microsoft and Google are closing the features gap, even if they are far behind on market share. 
Alphabet and General Electric are holdings in Jim Cramer's Action Alerts PLUS Charitable Trust Portfolio. Want to be alerted before Cramer buys or sells GOOGL or GE? Learn more now.
"When anybody thinks about doing someothing in the cloud, Amazon is the first they think of," said Gartner Cloud Services Research VP Ed Anderson. "Their point of competitive differentiation is they are the most mature, the most well established and have the most mind share, the most features and partners."
Amazon has more than 68% of the market for a service, IaaS, which provides services, storage, and operating systems on a software-like subscription model, according to Frost & Sullivan. Microsoft Azure has 12%, IBM has 3.1% and Google has 2.3%. 
The broader market for IaaS and platform as a service, or PaaS, which includes software development platforms, is slightly more evenly divided. Amazon had 40% share at the end of 2016, according to Synergy Research Group, essentially in line with Amazon Web Service's position at the end of 2015, Microsoft gained 3% to 11% of the market by the end of 2016, while Google gained 2% last year to reach 6% share. "AWS is holding its own in a very high-growth strategically important market, while Microsoft and Google are growing more strongly but remain in a different league due to smaller scale," Synergy Research Group Chief Analyst & Managing Director John Dinsdale said in an email. IBM held 6% of the market.
Amazon Web Services notched $12.2 billion in sales last year. The unit is on track to generate $17 billion in sales this year, Sun Trust projects. The firm values AWS at $190 billion, or 8 times consensus 2018 sales, which is still less than the $250 billion valuation that Sun Trust applies to Amazon's retail business.
"They really compete on being the first to market and the market leader. That's hard to sustain but they have done a really good job," Anderson said. "Not only are they a leader but they continue to innovate."
AWS's services and products range from typical IT fare as storage and databases to game development and artificial intelligence applications that can search and recognize images. Customers can apply voice recognition technology and artificial intelligence technology similar to what Amazon deploys with its Alexa personal assistant.
Founded in 2006, AWS has built up a diverse corporate roster. General Electric moved more than 9,000 applications to AWS, reducing its portfolio of data centers from 34 to four. Australian airline Quantas built a hotel-booking business and other apps on AWS. Capital One is using AWS for mobile banking and other sensitive functions. 
"What they are trying to show is we are a cloud platform that can be applied in the most difficult environments like banking where the information is so sensitive and the regulatory compliance rules are so complex," Gartner's Anderson said of AWS's forays into regulation-bound segment such as finance. "Their challenge is how do they maintain that when feature differentiation becomes harder and the market become more mature."
Microsoft Azure has about $2.6 billion in annual sales, Barclays projects. "Its challenge is that of being number two in a market with a strong, dominant number one," Anderson said. 
The installed base of corporate customers has helped with Azure. While Amazon has 50% of the enterprise cloud market, according to Barclays, Azure has a 40% position. 
Microsoft's cloud efforts benefit from its deep experience in business software. "Its part of a broader cloud effort that Microsoft has across their products," Anderson said, noting a product line that includes the Office 365 cloud suite of workplace software, the Cortana A.I. personal assistant, Dynamics customer relationship management and enterprise resource planning software and other technology. 
"We here a lot of people say, 'We're moving to Office 365 so we might as well shift to Azure," Anderson said. Azure "shines" with organizations that have deployed Microsoft's .NET  development environment that companies could use to build applications for Windows, Anderson added. "You've got millions of applications," he said. Windows presents Azure as the logical place for those applications to reside, though they could operate in another cloud environment. "Microsoft really uses that as a hook," Anderson said. "You've already invested in this."
Alphabet lacks the decades-old ties that Microsoft and IBM have to corporate IT departments, but plays to the strength of its DNA. 
"Google has this industry reputation for being very innovative, very technologically astute, very forward looking and cutting edge," Gartner's Anderson said. "Google really plays that up in their cloud properties."
Google hired former VMWare (VMW) - Get Report CEO Diane Greene in 2015 to lead the enterprise cloud strategy. "She's really unified the company around a holistic, comprehensive cloud strategy that is very enterprise focused," Anderson said, pointing to the integration of collaboration, content management, and office productivity capabilities from its G Suite applications such as Gmail and Google Drive.
"They have invested a lot of money and a lot of engineering work," Anderson added. Google touts data analytics and machine learning, security and privacy application development tools and the ability to connect business software platforms from its recent purchase of Apigee. 
With clients such as social media company Snap (SNAP) - Get Report , music streaming company Spotify, organization app developer Evernote, e-commerce outfit Zulily and Pokemon Go developer Niantic, Pacific Crest analyst Andy Hargreaves estimates that Google Cloud has a $1 billion run rate. The deal with Snap illustrates how quickly the unit could grow. Snap committed to $400 million per year from Google Cloud over the course of the five-year deal.
The company and IBM have similar market share, but Google has better "mindshare and trajectory than IBM," Anderson said.
"Most of the customers who talk to us about Google say things like we want to run like Google," he said. "We want to innovate like Google. We want to scale like Google."
While IBM is fourth in the combined IaaS and PaaS markets, according to Synergy, it is first in the hybrid cloud, which blends public cloud services with capacity on the client's own servers. "They compete more on the merits of 'we will do cloud however it makes sense for you,' where the others are more pushing you to their public cloud offerings," Anderson said.
Salesforce (CRM) - Get Report CEO Marc Benioff and AT&T (T) - Get Report boss Randall Stephenson took part in IBM's March cloud conference in Las Vegas.
IBM's resources and background in corporate technology helped it win big clients like American Airlines (AAL) - Get Report , AT&T,  JPMorgan Chase (JPM) - Get Report , ABN AMRO, the U.S. Army and Maersk. The company recently announced a cloud services pact with Wanda Internet Technology Group in China. "They are massive. They have got a ton of money, a ton of resources they bring to bear in terms of their cloud offering," Anderson said.
As Amazon, Google and Microsoft have leveraged artificial intelligence in their cloud environments, so has IBM with its Watson A.I. program. "The brains of Watson have been put as services inside the IBM Cloud," IBM Senior Vice President of Cognitive Solutions and Research John Kelly said at a March investor briefing. "No other company has such an array of cognitive and AI capabilities in their cloud as we have."
IBM's cloud offerings include development tools for building apps that integrate Watson's speech recognition, image recognition and statistical analysis abilities, Anderson added. "IBM is probably the most aggresive in terms of positioning their Watson technology as part of their cloud and that's one of the ways they compete," he said.