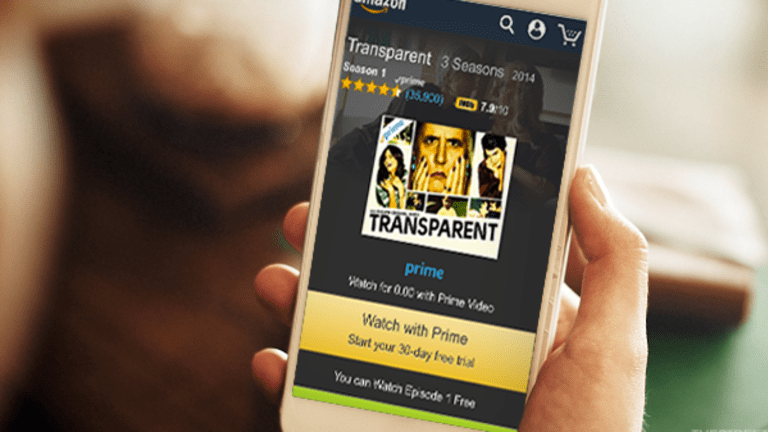 Amazon Ramps Up Content Spending in Battle With Netflix
The total for Jeff Bezos' company could be more than Netflix is using to fill its pipeline.
Amazon.com Inc. (AMZN) - Get Amazon.com, Inc. Report has always been known as a spending machine, and its approach to content is no different.
Jeff Bezos' company has remained tight-lipped on its content budget, but Wedbush Securities Inc. analyst Michael Pachter estimated that Amazon's spending could soon rival that of Netflix Inc. (NFLX) - Get Netflix, Inc. (NFLX) Report , which will shell out $6 billion this year for programming. For Amazon, most of the money is going toward licensing content for Prime Video: Roughly $3.5 billion is spent on licensing, according to Pachter, while about $1 billion is spent on original programming.
The Wedbush analyst signaled that those numbers are likely going up as Amazon invests more heavily in the content field, a claim corroborated by Amazon CFO Brian Olsavsky on its Thursday, July 27, earnings call.
"Video content spend will continue to grow, both sequentially and quarter over quarter," Olsavsky said, adding that the video service had helped retain Prime customers.
The Amazon Studios division of Jeff Bezos' company produces television exclusively for the Prime Video service, as well as theatrical releases (which are made available on Prime several months after their theatrical release). High-profile television shows from Amazon Studios include "Transparent," "The Man in the High Castle" and the upcoming "The Tick." While these shows sweeten the deal for Prime members, they are not the main attraction for the service -- unlike Netflix, whose shows are the only reason the company adds subscribers.
"You never see an ad for Prime that says 'get free movies,'" Pachter said. "Shipping has always been the main attraction."
Indeed, many people do not even know that Amazon releases its own original films, as the internet giant has always partnered with outside distributors for theatrical release. Amazon, for example, recently has enlisted distributors such as Roadside Attractions LLC ("Manchester by the Sea") and Lions Gate Entertainment Corp. (LGF.A) ("The Big Sick").
This approach is markedly different than Netflix's strategy, which entails releasing its films via streaming as well as in any theaters that will take them (the large exhibitors are anti-streaming and refuse to show Netflix films).
Lost in Thursday's earnings frenzy, though, was another announcement from Amazon: that it would be self-distributing the films from its Amazon Studios division, starting with December's Woody Allen drama "Wonder Wheel."
The process of self-distribution is no walk in the park and often includes expensive marketing costs. For a company that just reported quarterly operating expenses up 28% year over year (to $37.3 billion), piling on additional costs for Amazon Studios could be a risky move.
"I think they're crazy -- film distribution is hard to do," Pachter said. "They can do a 300-theater specialty release, but they're not going to be able to do a bigger movie that gets 5,000 screens."
While Amazon mostly focuses its film division on specialty releases, some of those -- such as "The Big Sick," for instance -- have mainstream appeal and eventually demand a larger release. The film's screen count has expanded over the course of July, and "The Big Sick" is now showing in nearly 2,600 theaters after starting in five on June 23. Going it alone with future releases could be tough for a company that doesn't consider film production and distribution its main focus.
On the other hand, some would argue that Amazon Studios is qualified to be distributing its own specialty releases, given the presence of head of movie marketing and distribution Bob Berney.
"Berney comes from the indie world of theatrical distribution," comScore Inc. senior analyst Paul Dergarabedian noted. "His background makes him incredibly well-suited to work within the small screen provider space while at the same time having a complete command over the language of big-screen distribution."
Berney previously was CEO of independent film marketing and distribution company Picturehouse and founded Berney Films and Newmarket Films.
Whether or not Amazon's venture into self-distribution proves successful, the company's strategy to go the theatrical route rather than make its movies available first on Prime Video has curried the company favor in Hollywood. Indeed, Amazon won three Academy Awards last year, best actor and original screenplay for "Manchester by the Sea" and best foreign language film for "The Salesman." Netflix has yet to win an Oscar for a feature film but did take home a statuette this year for documentary short.
Given the demographic appeal of Amazon's movies, it's not necessarily surprising that the conglomerate opted for the theatrical route -- most Amazon Studios films could be labeled "specialty releases," which generally click with older audiences that may not be streaming.
Still, there are several film buffs that are also Prime customers, and the decision to wait so long before premiering its films on Prime Video could hurt Amazon's Prime signups overall. Releasing its films earlier via streaming could help add to Prime's appeal, but the most important thing is that Amazon is greenlighting content that people want to watch.
Pachter, who has been a notorious bear on Netflix, likes Amazon's strategy in this area.
"Amazon does something really intelligent that no one ever talks about: They pilot all of their shows and wait to see who watches," he said. "It's much smarter to ask people, 'Do you like this?' before greenlighting a show."
Indeed, upcoming release "The Tick" began as a pilot that premiered last August, as did recent Amazon show "I Love Dick." Piloting is a low-risk approach to television production that runs counter to Netflix's strategy of greenlighting full seasons at a time. Amazon's piloting strategy, as well as its commitment to working within the low-budget arthouse realm in the film world, suggests that Bezos is being smart about his video strategy.
"Amazon understands that there are various types of media that are suited to various channels of distribution," Dergarabedian said. "Understanding that is part of the brilliance of their strategy so far."
Amazon shares fell 2.5% to $1,020.14 Friday afternoon.
More of What's Trending on TheStreet: