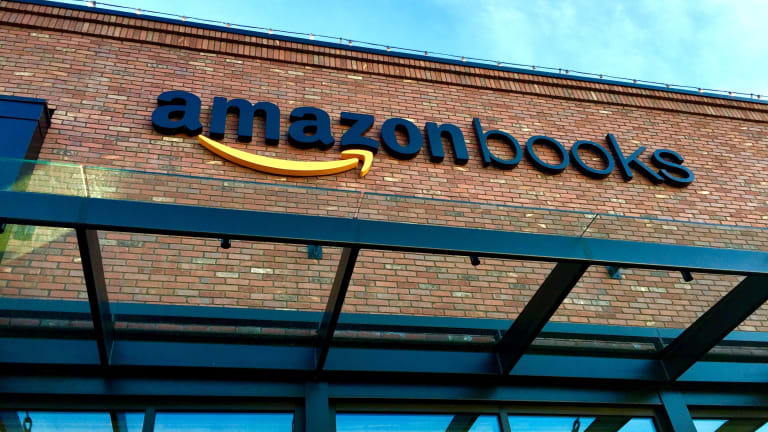 How Amazon.com Is Becoming the Kind of Retailer It Hurt
In what seems like an ironic twist, Amazon.com is setting up bricks-and-mortar stores, but the company has some high-tech tricks up its sleeve that could transform the shopping experience.
As more and more bricks-and-mortar stores beef up their online platforms, Amazon.com (AMZN) - Get Free Report is rerouting its online audience to the very physical market it once disrupted.
Earlier this month the e-commerce giant announced that it will be opening a 4,000-square-foot bookstore in the Time Warner Center in New York.
Last May, Amazon released an annual top 20 list of the most well-read cities, which ranked Seattle and Portland as the top two. Amazon already operates stores in those two cities, as well as in San Diego, which was No. 10 on the list.
According to Amazon's website, four other stores are "coming soon." They'll be located in Chicago; Dedham, Mass.; Lynnfield, Mass.; and Paramus, N.J.
Amazon describes its bricks-and-mortar Amazon Books business as a "store without walls," presumably because whatever books consumers can't find in the store, they can order online. They can also download products onto their Kindles and try out Amazon's electronic devices such as the Echo. Each store's product selection is based on customer ratings, pre-orders, favorites on Goodreads and managers' assessments.
But Amazon Prime members have an advantage in such stores. Amazon Books offers its Prime Members the same price on all items as on Amazon.com. Nonprime members pay list price on everything except devices.
The Prime members have an option for free delivery of books and electronics. The delivery is done through Amazon's Prime Now Hubs, three of which are located in the cities that have Amazon Books outlets.
Over the years, such hubs have expanded and function as small fulfillment centers close to the centers of many cities. According to estimates from logistics consultants MWPVL, there are 42 Amazon Prime Now Hubs, which operate in 18 states.
In late 2014, Amazon opened a 40,000-square-foot Amazon Prime Now Hub to deliver packages to its customers in Manhattan within an hour. With increasing Amazon Prime Now Hubs, Amazon appears to be catering to its Amazon Prime customer base, which back in 2013 the company said was in the "tens of millions." According to Nomura, Prime members spend two-and-a-half times more at Amazon than non-Prime customers do.
Some observers may be wondering why Amazon is getting into the very business its e-commerce model disrupted, a business that has significant costs in the form of retail leases and employees. But Amazon appears to applying its vast technological resources -- don't forget it's the leading cloud-computing services company -- to streamline bricks-and-mortar retail and lower those costs. 
Amazon.com recently revealed its hi-tech grocery store, Amazon Go, in Seattle. So far, the store has been open to only the company's employees on a test basis, but Amazon says the location will open to the public early this year. There are no cashiers and no checkout lines. Customers with the Amazon Go app in their smartphones walk into the store, pick up what they want to purchase and walk out of the store. Amazon's technology tracks the purchases and automatically bills customers' Amazon accounts. The technology can tell whether an item is missing from a shelf or if a customer has hidden something under his or her shirt. (Clearly, shoplifting is a key concern in a checkout-free store.) Amazon Go's technology even allows it to differentiate between two people reaching for the same product by identifying individual skin tones.
Amazon says it wanted to push the boundaries of "computer vision" and "machine learning" to create a store without cashiers and without lines.
Amazon's has a big vision for grocery stores, too, according to a report last month in The Wall Street Journal that cited people familiar with the situation. The company foresees having more than 2,000 grocery stores with its brand, according to the article, which said Amazon declined to comment on the plans. 
Making a strong push in the bricks-and-mortar grocery business could be a wise choice for Amazon in expanding its market reach. According to Cowen & Co., online shopping accounts for only about 4% of total food-and-beverage sales, Bloomberg reported. 
No matter what happens to the Amazon Go project, one thing seems clear: The Seattle company will continue to experiment with how technology can change the physical shopping experience.
This article is a commentary by an independent contributor. At the time of publication, the author held no positions in the stocks mentioned.