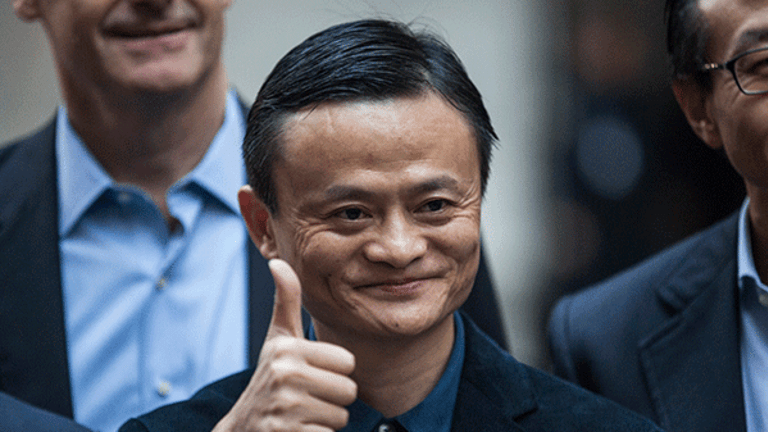 Amazon Must Take Notes From Alibaba If It Wants to Save Whole Foods
The e-commerce giants are both experimenting with novel retail prototypes that combine online shopping with the bricks-and-mortar experience.
Alibaba Group Holding Ltd.  (BABA) is often referred to as the Amazon.com (AMZN) of China.
But when it comes to the grocery business, Amazon should be called the Alibaba of the U.S. because it's playing catch up. 
On Wednesday, Amazon inched closer to taking over Whole Foods Market Inc.'s  (WFM) 470 stores when the $13.7 billion deal was approved by Whole Foods shareholders and the Federal Trade Commission (FTC).
While Amazon has grand plans to update Whole Foods' stores with technology, improved logistics, and a food delivery network, Alibaba has already been there and done that. The Chinese e-commerce giant has been updating the food shopping experience in China with its Hema grocery stores for the past two years. 
The 3 Secrets to Defeating Amazon, Revealed
"The Amazon-Whole Foods deal is a total validation of our strategy," Alibaba Head of External Affairs Brion Tingler told TheStreet when the deal was first announced in mid-June. Both players are learning that when you hit a certain level of success in online sales, the next step is to help offline players better utilize their strengths, he said. 
Alibaba has coined a specific term for transforming physical stores to combine the best of offline shopping and online shopping: New Retail. Alibaba wants to update stores to give customers the option to order any item they see to their doorstep while still at the store. In other words, you could buy lunch at noon at a store, while also ordering seafood to arrive at your house at 6 p.m.
Revamping brick-and-mortar stores instead of just focusing on e-commerce is important because e-commerce is only about 15% of China's total $5 trillion retail market, Alibaba vice chairman Joe Tsai said in the company's latest earnings call. The other 85% is still brick-and-mortar shopping. "The traditional way of thinking about retail vs. e-commerce is that they work against each other, where e-commerce is cannibalizing retail," he told TheStreet. "But it doesn't have to be that way." 
Alibaba has a solid presence in the China supermarket scene, with a 32% stake in Sanjang Shopping Club Ltd. and an 18% stake in the Lianhua Supermarket chain. Alibaba is now running multiple brick-and-mortar China-based supermarkets that utilize two-thirds of their space for traditional retail needs and one-third of their space as an omnichannel fulfillment operation, Tsai said. The stores are doing 15,000 orders online per day. "That's really made the retail space more efficient, or increasing the sales-per-square-food of this retail space," Tsai claimed.
Tigress Financial Partners CIO Ivan Feinseth said he believes Amazon will do exactly the same thing with Whole Foods that Alibaba has done with supermarkets in China. "It makes a lot of sense," he said. "Amazon is all about clicks and bricks," he added in reference to Amazon's expanding presence into the brick-and-mortar scene. 
Before diving into the Whole Foods transformation process, Amazon has been experimenting with its own form of New Retail with its eight existing brick-and-mortar bookstores, with five more locations scheduled to open in 2017. These stores bring together the best of offline and online shopping. Customers get the benefit of being able to physically touch and flip through books, but Amazon is also able to use customer purchasing data to determine what books are worth stocking the stores with. In addition, tech updates mean customers can take a picture of any book in the store and the Amazon app will bring up information on the book.
Amazon also uses its bookstores to sell other products, such as bookbags or water bottles, that are popular and highly rated on its online marketplace. "Amazon is trying to surround the customer with Prime memberships, its credit card, these bookstores," Feinseth said. "It's a way to try to create customer loyalty in a time when people just want the best price."
In addition to supermarkets, Alibaba has also transformed department store Intime, a chain of stores and shopping malls which Alibaba paid $2.6 billion to fully acquire in January after having first bought a stake in it about three years ago. Data from Intime and Alibaba's Taobao consumer-to-consumer shopping website revealed that consumers were more likely to buy the well-known, bigger name brand cosmetics like Estée Lauder when shopping in the physical store, but preferred the niche cosmetic brands from Korea and Japan when shopping online. "That's very informative," Tsai said. "It could tell us more about how we will do our merchandising decisions in the department stores."
Rather than acquiring or investing further in other retail companies, Alibaba is hoping these successful early examples of the positive effects of the New Retail strategy will serve as prototypes that encourage other retailers to come to Alibaba for help, Tsai said. "So what they bring to the table is they'll have retail locations that are in good spots, good locations, and we'll bring in the technology and the data and the know how...Our intention is to run a capital-light strategy, but initially, you need to develop some prototypes so that people can see how they work and then they will be more inclined to work with you."
This is an important distinction between Alibaba and Amazon's brick-and-mortar transformation strategy.
Alibaba has never been keen to own everything, opting to empower other players instead, while Amazon has always opted to own as much of its operations as it can. This difference is most notable in their delivery methods, with Alibaba relying on about 3,000 delivery companies in China, while Amazon builds its own trucks and even planes. Now that it has prototypes of the New Retail strategy at work, Alibaba hopes it can simply partner with retailers in the future to help them increase sales. Meanwhile, Amazon opted to fully acquire Whole Foods. 
Feinseth said retailers should be willing to try almost anything because the traditional retail model is dead, and they have to change something. New Retail lets people touch and test out products in the store, but it also gives them efficiency and competitive pricing by allowing them to order items to their house or check for better prices online, he said. "I think it's a brilliant strategy," he said of New Retail. "I think retailers will be coming to Alibaba for help -- both in China and globally," he said. 
More of What's Trending on TheStreet: