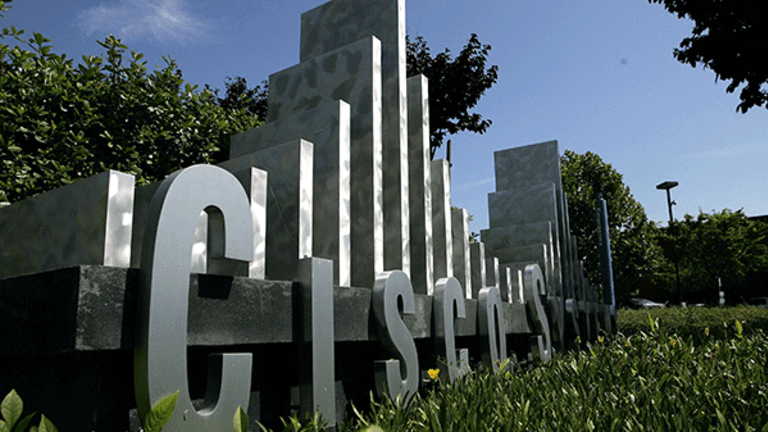 How a Trump Tax Holiday Could Help Cisco, Apple, Microsoft and Others Lighten Their Debt Loads
Silicon Valley's debt load has grown as its cash held overseas mounts. A corporate tax holiday would enable many tech giants to reduce their leverage.
As large tech companies such as Apple (AAPL) - Get Report , Cisco (CSCO) - Get Report , Microsoft (MSFT) - Get Report , Oracle (ORCL) - Get Report and others built up massive offshore cash hoards over the last several years, many took on debt to pay dividends, buy back shares or acquire other companies. After all, borrowing money at low rates was much more attractive than taking a tax hit of 35% or higher for bringing the cash back into the U.S.
One of President-elect Trump's campaign proposals was to enact a one-time tax holiday on repatriated cash at a rate of 10% and if that does indeed come to pass, reducing their leverage will likely not be as tempting to companies as paying out dividends or buying appealing rivals.
Lowering their debt could still be part of the equation, however, and Cisco has the most immediate opportunity to efficiently reduce its leverage if it chooses to do so, Moody's analyst Rick Lane said.
"About three-quarters of Cisco's total debt comes due within the next five years," Lane said.
Cisco and others that repatriate cash would likely not pay off all of their debt at once, however. 
"That is expensive. You have to compensate holders of the bonds for early redemption." Lane said. "More likely they would wait until the debt matures and make the decision to repay it or to refinance all of it, or to refinance some of it."
Apple and Cisco is a holding in Jim Cramer'sAction Alerts PLUS Charitable Trust Portfolio. Want to be alerted before Cramer buys or sells AAPL or CSCO? Learn more now.
Cisco had close to $35 billion in debt at the end of October, including obligations coming due in the near term. The company has taken on about $18 billion in debt since 2012.
The company currently holds about $62 billion in offshore cash, which could go a long way. Cisco has many options besides paying down debt.
"This large sum of cash could be used for an almost endless list of opportunities, including more acquisitions to boost security and services (recurring revenue) or dividend/buyback plans," said Jim Cramer and Jack Mohr, the manager and research director for the Action Alerts PLUS portfolio, which owns Cisco.
For its part, Apple has taken on about $80 billion in debt since 2012, Securities and Exchange Commission filings show. Moody's puts the number even higher, at $90 billion, because the ratings agency includes operating leases in its figures. During that time, Apple's offshore cash grew from $94 billion in 2012 to a projected $230 billion at the end of the year, according to Moody's.
At the end of September, Apple's overseas cash tally came to $216 billion or about $40 per share -- a sizable amount, considering that the stock currently trades at around $ $116 a share. "In short, this would let Apple bring $40 per share home, without paying about $16 per share in taxes," Cramer and Mohr said. "That's a huge positive for the company, and it would also be terrific for the United States since Apple could reinvest that money here, or maybe return it to shareholders via a buyback or a massive special dividend."
Other large tech companies have also bulked up their balance sheet while stuffing cash overseas. Microsoft has added $67 billion in debt since 2012, according to Moody's, while Oracle added $37 billion.
"If these companies had access to their global cash, these numbers would be closer to zero," Moody's analyst Lane said.
George W. Bush's offshore tax holiday in 2004 got a tepid response. Moody's reports that five U.S. companies with the largest current overseas cash holdings -- Apple, Microsoft, Alphabet (GOOGL) - Get Report , Cisco and Oracle -- repatriated a meager $6.7 billion in 2004 and 2005. Legislation associated with the holiday may have limited participation, however. While the government lowered the tax bill on repatriated cash to 5%, legislation associated with the break required companies to invest in hiring workers and research and development, rather than buybacks and dividends.
Cisco CFO Kelly Kramer expressed enthusiasm when asked about the prospects for a tax holiday during a mid-November call.
"This is one of [the Trump administration's] top priorities that they said they're going to prioritize in their first 100 days," she said. "So we're encouraged that something will happen."