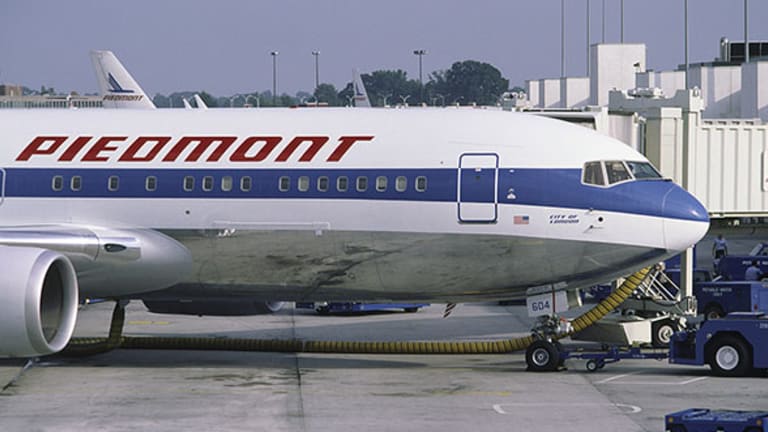 How a Piedmont Air Boeing 767 Flight Heralded Charlotte's Growth
The growth of Charlotte as a leading 'New South' city is tied to the growth of American Airlines predecessor Piedmont Airlines and its first flight to London
NEW YORK ( TheStreet) -- Two events last week pointed up the importance of Piedmont Airlines to Charlotte, and more generally of the airline industry, which in this case made a global airline hub and a leader of the "New South" from a medium-sized Southern city.
Certainly Charlotte was not destined to become the home of the nation's eighth-busiest passenger airport, according to a 2013 ranking. The 2014 passenger count rose 2% to 44 million.
Yet Brent Cagle, interim aviation director at Charlotte Douglas, told the city council on Feb. 9 that that the airport's growth plans includes expansion from 93 gates to 125 gates by 2025 and eventually to 164 gates. A new 12,000 foot runway, the fourth parallel and fifth runway, is also planned.
Charlotte Douglas is currently the second busiest hub for American (AAL) - Get American Airlines Group, Inc. Report , the world's largest airline. At Charlotte, American has 645 daily departures to 142 non-stop destinations from 90 gates, second only to Dallas Fort Worth International Airport, where American has 800 daily departures to 192 non-stop destinations from 192 gates.
Of course, world-class hub airports have for years fueled economic growth in the cities fortunate enough to have them. While it is easy to see that cities like Atlanta, Chicago, Dallas, Miami, Newark and San Francisco would become global hubs, the path of cities like Charlotte and Salt Lake City are less obvious.
In Charlotte's case, an airport event on Feb. 12 recalled Piedmont Airlines and what it did for the city 90 miles to the south of Winston-Salem, where it was founded.
The event honored the departure of a Boeing 767-200, the last aircraft ordered by Piedmont that would ever fly for the historic airline's successor, as well as the last time a major U.S. carrier operated a Boeing 767-200 on a passenger flight.
At least a dozen former Piedmont Airlines employees, now US Airways/American employees, were in attendance. Several recalled the first use of a Piedmont's 767, in June 1987, on the inaugural flight from Charlotte to London Gatwick. That flight, Charlotte's first trans-Atlantic non-stop, "was a big event and a springboard for this airport," said Ken Maupin, now a 767 captain.
Charlie Boswell, Charlotte chief pilot, was home that day, and watched the coverage on TV. "We were a small national airline," he said. "I thought it was such a great thing to get a wide-body aircraft. It put us in the big leagues."
In 1979, Piedmont began to connect a handful of flights in Charlotte. The carrier began working with Jerry Orr, then an airport engineer and later airport director. Orr oversaw planning, financing and construction of a terminal, a runway and a maintenance base for Piedmont.
"We had a tremendous relationship with Jerry Orr," said George Mason, who oversaw construction of the base for Piedmont, according to the new book, American Airlines, US Airways, and the Creation of the World's Largest Airline, by Dan Reed and me. "(Jerry) had the vision to see what increased transportation would do for Charlotte, and he facilitated the construction."
Orr was, in fact, one of a small group of leaders who presided over Charlotte's emergence. Others were Hugh McCall, who built NationsBank into Bank of America (BAC) - Get Bank of America Corp Report ; Ed Crutchfield, who built First Union into Wachovia before it -- like US Airways -- was merged into a bigger competitor, and Duke (DUK) - Get Duke Energy Corporation Report  Presidents Bill Grigg and Bill Lee.
During a 2013 visit to Charlotte, American CEO Doug Parker discussed the phenomenon that can occur where airlines build hubs and build their flight schedules, so that "the business community can attract more and more companies, and once more companies come, we can (offer) more flights."
Summarizing the story of Charlotte's growth, Parker called that phenomenon "a virtuous circle" and noted, ""Every city doesn't get it as well as Charlotte does."
Ironically, the man who was the principal enabler of Piedmont's growth in Charlotte was fired from his job in 2013.
By that time, Orr was 72 and somehow found himself at the center of a political battle between a heavily Democratic Charlotte City Council and North Carolina's Tea Party-dominated state legislature, which decided to try to wrest control of the airport from the city that had run it successfully since 1936.
The effort failed, but Orr's career was collateral damage, in a shameful example of city government by spite.
-- Written by Ted Reed in Charlotte, N.C.

To contact this writer, click here.
This article is commentary by an independent contributor. At the time of publication, the author held no positions in the stocks mentioned.