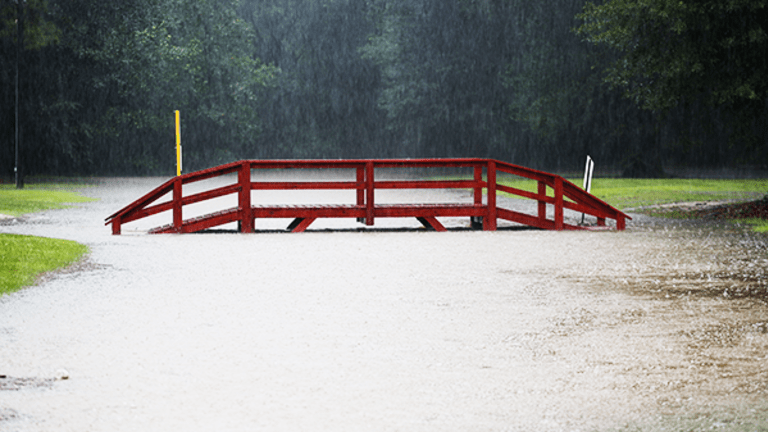 Houston's Addicks Dam Begins to Spill Over, Nearby County: 'GET OUT NOW'
The spill has sent an 'uncontrolled release' into nearby neighborhoods.
Houston's Addicks Dam has begun to spill over, officials from the city's Flood Control said Tuesday, as Tropical Storm Harvey continues to pound the Gulf Coast.
Harris County Flood Control meteorologist Jeff Lindner posted on Twitter (TWTR) - Get Twitter, Inc. Report that the water levels had reached above the height of the reservoir.
The Addicks Dam sits on the Addicks Reservoir about 19 miles west of downtown Houston. The western side of Houston has been one of the hardest-hit areas. Spillover from the Addicks Dam could put that portion of the city further underwater, according to Fox News.
The U.S. Army Corps of Engineers had started controlled release from the Addicks Reservoir Monday to relieve its rising levels. But uncontrolled release starting Tuesday is expected to flow into Buffalo Bayou and increase the waterway's already record-setting levels. The Army said nearby Barker Reservoir will likely also experience uncontrolled release in the coming days.
As many as 3,000 Houston homes have been flooded by Harvey rains and no fewer than 1,000 are without power, according to the Houston Chronicle. Travel from one side of the city to the other is impossible by car -- it can only be done by boat Tuesday.
Spillover from the Addicks Dam is expected to continue until around September 20.
Nearby Columbia Lakes in Brazoria County was evacuated with a harrowing message to "GET OUT" as the levees on the lake failed Tuesday. The amount of water in the Brazos River that feeds Columbia Lakes is at a level seen only once every 800 years.
More of What's Trending on TheStreet: